New jan-April 2017

APRIL 4/14/2017: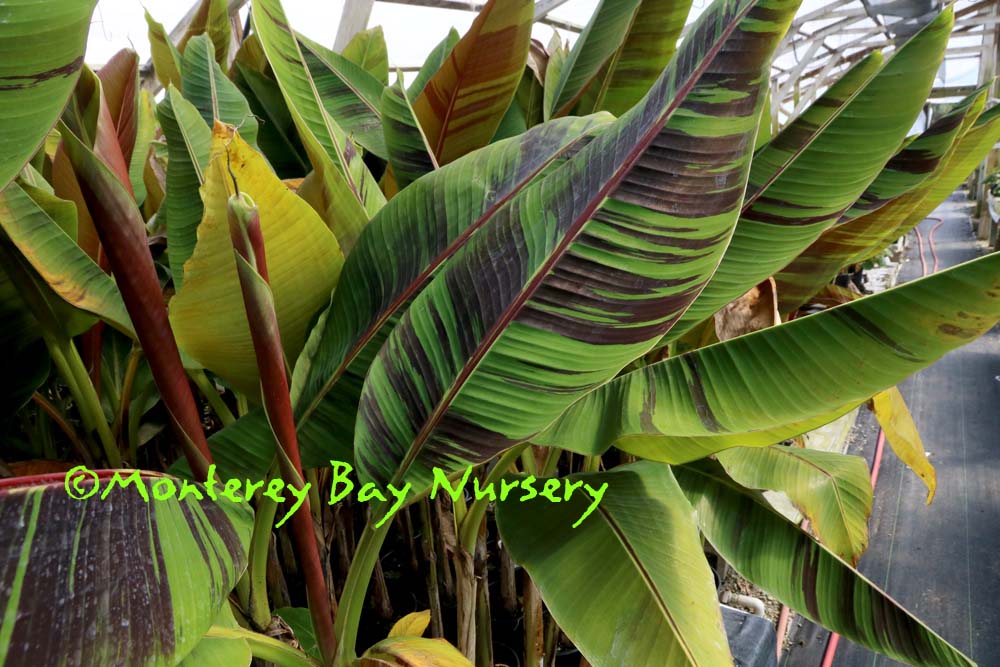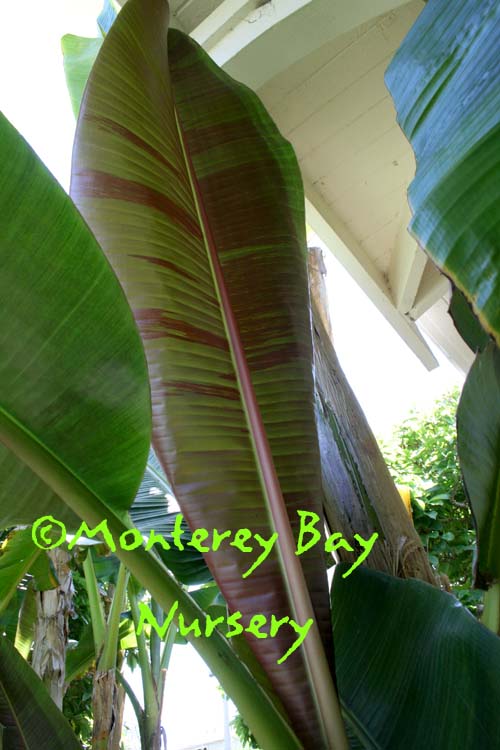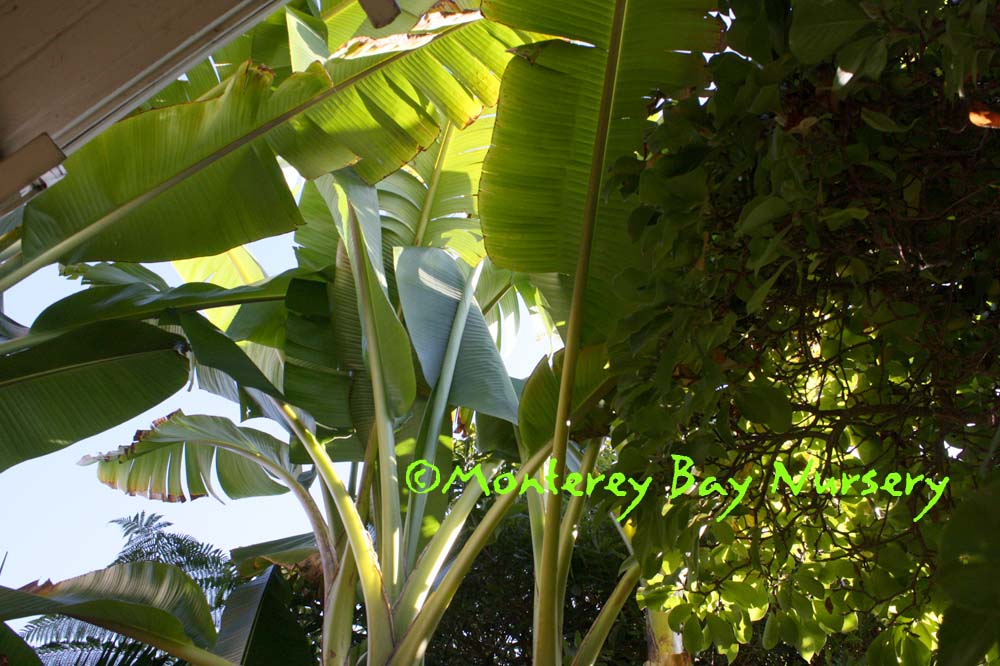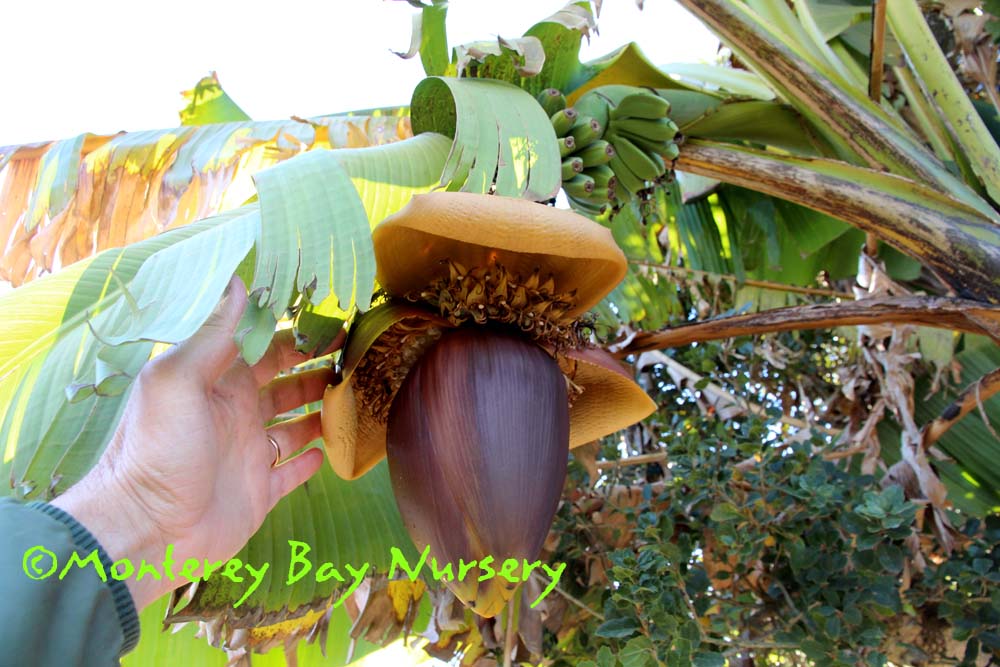 young seedling leaves intermediate mature flower spike

Musa sikimensis Ruby Dragon Fire-Breath DARJEELING BANANA more intensely colored strain than even "Red Tiger," which we sold about ten years ago. This seed strain is one of the best and most dramatic ornamental species available, and one of the most cold-tolerant as well. It features wonderful, deep maroon stripes and undersides on the youngest foliage (a la M. sumatrana 'Zebrinus'), and occasionally on mature leaves but much fainter. It is a very large, fast grower where well sited, with pseudotrunks growing to 12-15' and leaves adding another 6' or so more. New pseudotrunks spread the clump slowly outwards, eventually forming large colonies where happy. Mature plants can produce a long, arching to pendant flower spike, very showy with its very large, maroon and dark golden bracts and buds. Plants readily set fruit but those aren't edible, being fully packed with seeds. This species is grown as far north as Portland without special attention, and even Seattle if mulched. Where the trunks freeze it regrows to about 10' each year but doesn't flower. I've had a large grove at my house in Santa Cruz for over 15 years and it brings more tropical vibe and ambience to the yard than any other plant. Sun to mostly shade, moderate to little direct watering when established (those trunks are storage tanks). Our plants are grown from seed produced by my own garden specimen (the reddest of all our original seedlings) and only the reddest of those are sold under this exotic name, being a MBN-original direct translation from the Chinese. USDA zone 8a/Sunset zone 5, 8-9, 14-24. Himalayas. rev 4/2017 *New (again!) for 2017!* in 05G
Musa yunnanensis YUNNAN BANANA, FOREST BANANA another highly sought after, highly ornamental, graceful, moderate size, cold-tolerant species from high elevation Yunnan Province in China. It is recognized by long, dark green, ribbed and usually folded leaves held partway out on long petioles which arch over gracefully over. It also has a characteristic, beautiful, white, waxy coating on the petioles and upper trunk, blackish marking on the leaves and pseudotrunks and long, sinuous flower spikes featuring a thin, extended central bud column. In hot, humid, partly shaded conditions the leaves are held flat but in full sun and cool, dry, coastal California the blades usually fold over neatly at the midrib. At my house orioles regularly use those folded leaves as sites for building their hanging-basket nests. Pseudotrunks are thinner and not so tall on this modest-sized species, so it's not likely to outgrow its spot. Originally purchased and sold as M. itinerans by us about ten years ago, this tightly clumping form was separated and formally described in 2008. USDA zone 7 or 8/Sunset zones 5, 8-9, 14-24 rev 4/2017 *New (again!) for 2017!* in 05G

4/7/2017:
Spring Trials 2017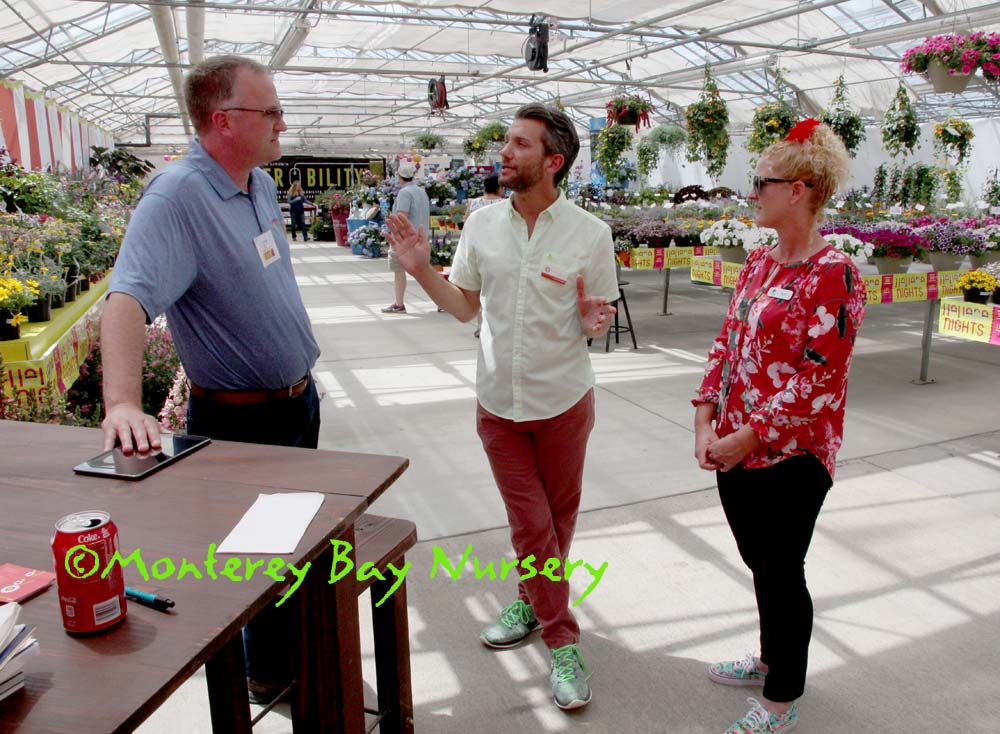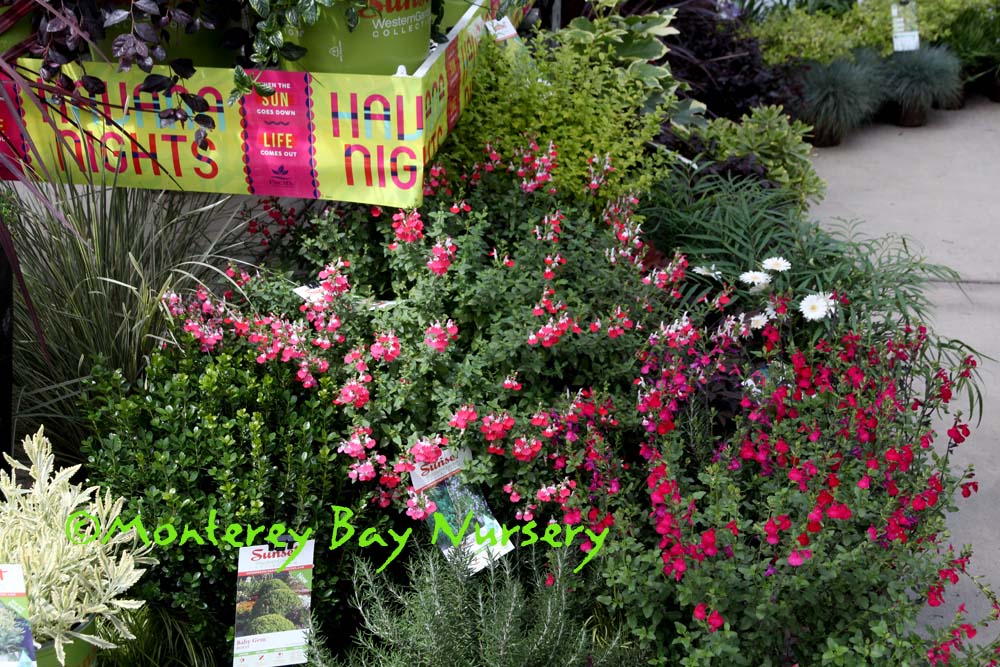 Josh Schneider (Cultivaris), Phil Nienaber (Smith Salvia 'Killer Cranberry' and 'Little Kiss'
Gardens) and April Herring (PPL) - 2016 (both MBN varieties!) at the Sunset booth, PPL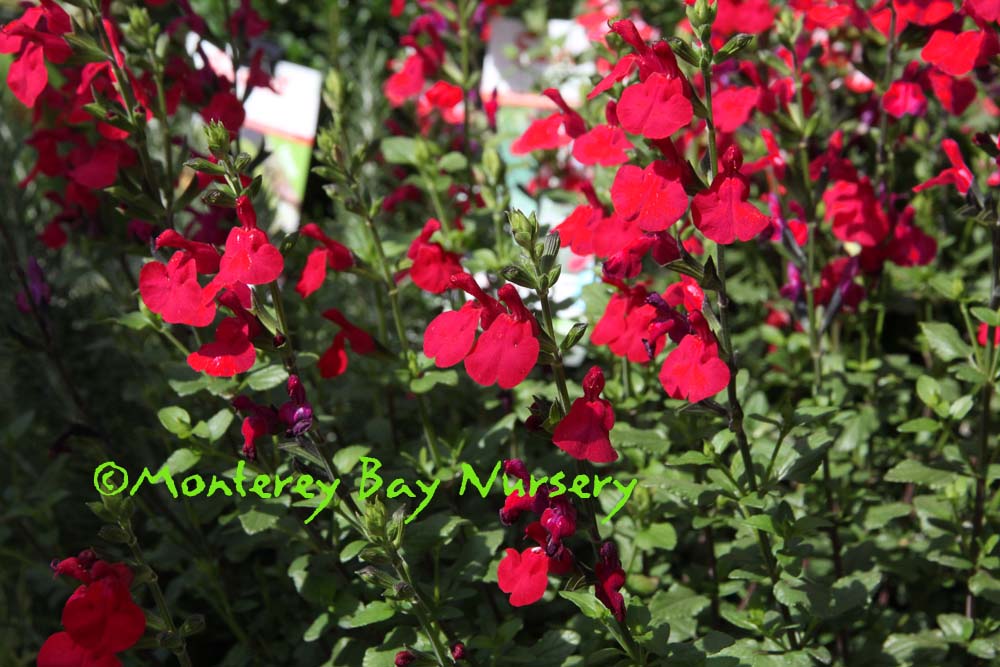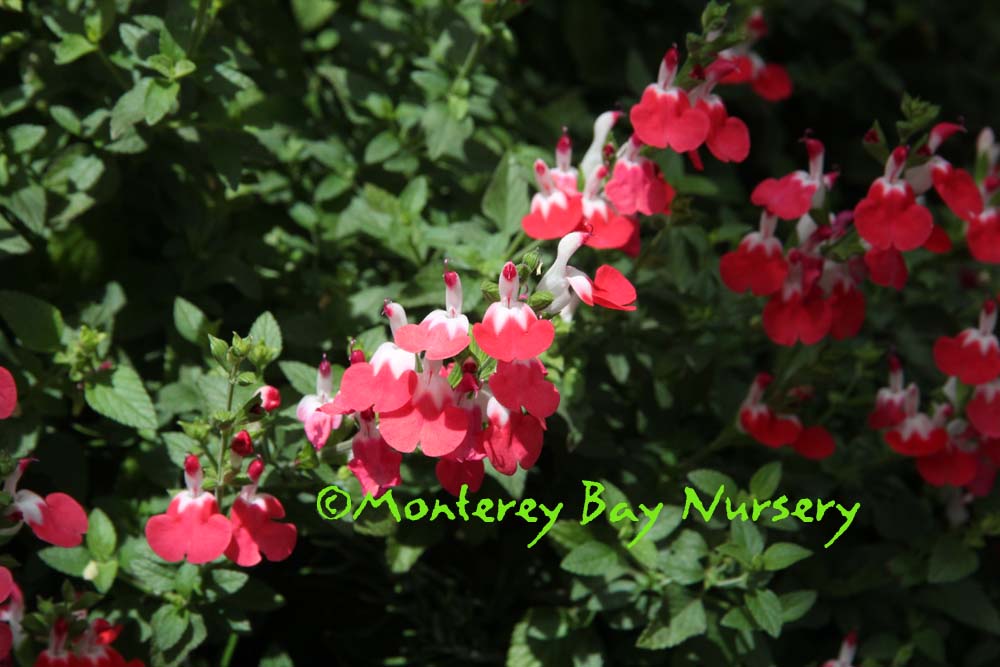 Salvia microphylla 'Killer Cranberry' PP26609 Salvia microphylla 'Little Kiss' PPAF
PPL Sunset Booth, 2016 a new, very dwarf 'Hot Lips' - Sunset Booth, 2016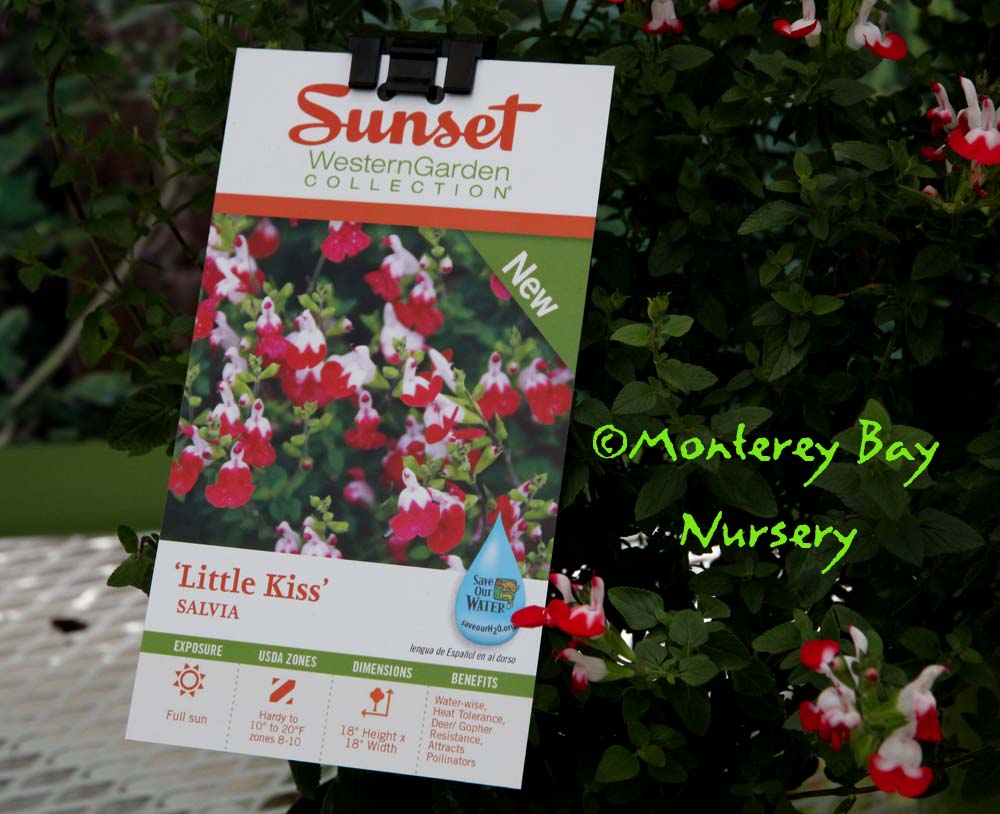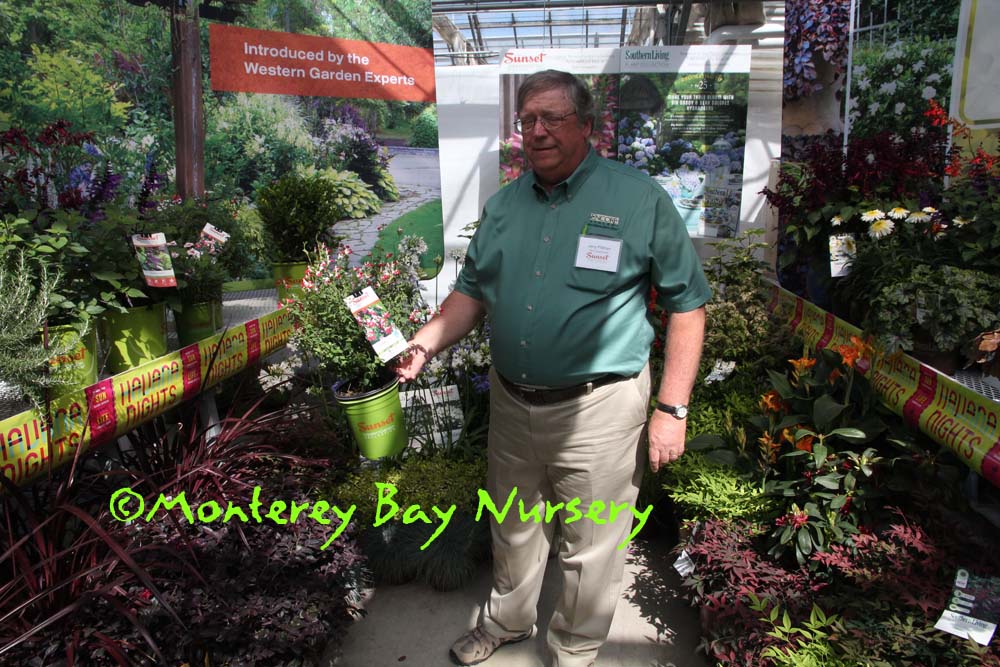 PPL Sunset booth, 2016 Jerry Pitman of Sunset, PPL 2016



Starting tomorrow (Saturday, April 1) at selected locations between Santa Paula (Ventura area) and Gilroy, one of the industry's most important plant exhibitions of all will be occurring locally as breeders, growers and brokers from around the world display their varieties at selected locations. If you have any chance at all make the effort to drop in to one of the venues. Most retailers have to fly in from other states, or even other countries! While you're there keep your eye out for select MBN varieties on display, especially at Pacific Plug and Liner's facility on Casserly Road in Watsonville, where you will find them at the Sunset and Cultivaris displays.


MARCH 3/17/2017: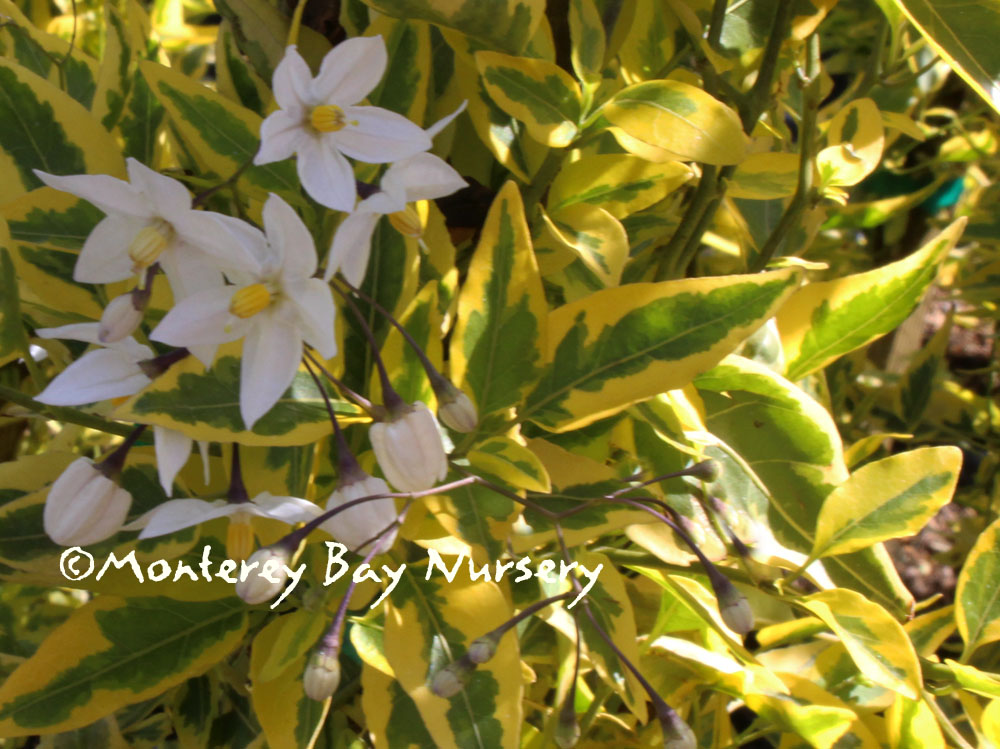 Solanum jasminoides 'Variegata' creamy yellow, uneven borders on pointy leaves with an olive green center. Little round buds open to starry white flowers, with bloom occurring most of the year. Much more compact and restrained than the non-variegated form, it displays even better than its parent against a dark background. Full to at least half sun for best foliage color, bloom.

rev 3/2017

*New for 2017!*

in 1g and 5g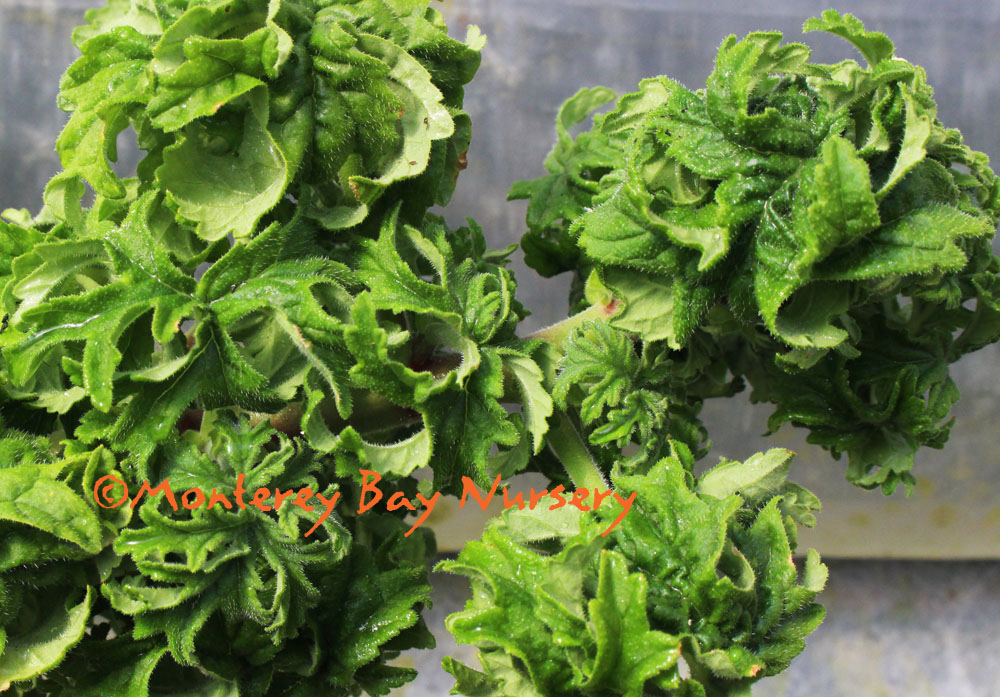 Pelargonium graveolens 'Colocho' a very strange and ornamental variant with broadly palmate, rose-scented leaves that are twisted and curled against the stems. Easy but slow, special. Small pink flowers are similarly deformed and don't open. Get yours now! Full to part sun, not much frost, best displayed as a container plant. rev 3/2017

*New for 2017!*

in quarts


FEBRUARY 2/24/2017: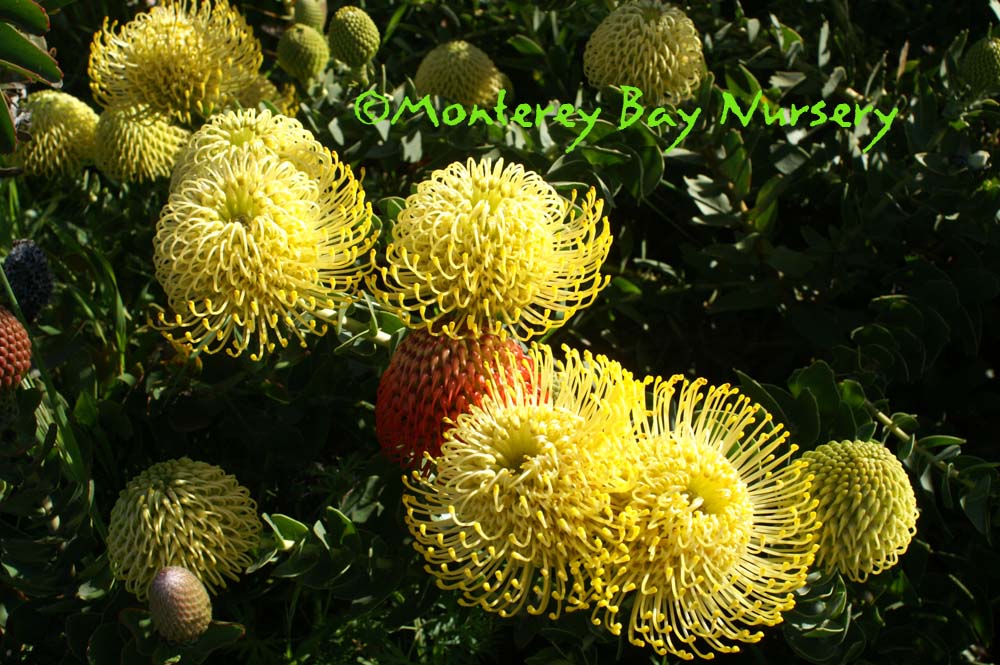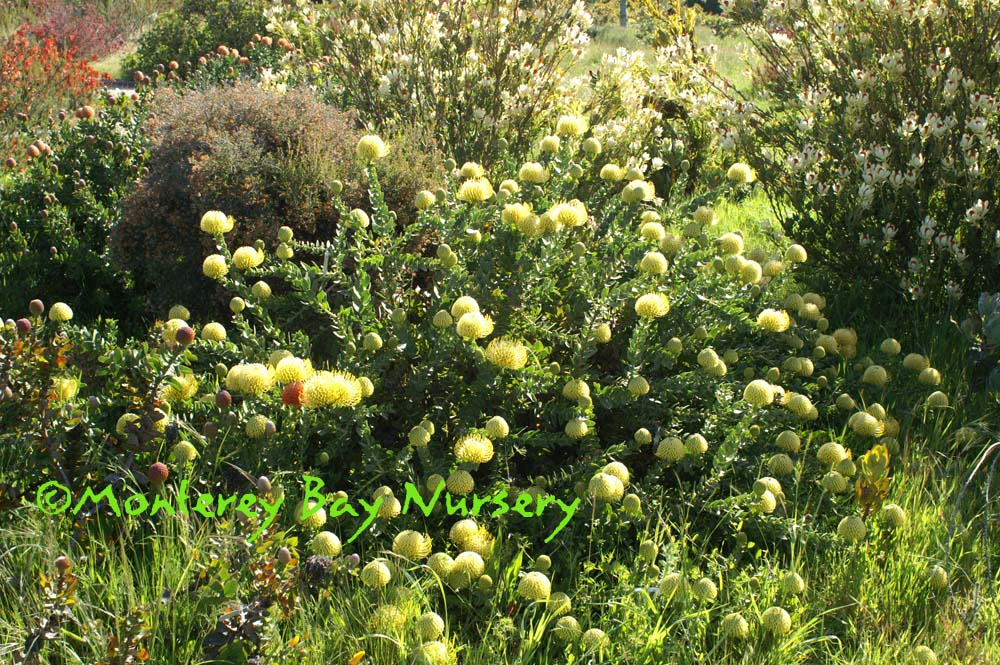 Leucospermum cordifolium 'Yellow Bird' a heavy blooming landscape and cut flower variety, to about 3-5' tall and 6-8' across at full maturity, uncontained. Stems tend to be attractively long and snaky when plants are young and happy, with light green, somewhat silvery leaves, but its form becomes denser and more compact with age and any shaping. This is a mostly-forgiving, trade-vetted form that has given us minimal problems in production and survives as well in gardens as any of the other "A" list varieties. Sun, etc. etc. rev 3/2017

*New for 2017!*

in 05G


Leucospermum 'California Sunshine' a late-blooming, compact, dense grower with narrow leaves, to about 4' tall and 6' across. Light golden yellow flowers appear in April. Flowers show red-tipped stamens, clusters age to an overall glowing golden orange. A good landscape/garden form, doesn't reach or fall open and is easy to prune to shape (after winter bloom is finished!). Typical conditions: full sun, little or no summer irrigation, good drainage. Pretty good in containers, for a few years at least. rev 3/2017 *New for 2017!*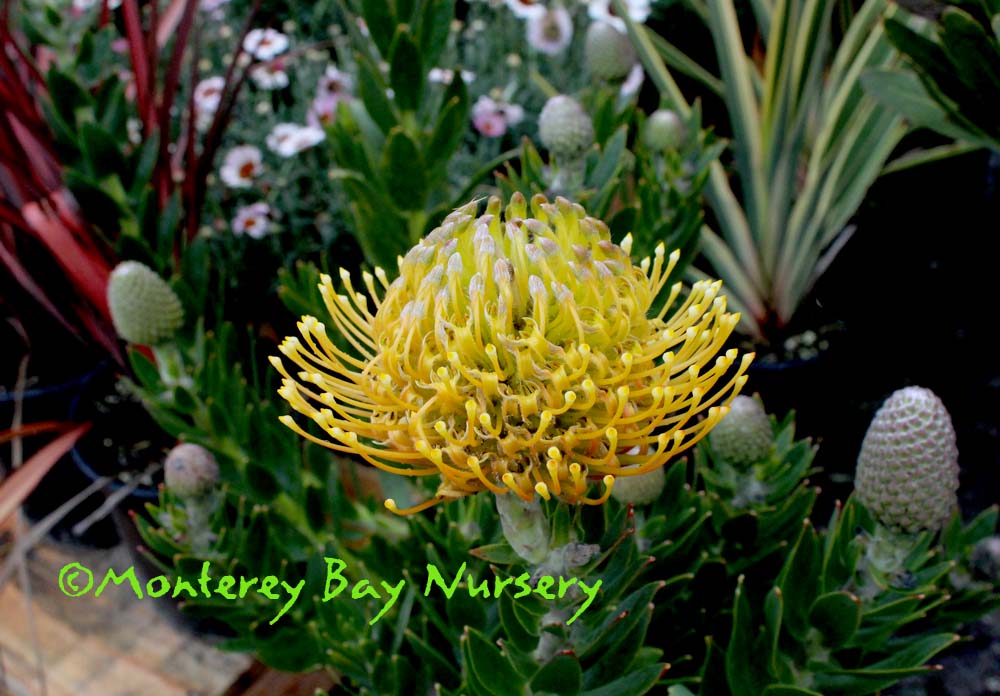 Leucospermum 'Goldie' upright flowers are a deep, rich yellow, eventually golden in color with orange stigma tips. Moderately narrow dark green leaves have a distinctive tip. Can reach an eventual 4-6' tall and 6-8' wide, with a moderately open, upright habit, denser with pruning. This is most likely a form of straight L. cuneiforme and not a hybrid, but opinions vary. Forms an interesting lignotuber with age. rev 3/2017 *New for 2017!*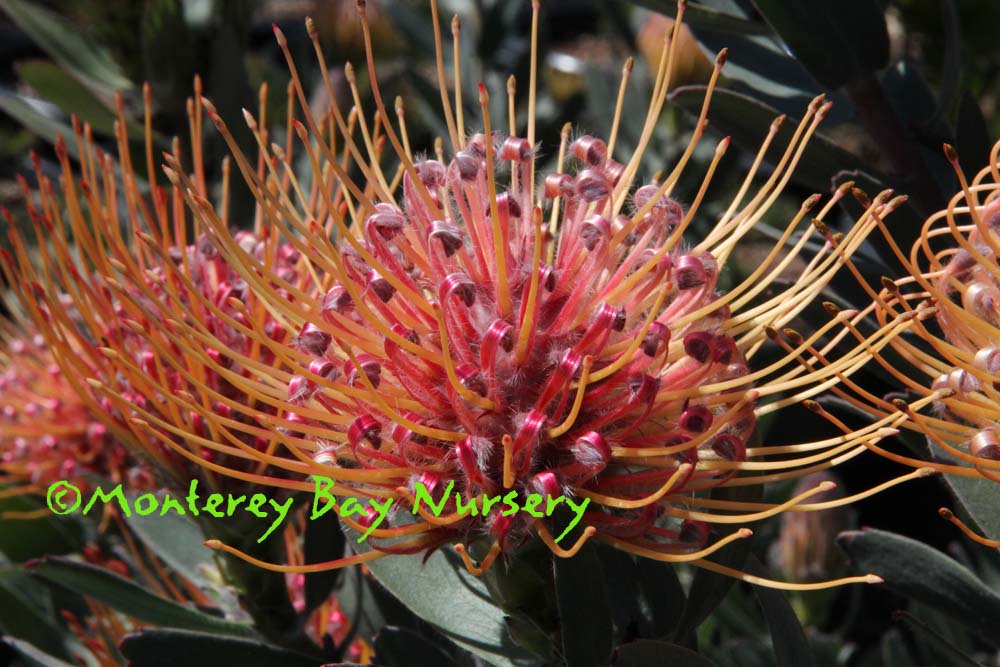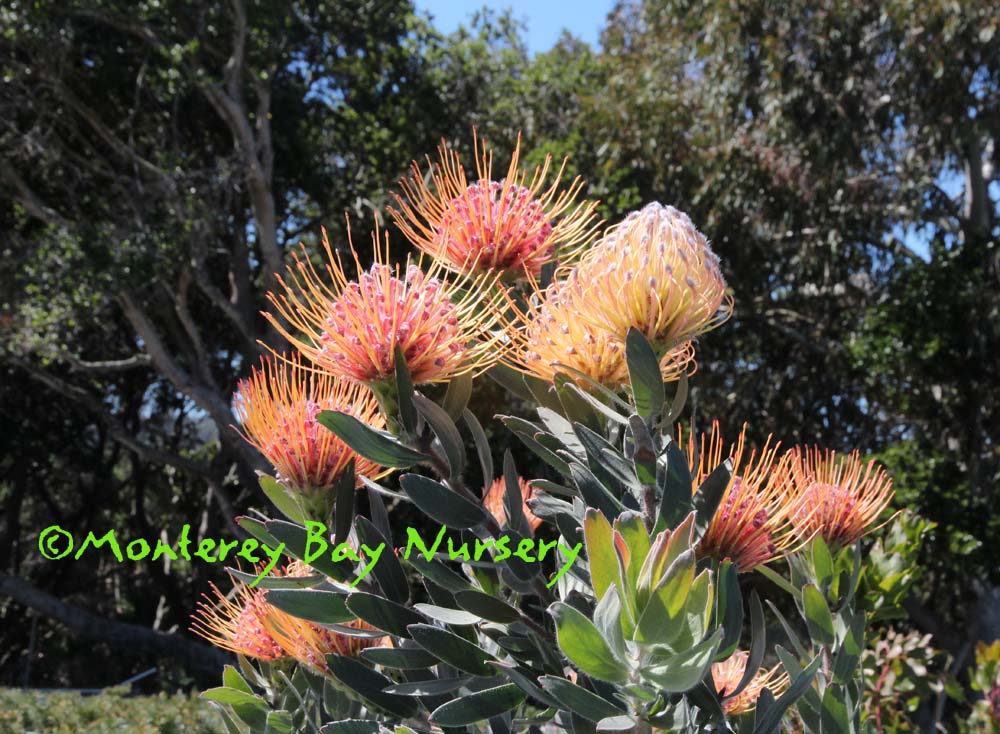 Leucospermum 'Spider' young, pale salmon flowers mature to a shiny, ribbony red. Nicely complimentary foliage is silky grey green, silvery even, with light at the right angle. Moderately fast to 6' tall, upright habit, full, dense, even. A good, tough survivor (for a pincushion!). Good drainage, etc. rev 3/2017

*New for 2017!*

in 02G


2/24/2017: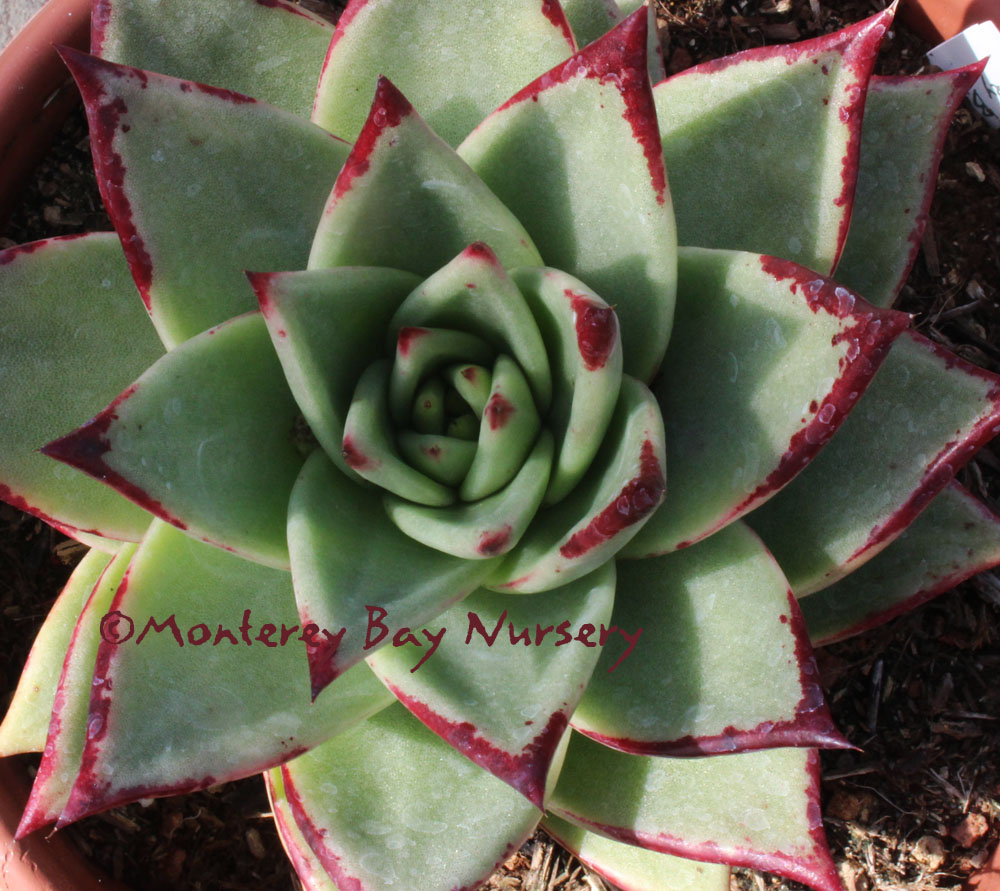 Echeveria agavoides 'Ebony' the ne plus ultra, the acme, the nonpareil of all E. agavoides varietes. Light jade green, broadly triangular leaves are sharply tipped and edged in dark blood red. Slow to grow, slow to offset, but eventually becoming the ultimate bragging-rights specimen, the weapon with which you shall humiliate and dominate your neighbors and fellow collectors. You'd better get yours first, they might be thinking the same thing!! To about 6" across, frost hardy to somewhere around 25-20F or lower. Full sun and cool conditions for best tip color but will need part shade in hot interior regions or it may scald. rev 2/2017 *New for 2017!* in 02G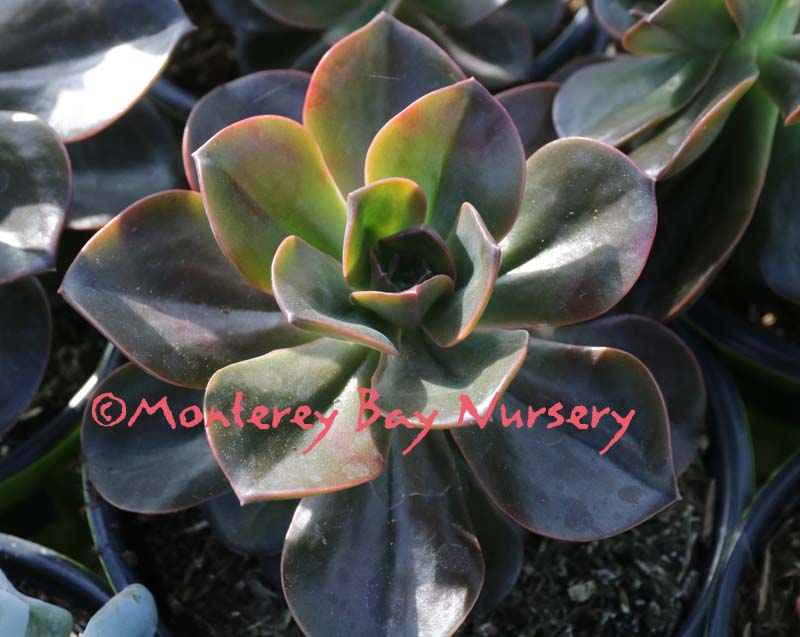 Echeveria 'Melaco' shiny brown leaves, with hints of green and bronze along the edges, form an open, stalked rosette. Coral orange flowers are held on (relatively) long, leafy stalks, initiating under short days. Must be an E. multicaulis hybrid? rev 2/2017 *New for 2017!* in 4"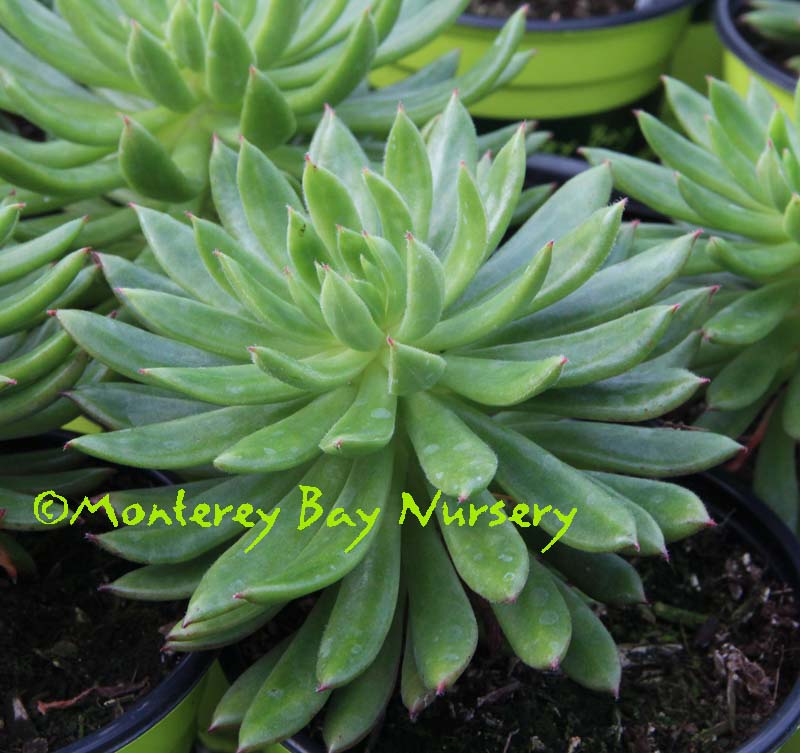 Echeveria 'Spruce Oliver' forms clusters of stalked, tightly balled rosettes, each composed of narrow, green, upwardly curved leaves. With age and drier conditions leaves develop a minutely fuzzy surface, with sun and/or cool conditions they become reddish, especially the tips and undersides. Small flowers are typical light coral orange, usually in condensed clusters, on stalks of moderate length. Easy, cute, well-behaved. Full to part sun, no frost, average succulent watering. rev 2/2017 *New for 2017!* in 4"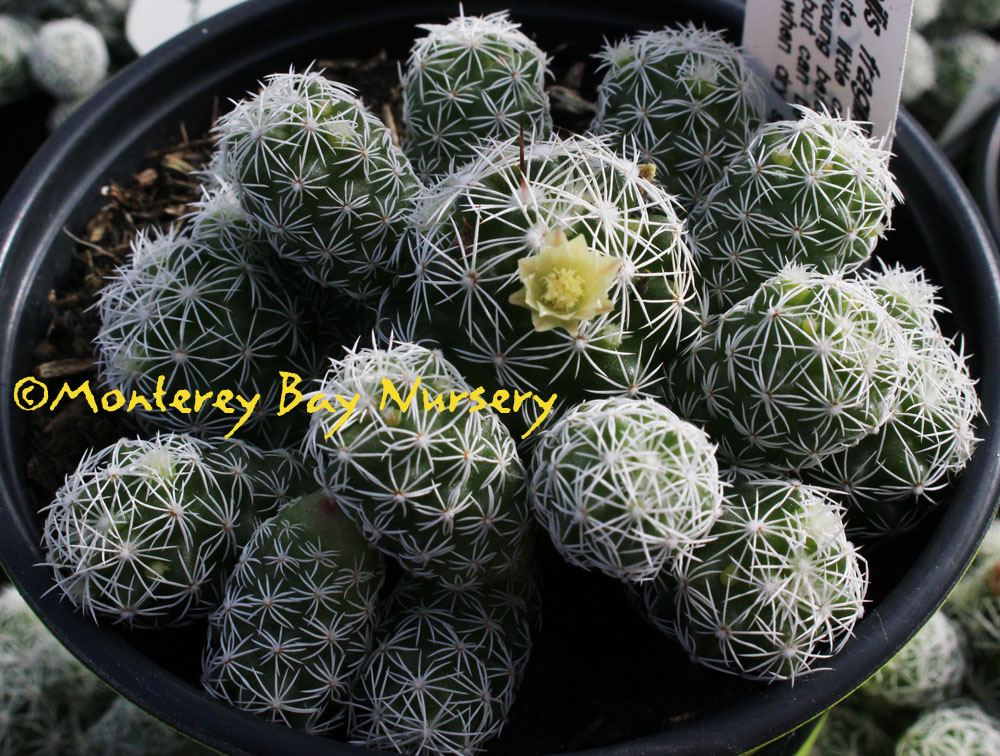 Mammillaria gracilis fragilis THIMBLE CACTUS a tidy, clumping species with form-fitting white spines that are easy to touch. The nodular branch tips break off and root easily. Pale creamy yellow flowers bloom in late winter and spring. Easy to grow, becoming an ever-wider each year and reliably forming a nice specimen with age. Sun or part shade, water when dry from spring through fall. USDA zone 9. Central Mexico. *New for 2017!* in 4"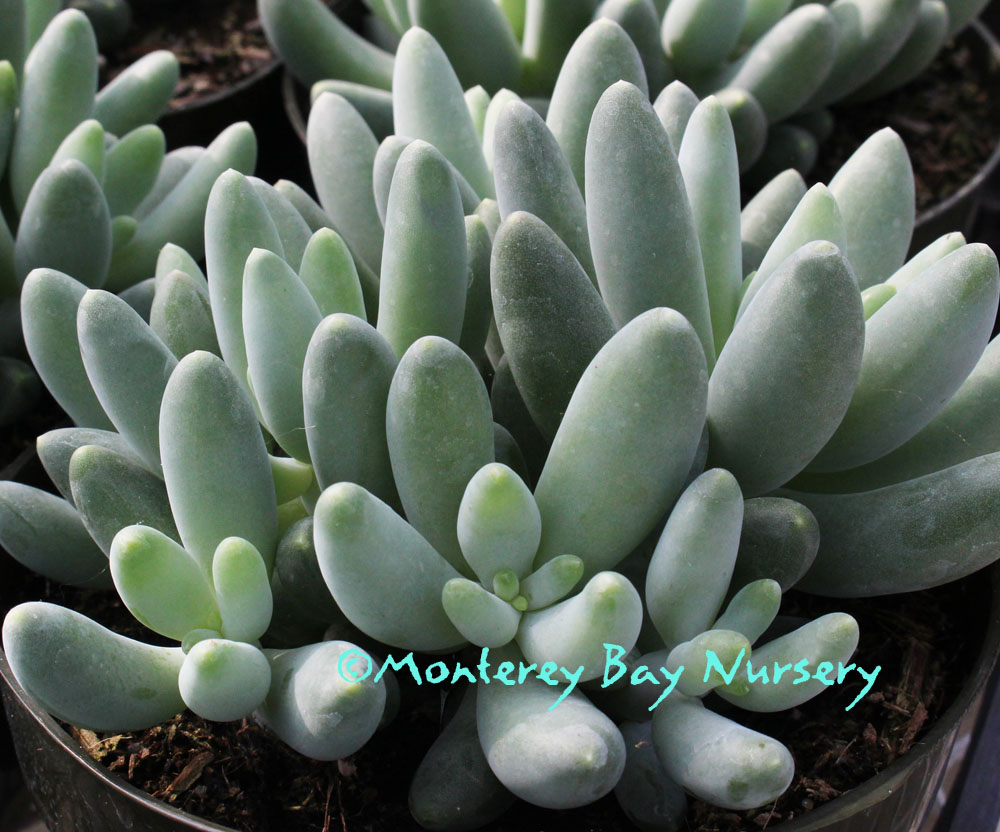 Pachyphytum 'Caterpillar' thick-fingered leaves form stemless rosettes less than 12" tall. Slow, clumping, a stunning container subject when mature. Grow in sun to bright shade with spring-fall watering, keep dry in winter. Indoor/outdoor or USDA zone 10. rev 2/2017 *New for 2017!* in 6"


2/17/2017: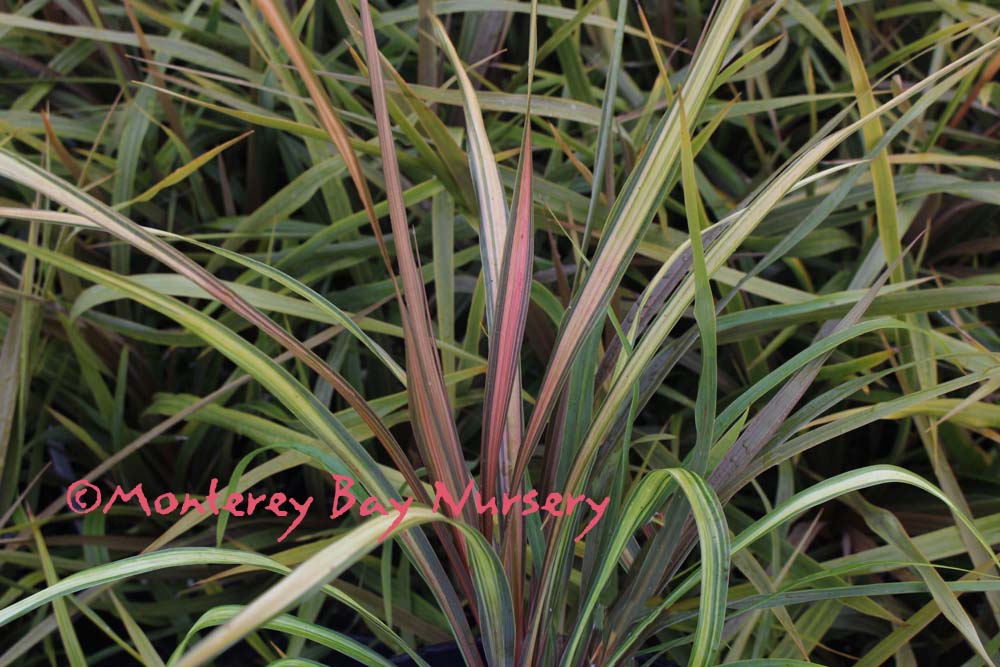 Cordyline 'Polka' peachy-orange new growth ages to olive green, To 5' tall and wide. Part of the 'Dance' series. rev 2/2017 7 *New for 2017!*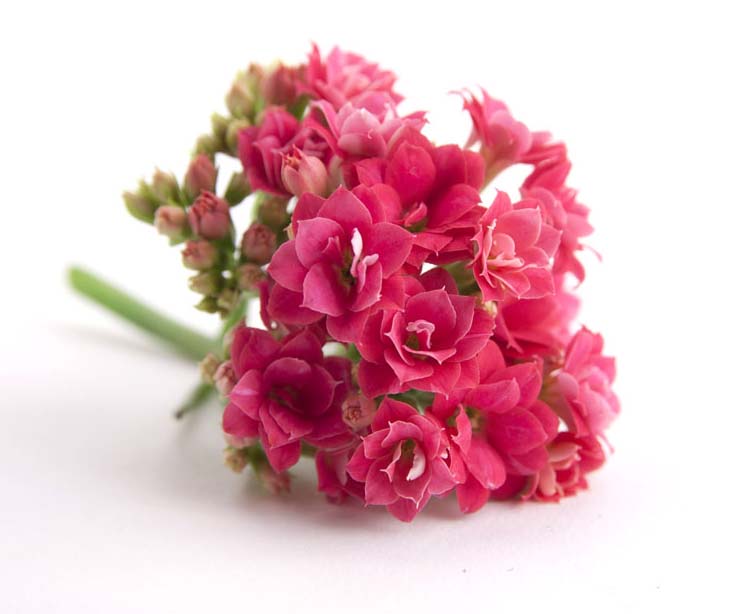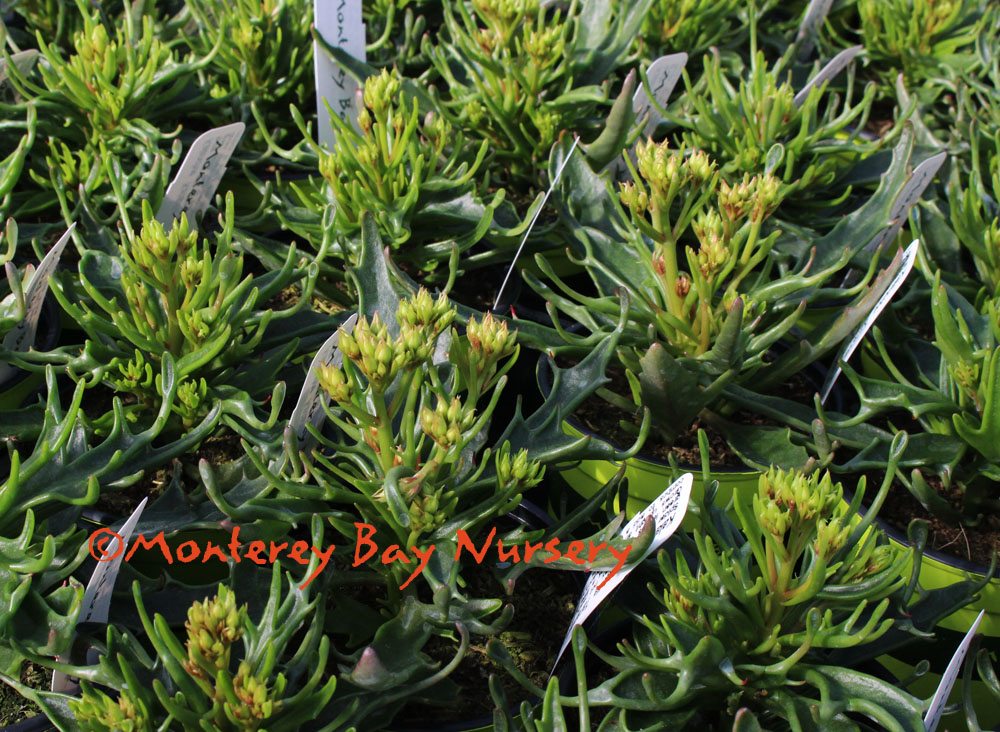 Kalanchoe 'Katapifa Tarantula' double flowers! Deeply divided dark green leaves! All budded up! Grows to less than a foot tall, and a great foliage plant when not in bloom. Tender, protect from all freezing conditions. USDA zone 10. rev 2/2017 *New for 2017!*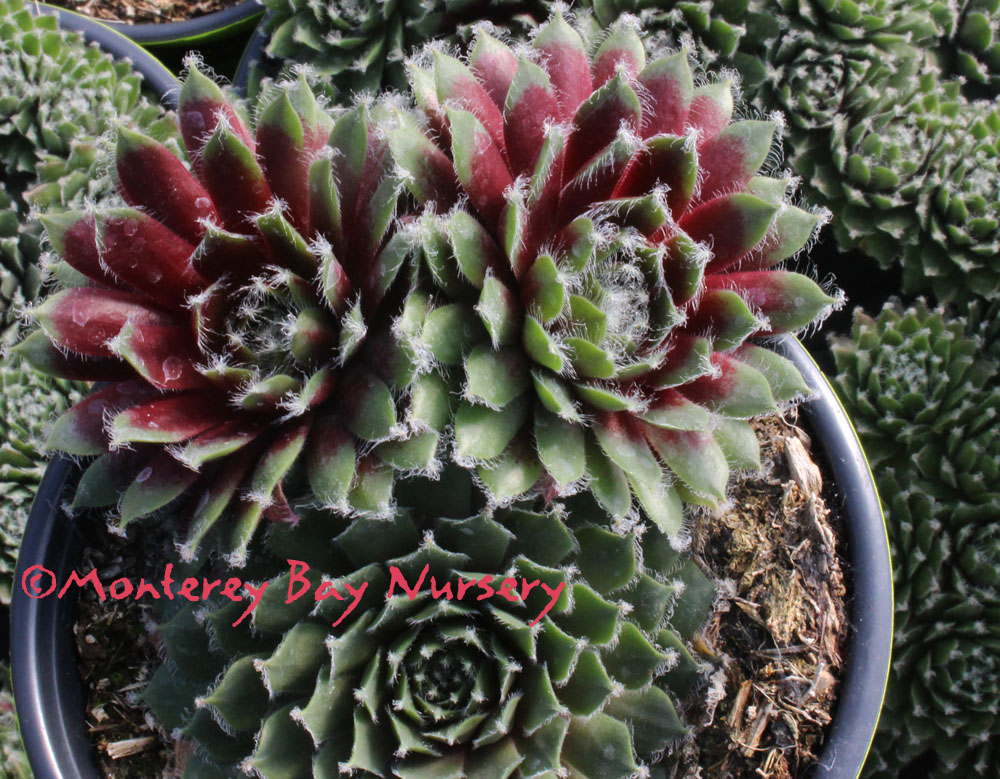 Sempervivum 'Alpha' dark green leaves, with webby tips, pick up dark red tones in late winter. Pink flowers. rev 2/2017 *New for 2017!*

Seslaria autumnalis AUTUMN MOOR GRASS flower heads, close a green clumper, featuring interesting silvery white spring flower and seed spikes. A non-invasive meadow subject, drought tolerant near the coast. Mass plantings, grouped, edgings. Sun, part shade, to 10-12". USDA zone 5. rev 2/2017 *New for 2017!*
2/3/2017: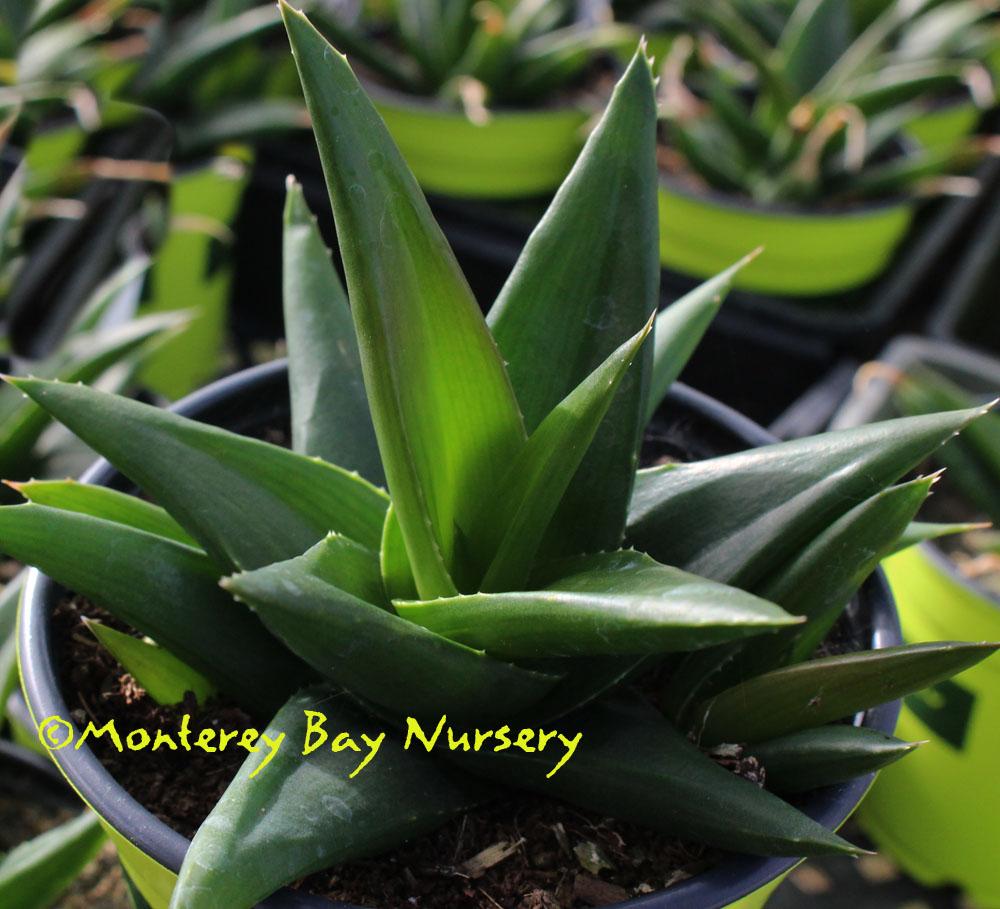 A VERY YOUNG PLANT JUST ITCHING TO TURN BRONZE!
Aloe 'Walmsley Bronze' "it's just like the other one, except it's bronze." That's what they told me. Sunset zones 21-24/USDA zone 9a-10 until I have more hardiness info. rev 2/2017 *New for 2017!*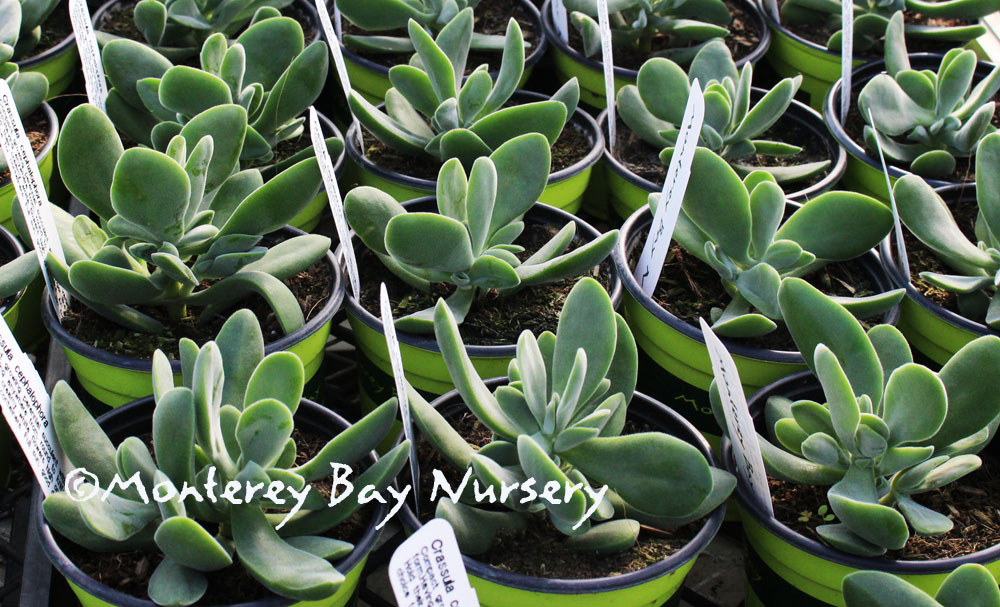 Crassula cephalophora young plants an ultra-mini Propeller Plant. Juvenile foliage is green and slightly fuzzy, mature leaves become grey, thick, densely and minutely fuzzy, and with neatly stacked opposite leaves. Very small flowers are light pink and are produced in very tight, arching terminal clusters. The buds initiate under short-day conditions. Also sold as C. nudicaulis. USDA zone 9. South Agrica. rev 2/2017 *New for 2017!*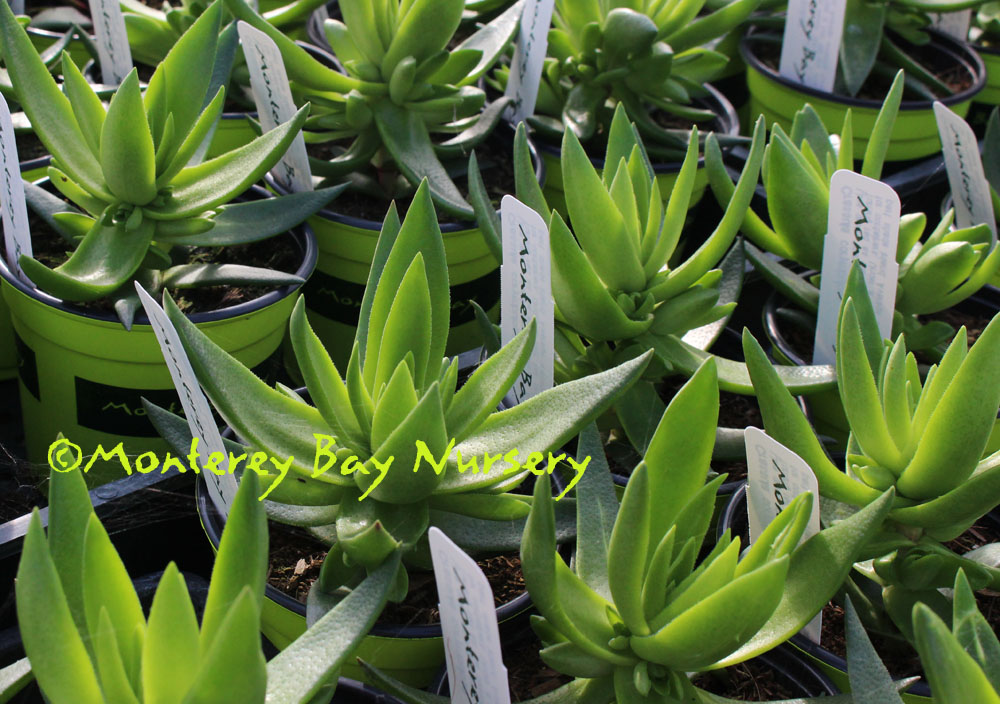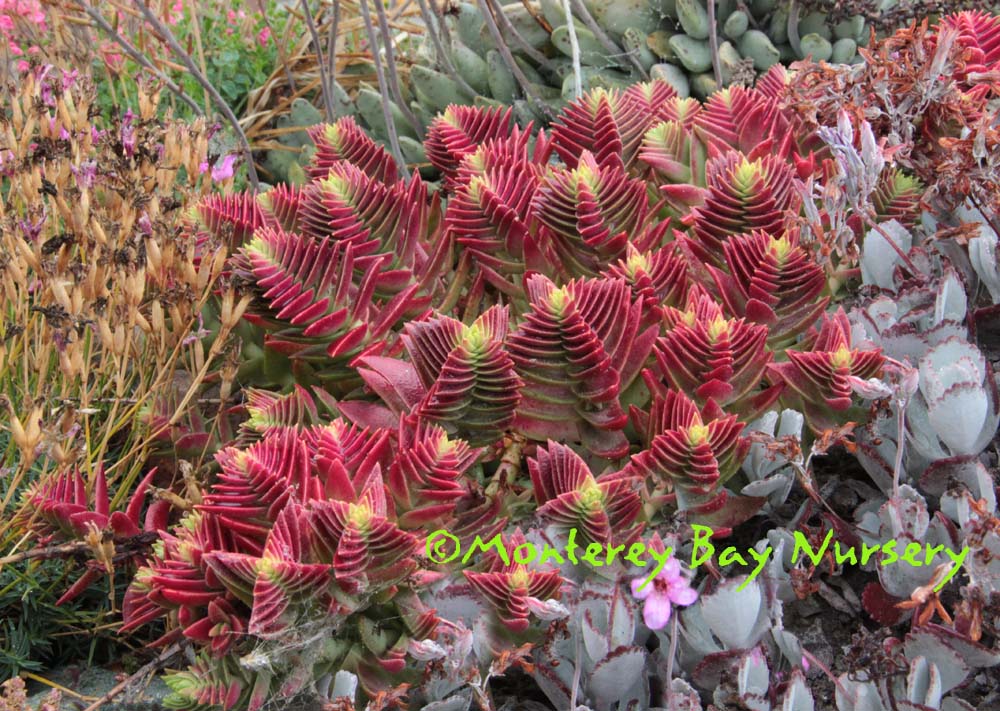 Crassula corymbulosa young greenhouse plants, juvenile foliage older, outdoors, mature foliage, sun, cool closeup a rather strongly dimorphic species, emerging from the greenhouse with soft, green, juvenile foliage then maturing to a very compact, tightly stacked, small-leaved, mature plant that often turns red under cool conditions and strong light. Very small spikes of very tiny flowers appear in winter. Inches tall, and wide, keep it in a small container, a succulent combination dish garden, or in crevices, rocky soil, etc. Sun to half shade, will tolerate a little frost, not much. USDA zone 9. South Agrica. rev 2/2017 *New for 2017!*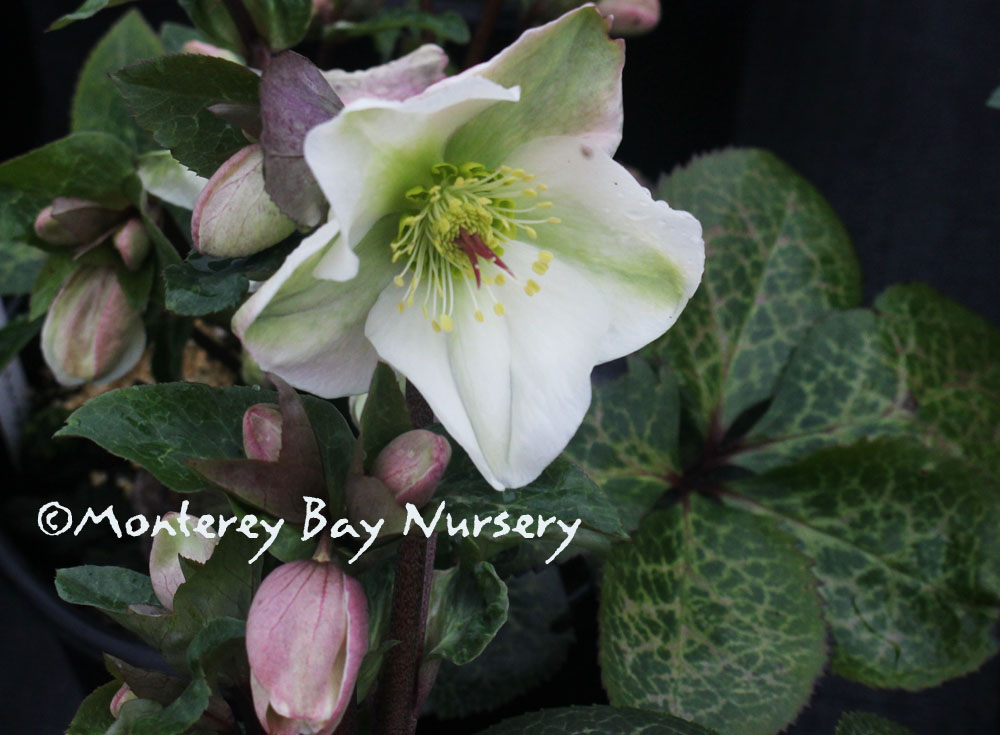 Helleborus 'Frostkiss Molly's White' flowers rounded, cupped, dusky coral pink buds open to widely flared, outward-facing, very white flowers, with perky green shading on the petal faces. Very large, tough leaves are wonderfully marbled with gold, flower stems are deep burgundy. Lots going on, all of it very nice! To 12-24" tall, 24" wide. Late January to February bloom for us. USDA zone 5.
*New for 2017!*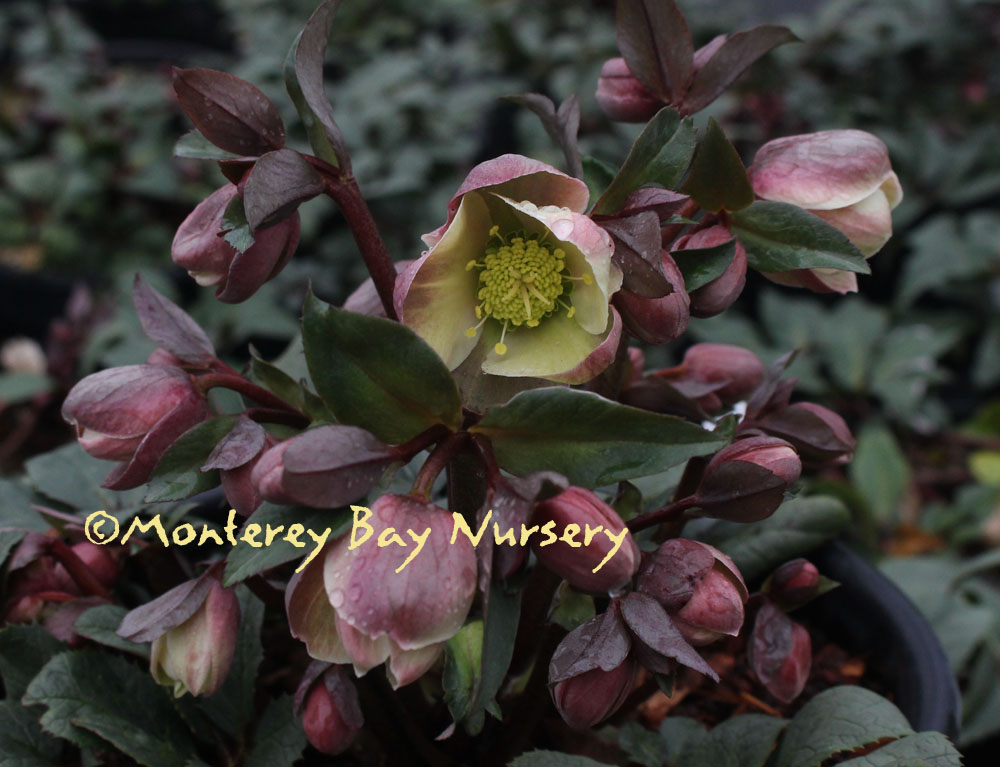 Helleborus 'HGC Love Bug' just opening! rounded, very dark coral pink buds opened in February for us to display warm white to pale yellow flowers ,heavily blushed with light coral pink and pastel green. Foliage is compact and hard, leaves are dark, rich grey green against deep cranberry stems. A very compact grower, to just 12-15" tall and wide. USDA zone 5. rev 2/2017 *New for 2017!*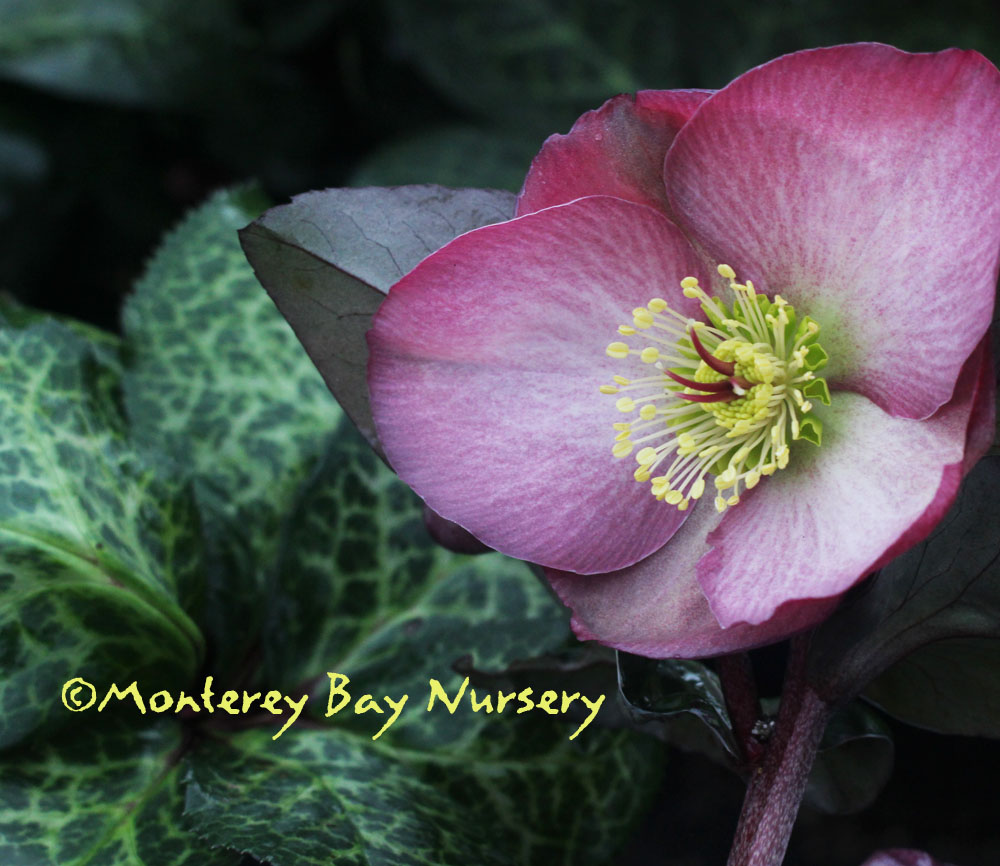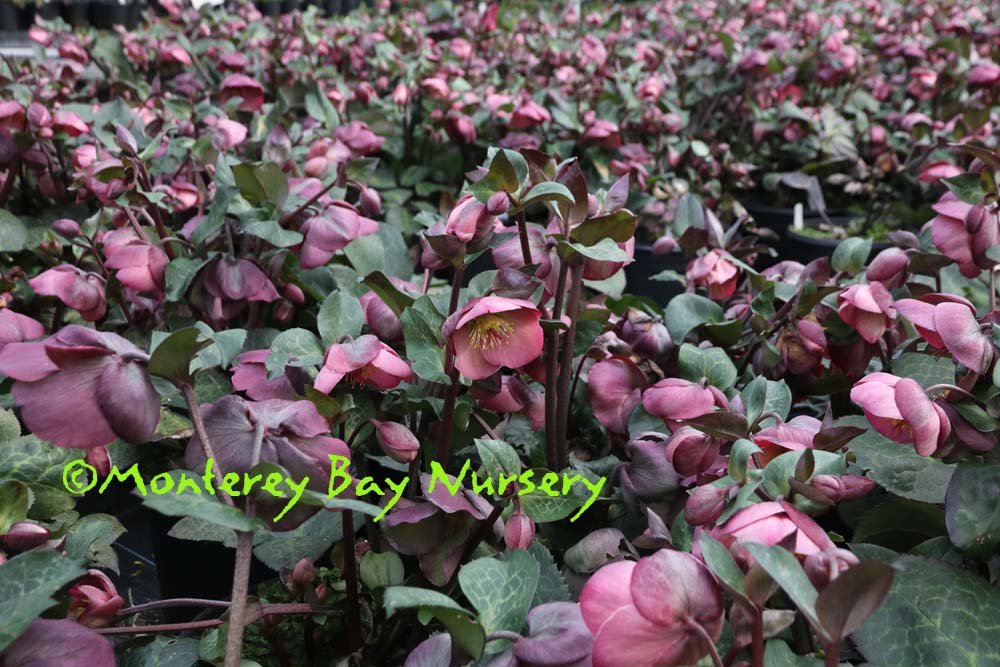 Helleborus 'Penny's Pink' single flower, leaf whole bunch! a very promising, strong performer for us, also a favorite of the staff at Cabrillo, after trailing many. This is a very good, vigorous, tall, true deep red which has performed well for us the past three warm years. As all hellebores seem to perform well here in colder years, varieties like this which produce tall flower stalks every year, and don't slowly decline in vigor from or cyclic subtropical winters, are by far the best for most California gardens. Rich, deep red flower color is of course the main feature, but the burgundy petioles and flower stems, and large, tough leaves marbled strikingly with gold make it valuable and eye-catching all year. Plant many! USDA zone 5. rev 2/2017

*New for 2017!*




JANUARY 1/20/2017: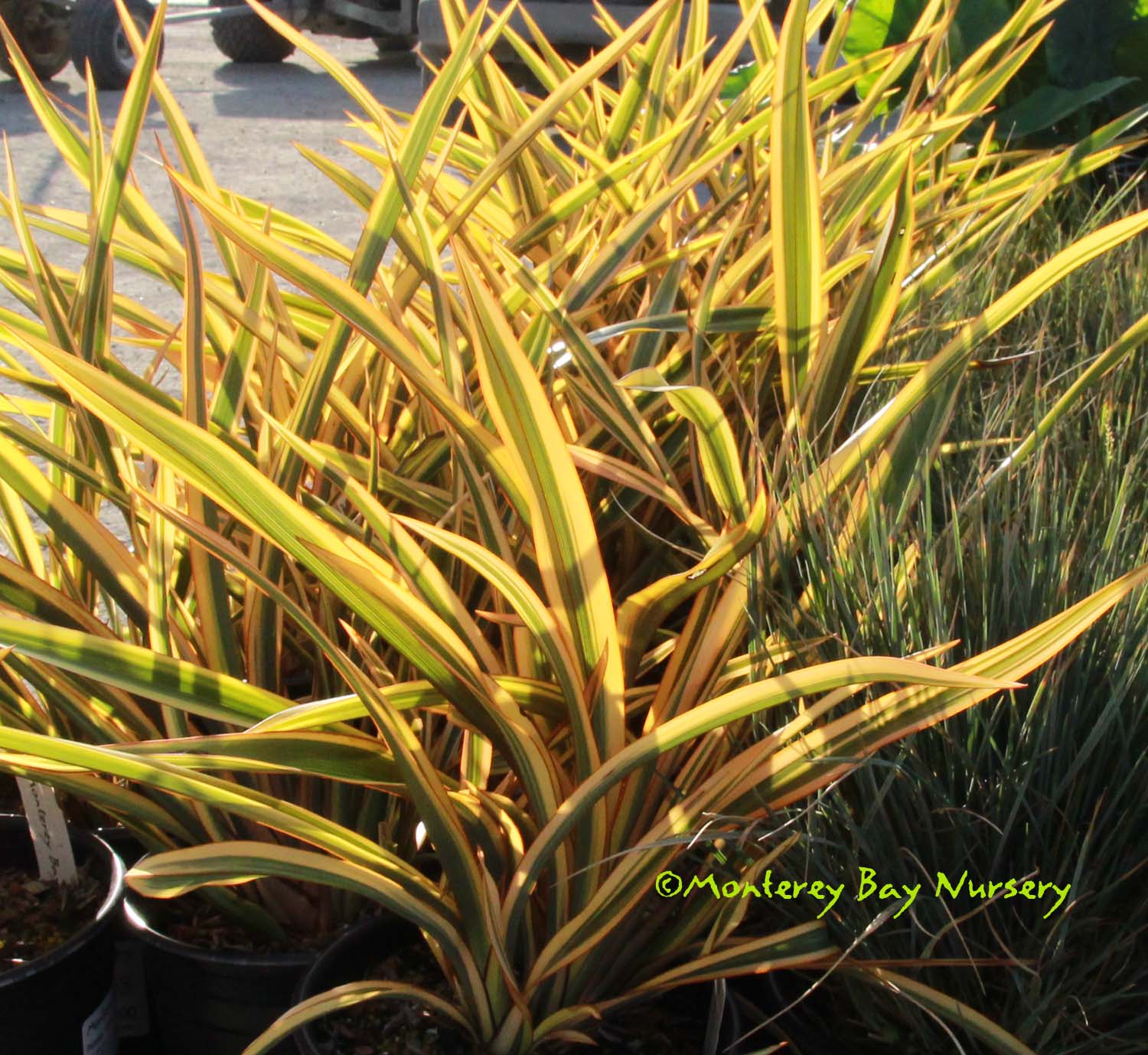 Phormium 'Golden Ray' new leaves, young plant a slightly thinner-leaved form, to 5' tall and wide. Leaves show wide creamy marginal edges, a clean, deep green central stripe and thin, deep burgundy to glowing orange lines defining the very edges. It looks suspiciously like a P. cookianum (Mountain Flax) derivation, especially compared to 'Apricot Queen,' P. cookianum 'Tricolor' and P. cookianum 'Cream Delight,' but no other growers I've found list it as such. Young plants show nice peachy tones on the new leaves under cool conditions. rev. 1/2017 *New for 2017!*

1/2/2017: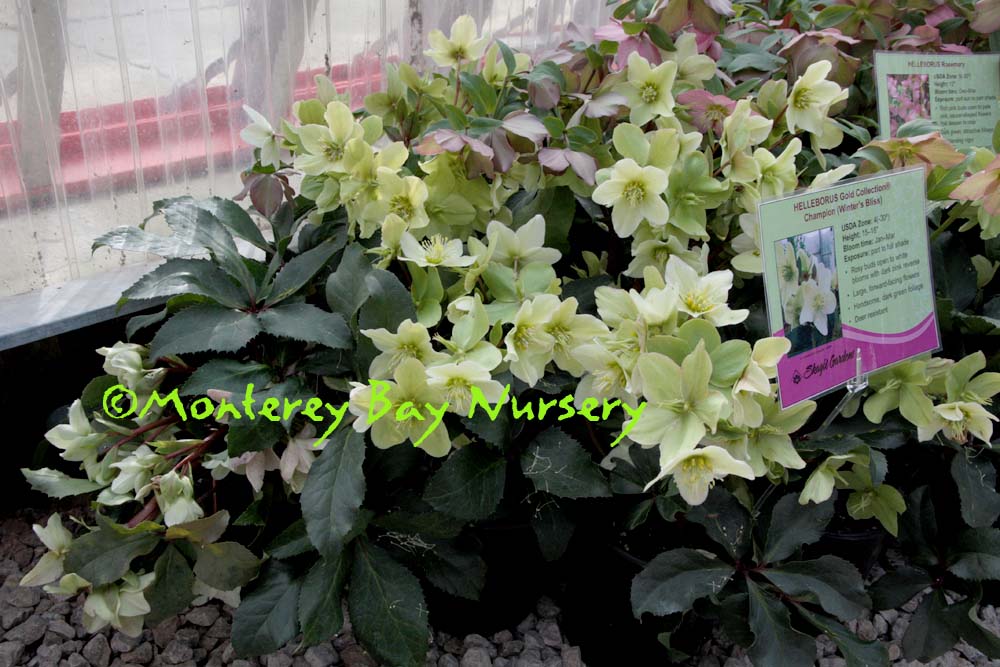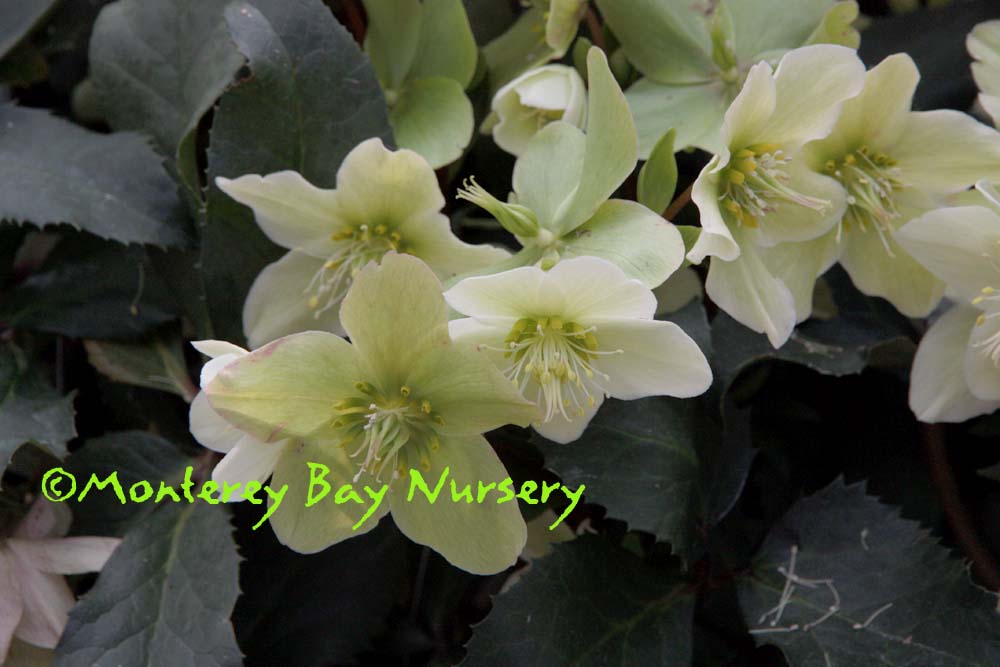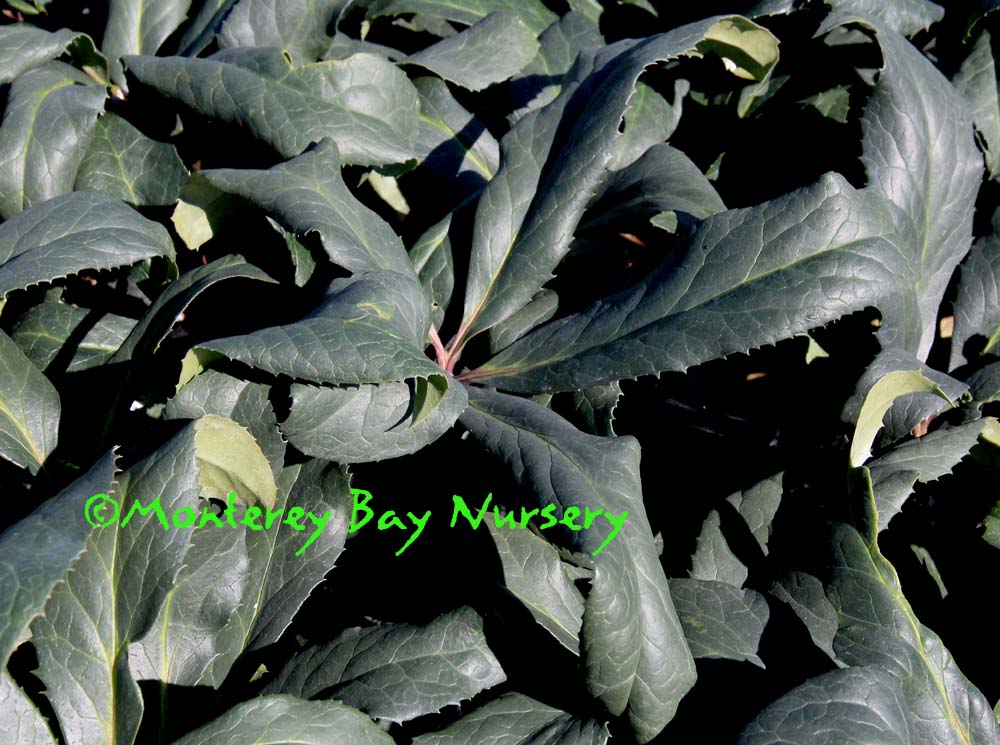 2011 SPRING TRIALS BIG FLOWERS, ON BURGUNDY STEMS TOUGH, DARK BLUE GREEN LEAVES

Helleborus HGC Champion
large sprays of big, open-faced, white to greenish white flowers, aging to blush pink, are displayed against wonderful light burgundy red stems and leaf petioles. This one looks like it has H. argutifolius, or perhaps even H. x. sternii (those red stems!) in its background, with its slightly greyish foliage and finely toothed leaf margins. To 15-18" tall, blooms late December through March for us. USDA zone 4/Sunset zones 1-8, 14-24. rev 1/2017
*New for 2017!*