New plants since May 2017
(OLDER - New plants for January-April 2017)
NOVEMBER

11/3/2017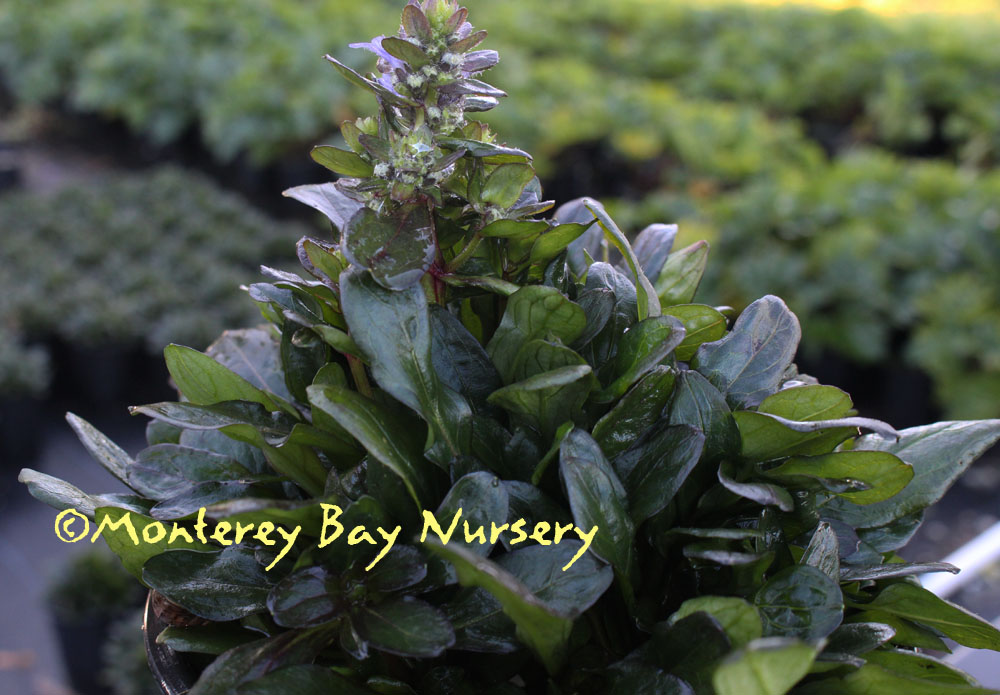 Ajuga 'Blueberry Muffin' a very short grower with narrow, tough, resilient and very shiny leaves. Reportedly it's much more disease and die-out resistant. Typical blue flowers on short spikes, seems to be a short day bloomer so far. rev 11/2017

*New for 2018!*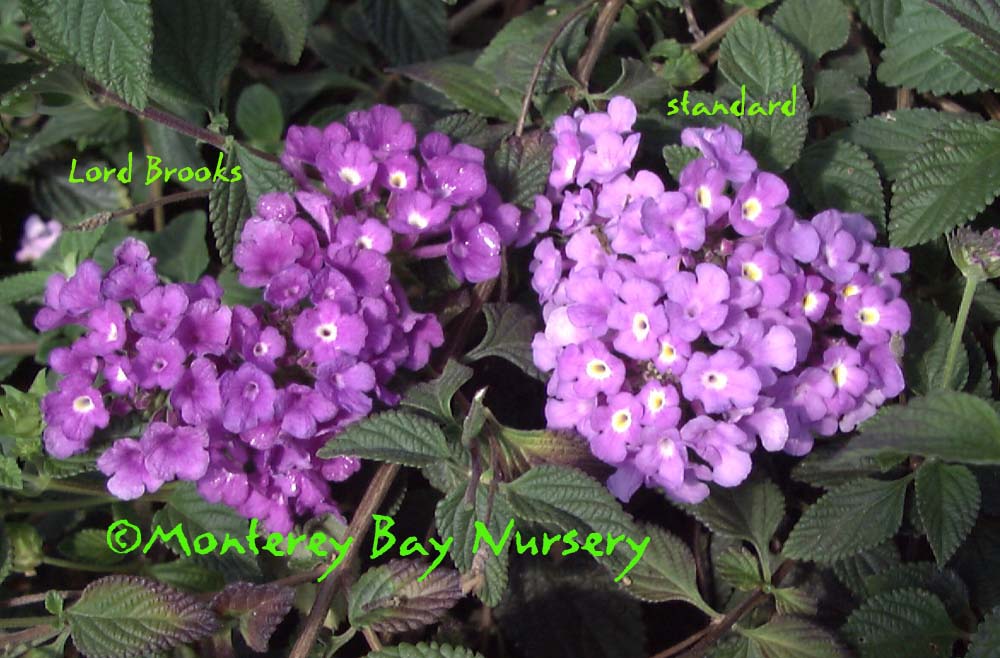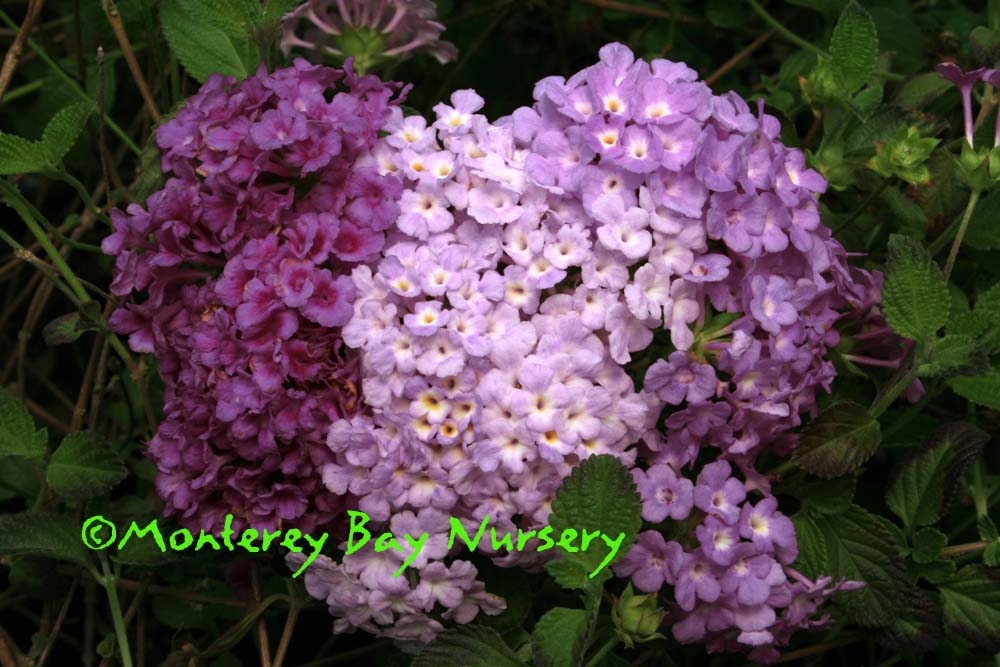 Lord Brooks, left - regular form right, grown together Lord Brooks - Lady Brooks -regular form, grown together

Lantana montevidensis 'Lord Brooks' PP25920 one day I said to our Jeff Brooks "Jeff, we have 3000 purple lantanas, go find me a sport that's more blue." The next day he brought me one that was darker purple instead. As I recall he said "Yes master I hear and obey!" And that is exactly how you find new varieties. This is about twice as dark as the regular form, but you might only notice if they've been grown together in the same conditions (temperature, media, fertilizer etc.). This form is always darker and mo' betta! Same conditions. rev 11/201

*New for 2018!*

MBN INTRODUCTION-2017


OCTOBER

10/22/17

Special alternate prize announced for our Name That Plant contest!!!

Plant ID Contest winner Seth Taylor and his oh-so-close runner-up Brendan Wilce both graciously declined our grand prize, the fabulous Art Deco retro-mod cyberpunk-style monitor that would have been the perfect statement for your anarchist-rad-protester themed worker-cave at your nursery or landscape office. But our special two certainly deserved some sort of worthy prize. So I came up with something else from our secret vault: it's really big, it's really weird, and it's really . . . it's really . . . what is it really??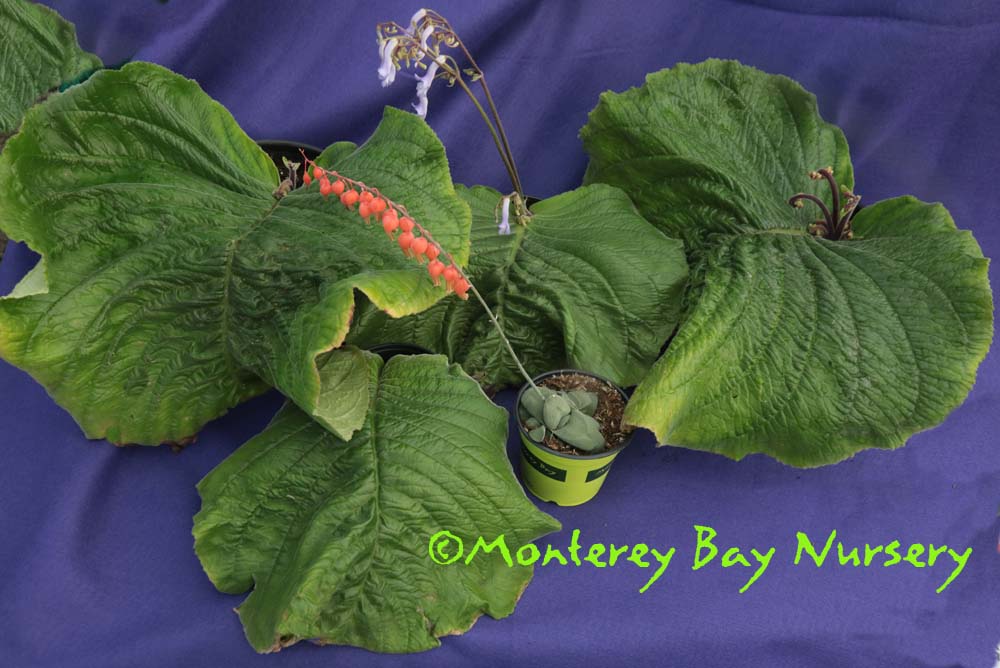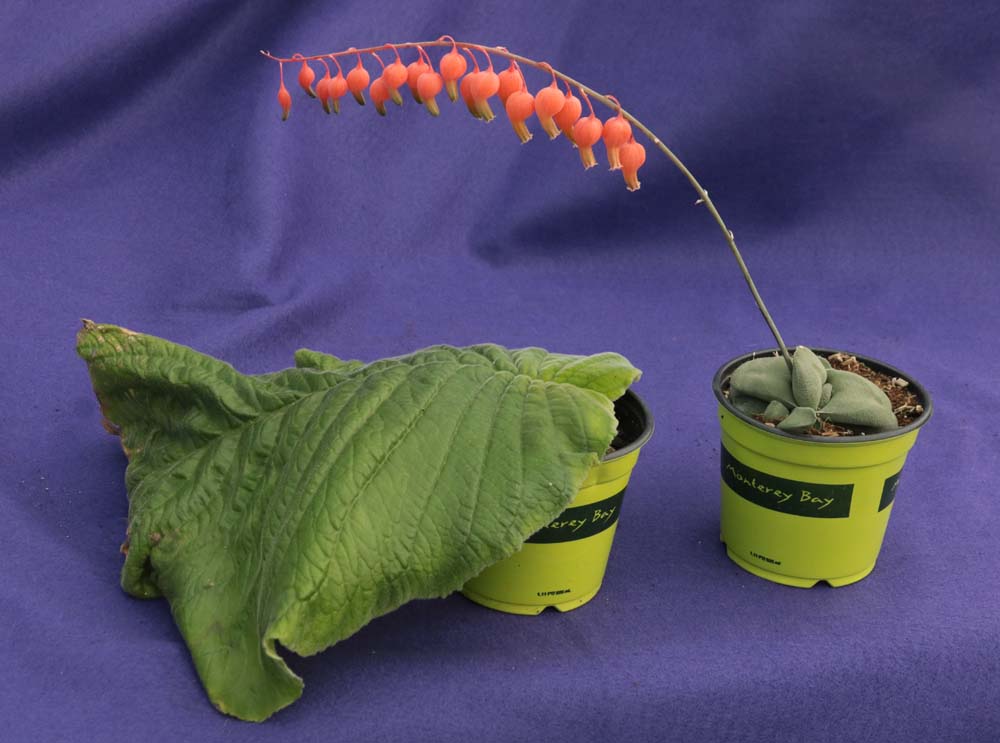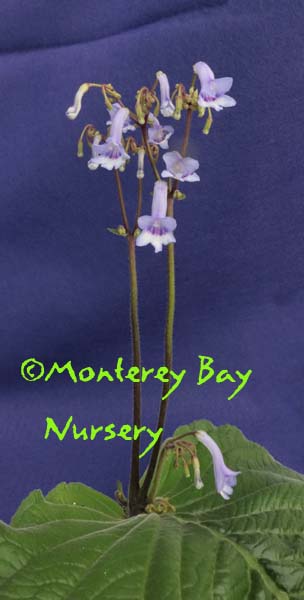 two 1g and two 4" plants with 4" succulent for scale beautiful petite flowers

Why it's a unifoliate Strep, of course!

As the elite among you already know the unifoliate Streptocarpus form one of three groups generally recognized within that genus. The "unis" as we fondly refer to them here at MBN, produce one gi-normously hu-gantic, righteously magnificent leaf, all glossy and dark green and wondrous, then soon throw a series of tall, very-thin-but-wiry-strong flower spikes from the base bearing clouds of small but quite pretty flowers, then almost always die a sad and tragic death. Or not, as a few species can resprout a new leaf and start over.

Some species will produce really, really, really long leaves that look like huge, glossy green tongues. The first one I ever grew was that type, and I even remember I got it from Bartley Schwartz back in the 1970's when he lived on Ruth Bancroft's property. Bartley liked and bred Streps, along with 500 other things.

Others "unis" seem to grow stupidly big in all directions at once, and thus appear mostly round. Our prize species seems to be one of these, and Suzy pitcher-booked it to S. cooperi (?).

When we figure out a practical shipping method better than our current one (one per truck per day, me, each buckled in next to the driver) we may offer them as more than just Special Contest prize and botanic garden silent auction items.

That is, if anyone else wants one.

And congratulations guys!!

10/13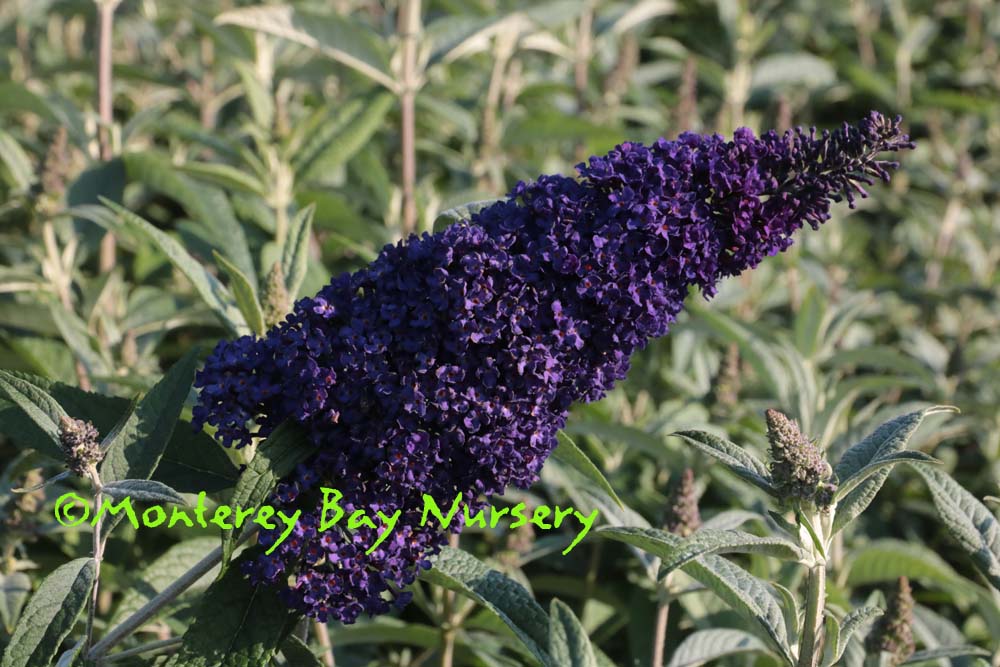 Buddleia 'Buzz Midnight' typical long, fat flower spikes, in an intense purple blue so deep it is hard to photograph, on a plant just 3-4' tall and wide - and it's completely sterile! To 3-4' wide and tall. rev 10/2017

*New for 2018!*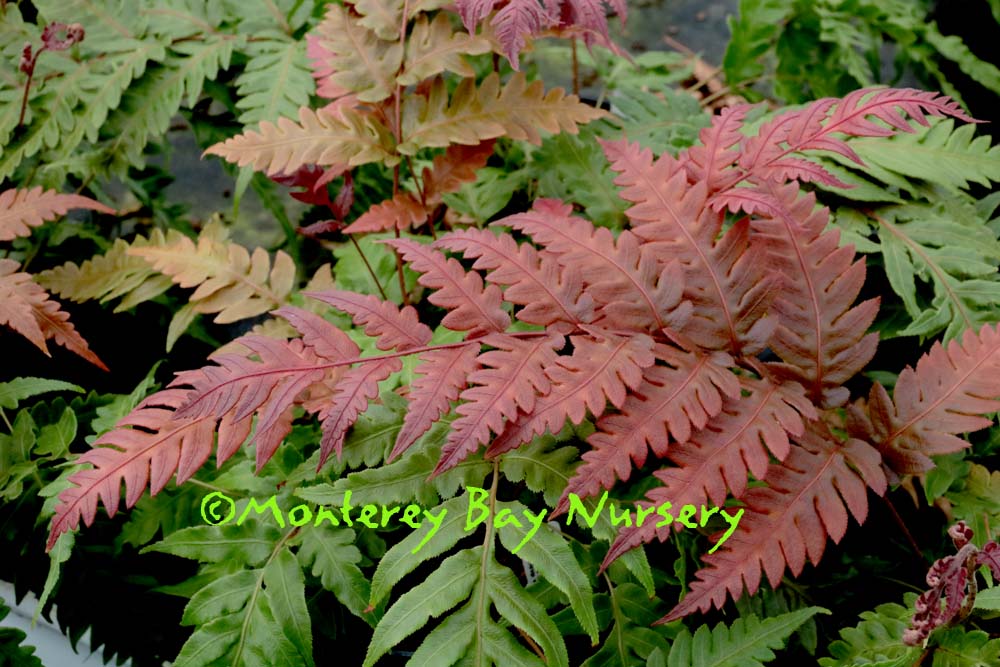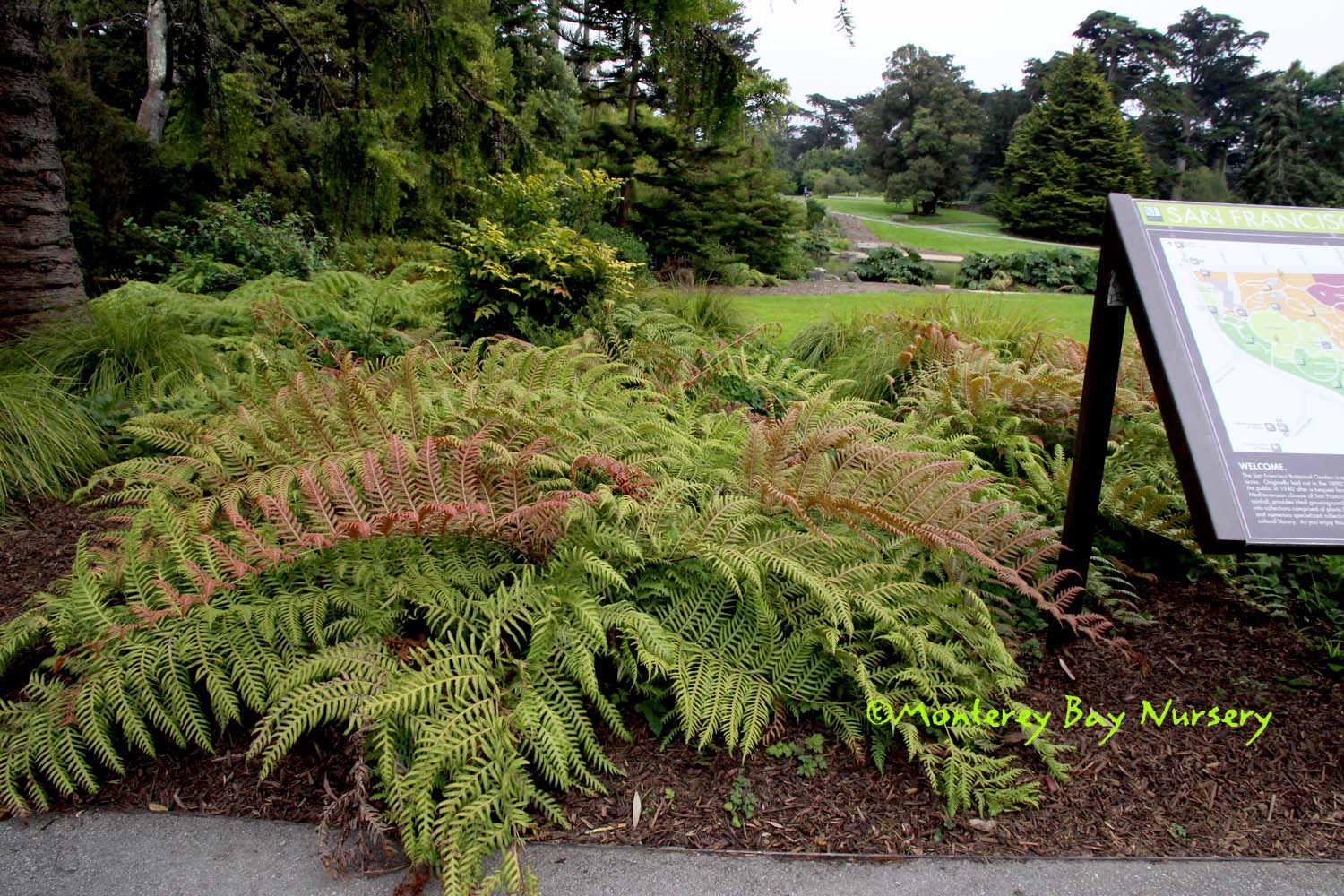 Woodwardia unigemmata JEWELED CHAIN FERN, CHINESE CHAIN FERN a distinctive species to 2-3' tall by 4-6' across, with horizontal to arching fronds and downward-pointing tips. Its best features are the striking coppery to ruby red color of the new fronds and the glossy, dark green appearance of mature growth. It can slowly propagate itself by rooting in the very terminal point of the frond to gradually walk it way across your shade garden. This is native to wet mountain forests from India through the Philippines and likes moist, humid, shady conditions with rich soil but will take drier conditions with intermittent deep watering. The wetter it grows the longer the fronds - up to 6' when really happy. Makes a good, formal-looking, medium-size container plant. Semievergreen to deciduous, USDA zone 7. Eastern Asia. rev 10/2017

*New for 2018!*



10/6/2017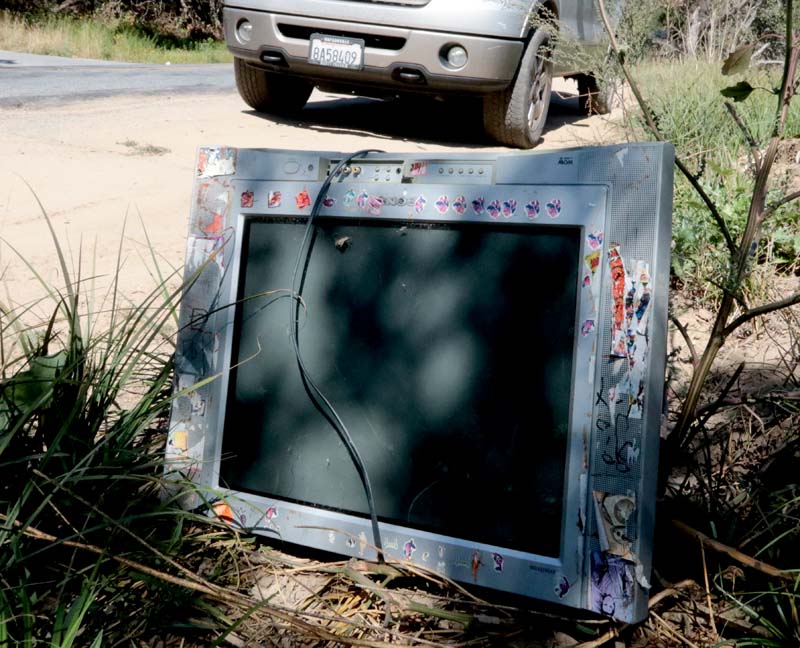 We have a winner in our exciting Cyber-Punk Retro-Resto-Mod TV Giveaway Contest!



Fairy Bells
After two almost identical suggestions of Canadian Dogwood (Cornus sericeus, syn. C. stolonifera) there was a bullseye by Seth Taylor at Procida Landscape in Sacramento "guessed" at Prosartes (Disporum) trachycarpa, Fairy Bells. That is in fact the CORRECT ANSWER, at least as far as I can tell.

Close behind by just a couple of hours with the same answer was Brendan Wilce of El Dorado Nursery and Garden in Shingle Springs, on 50 in the foothills east of Sacramento. Must be something about the Sacramento area.

Seth says "I don't have any interest in the TV, I just like figuring out mysteries." Too bad about that Seth, you now own it and we're going to ship it to you regardless.

Unless . . . you opt to graciously stand aside and let runner-up Brendan have the prize. Brendan nicely offers "I am not sure we will have any orders before the road crew gets the prize cleaned up, oh well." Well if Seth doesn't want it we'll ship it to you, because I had already fetched it stored it safely away in our office trailer! As if I needed to, it's only been there a few months.

SEPTEMBER

9/22/2017

First this week, A FREE TV!!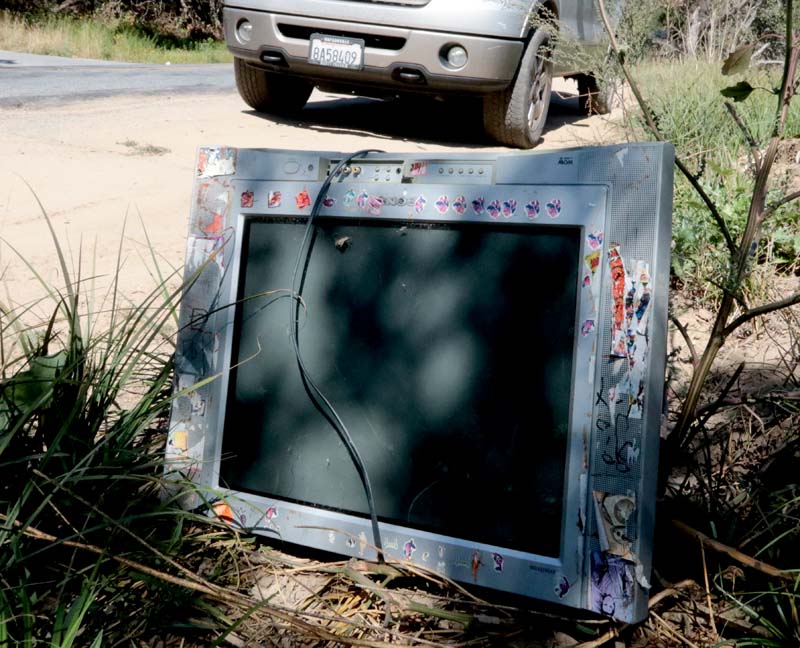 Yes this exclusive, artistic, retro-mod cyberpunk-style monitor would be the perfect statement for your anarchist-rad-protester themed worker-cave at your nursery. It's FREE to whomsoever can identify this plant with the orange seeds as featured in the 2017 Total Eclipse Plant-Venture Travelogue.

Rules are A). you must be the first to correctly identify the plant and do so by email to luen@montereybaynursery.com, and B). you must pick it up from in front of our nursery unless you have an order coming in which case we can deliver. Also C). the Monterey County road crew doesn't pick it up in the meantime.

Good luck!!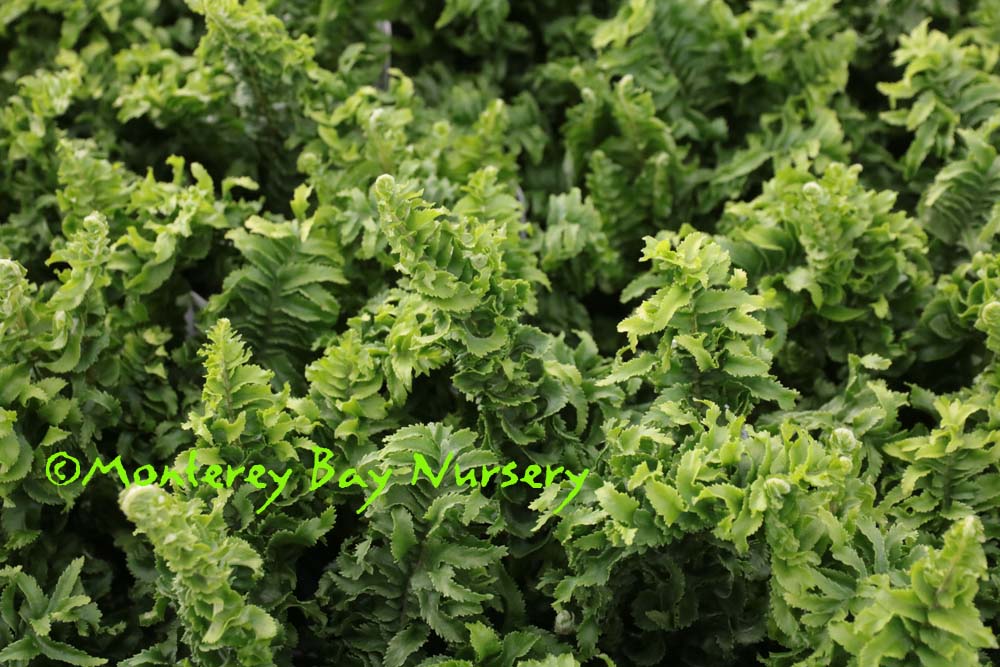 Nephrolepis exaltata 'Emina' short, compact, curly fronds, dense, tight growth pattern and a deep green color distinguish this unusual variant, which looks a lot like green ribbon candy. Slow, only reaches about 8-10" in height. Very well suited to small or tiny container culture. rev 9/2017 *New for 2017!* in 4FL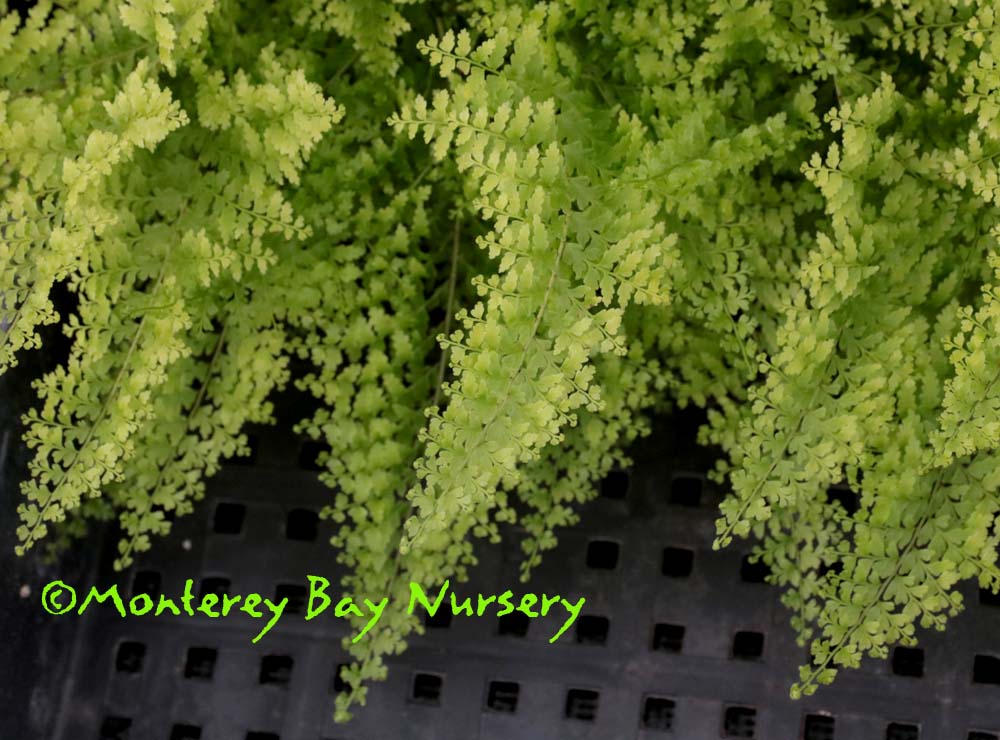 Nephrolepis exaltata 'Marisa' the ultimate in fine-textured laciness to have occurred within the Boston Fern universe. So soft and vunderful I had to stop myself from laying down and rolling back and forth in it. rev 9/2017 *New for 2017!* in 4FL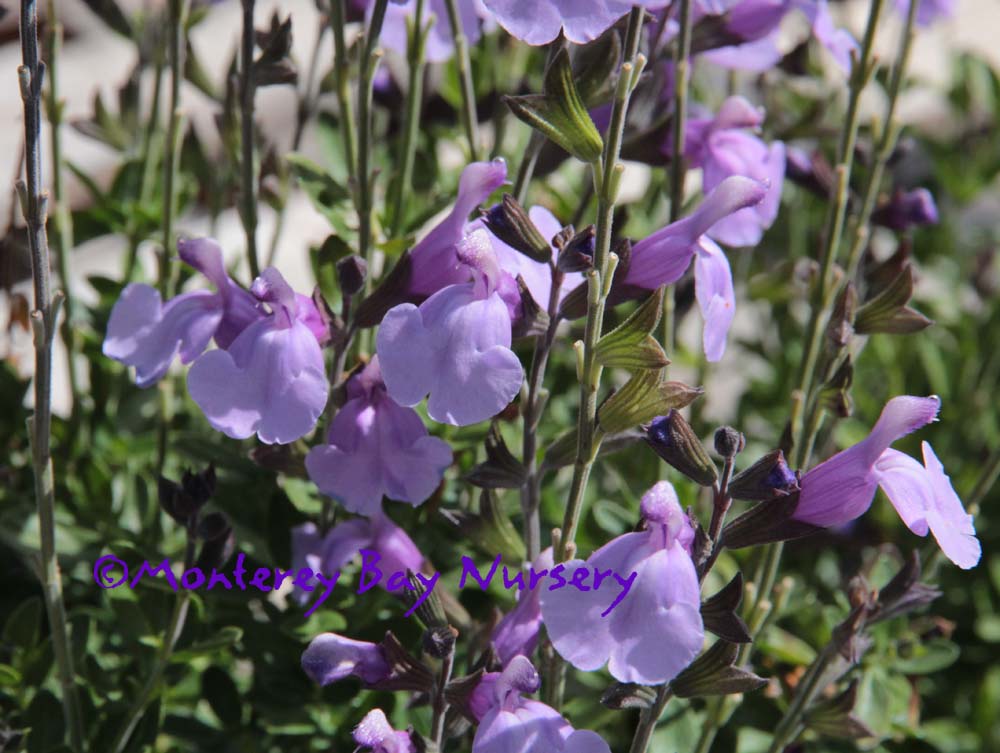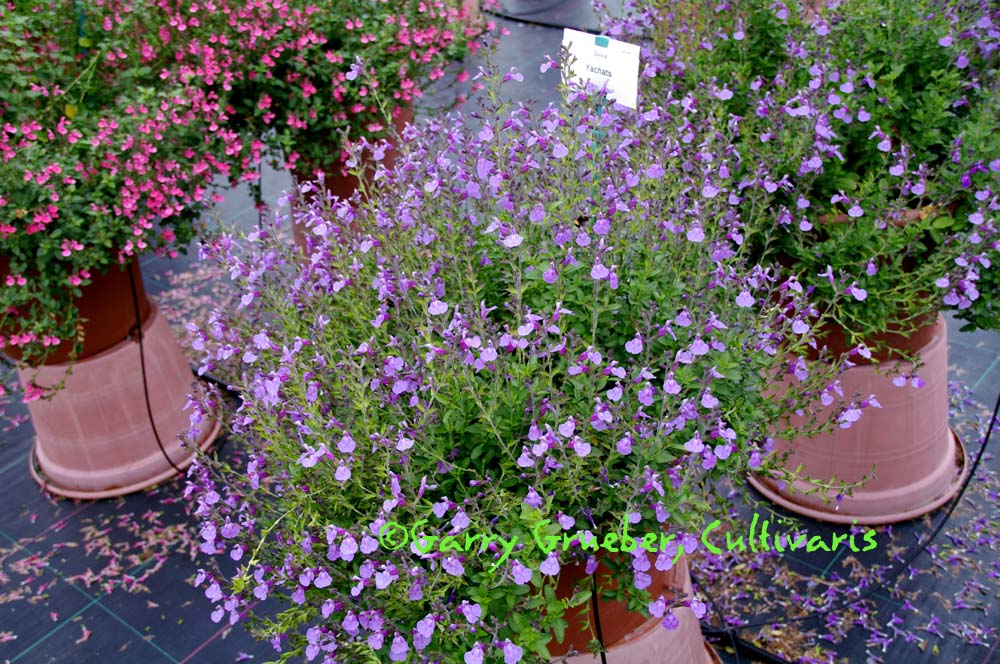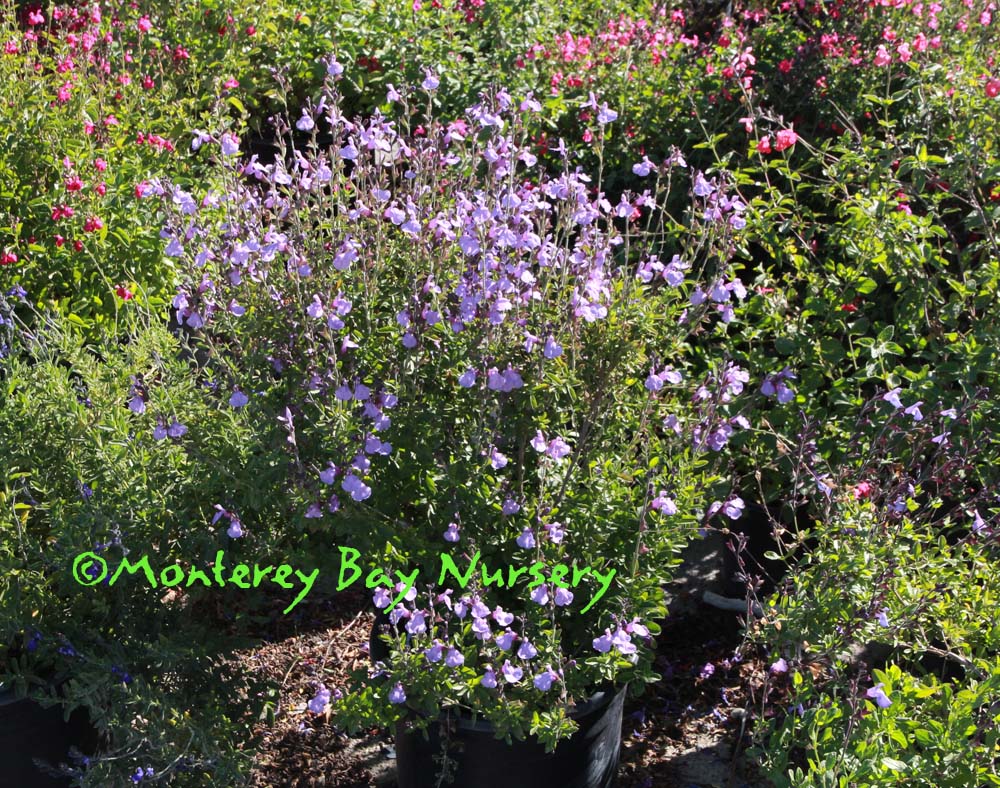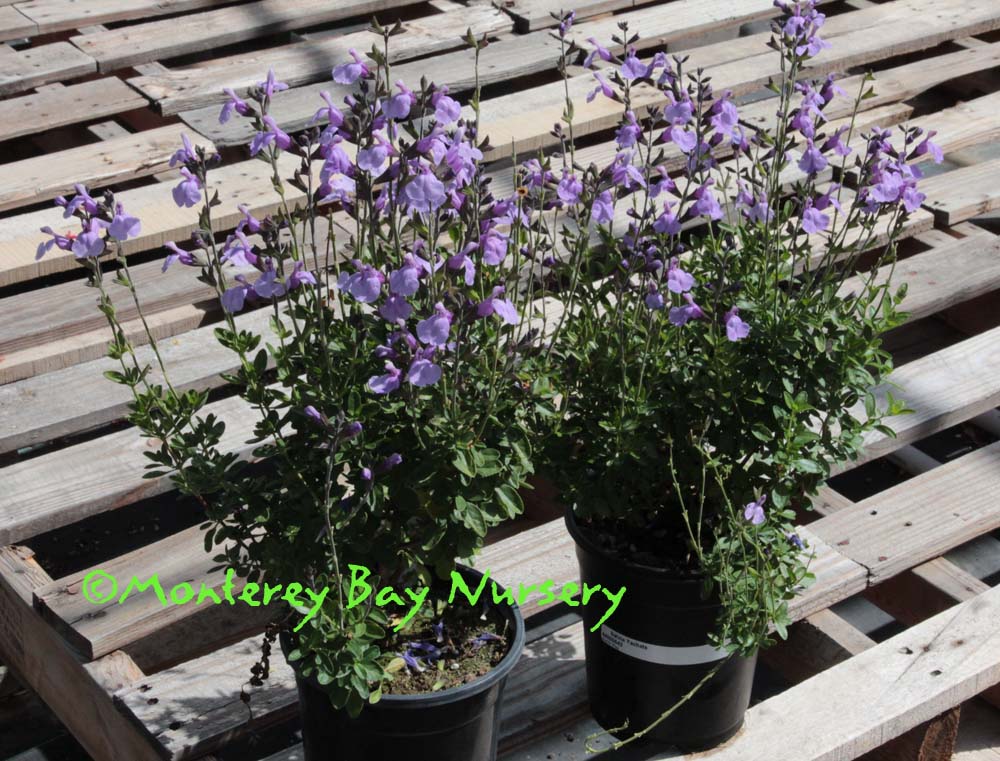 closeup Gary Grueber's 2014 European Trials shot our original stock plant PPL trial 1g, unpruned
Salvia microphylla 'Yachats' PPAF and of course that would be "YAH-hahts," the town that hit Number 7 on the Arthur Frommer Top 10 Favorite Vacation Destinations list. I didn't even know that when I bemonikered this plant, being just one of about a hundred small-town names I pulled off a map of Oregon and randomly assigned to that year's most promising hybrid seedlings. Turned out to be our best light purple yet, ultra-compact, upright, heavily floriferous, with leaves, branches and roots all showing strong disease resistance. It's a nice, light, clear purple, definitely not violet but yes leaning slightly towards blue. And it just flowers and flowers and flowers. Sun to part shade, normal to very infrequent watering. Easy to grow and very rewarding, and especially excellent in containers since it is so compact and easy to care for. Probably USDA zone 8, possibly zone 7. rev 9/2017 *New for 2017!* in 01G

9/15/2017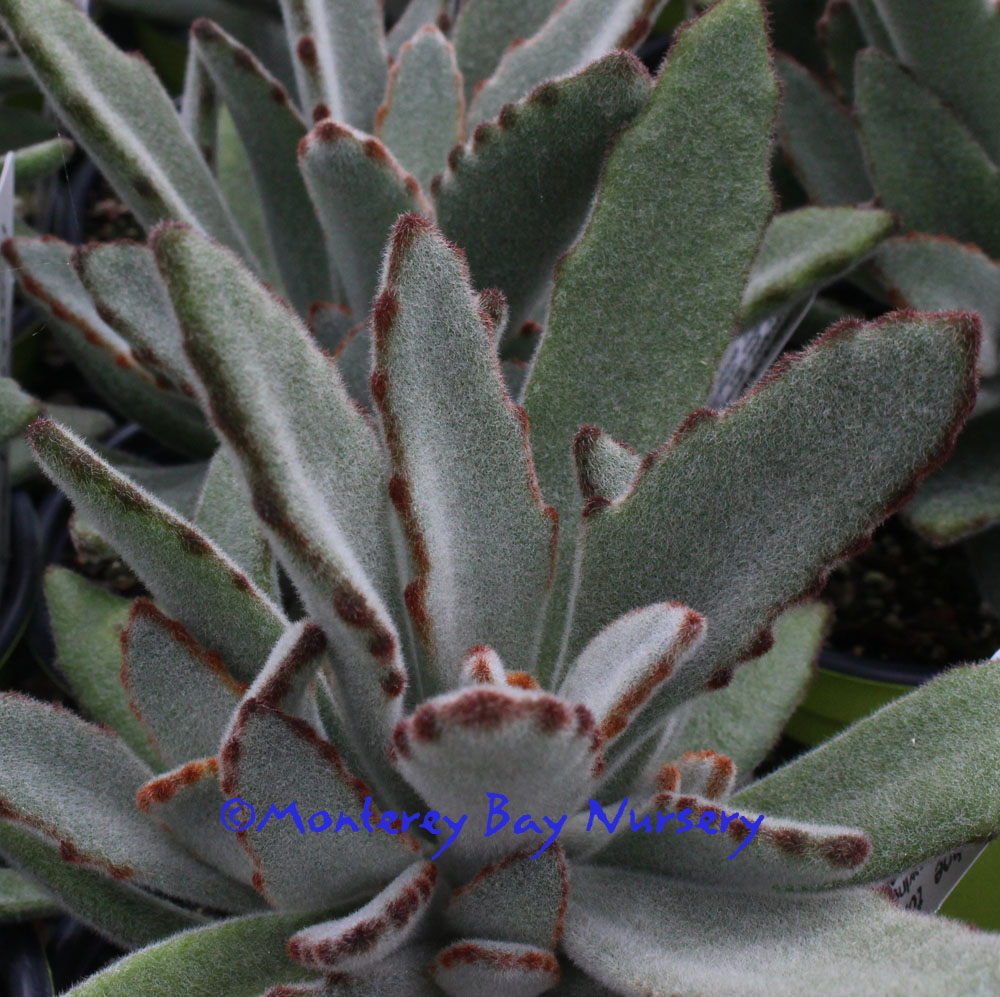 Kalanchoe tomentosa 'Nigra' leaves are densely fuzzy, grey green and nicely outlined with dark brown margins. Same small, dark coral-maroon, bell-shaped flowers as the species, same looooooong stalks, same short-day initiation, same frost protection. Best in containers, and can be easily cut back and kept in very small containers. rev 9/2017 *New for 2017!* in 4FL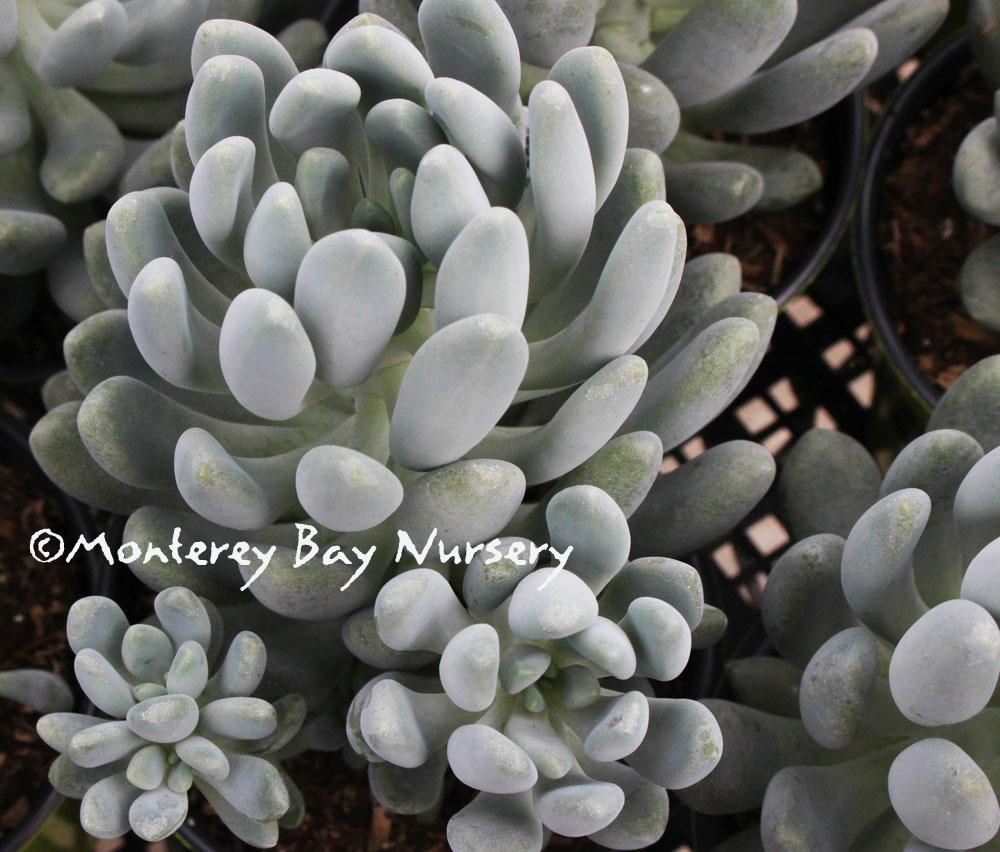 Pachyveria 'Clavifolia' a compact clumping hybrid, reportedly Pachyphytum bracteosum and Echeveria rosea. Blunt, powdery, silvery blue grey leaves are held upright, often slightly pinwheeled, and becoming flushed with violet in cool conditions. Salmon orange bell flowers are produced in spikes above the clump in spring. Indoors, porch/patio with protection, outdoors in areas of no frost and little winter rain. Water spring-fall, keep warm and dry in winter. rev 9/2017 *New for 2017!* in 4FL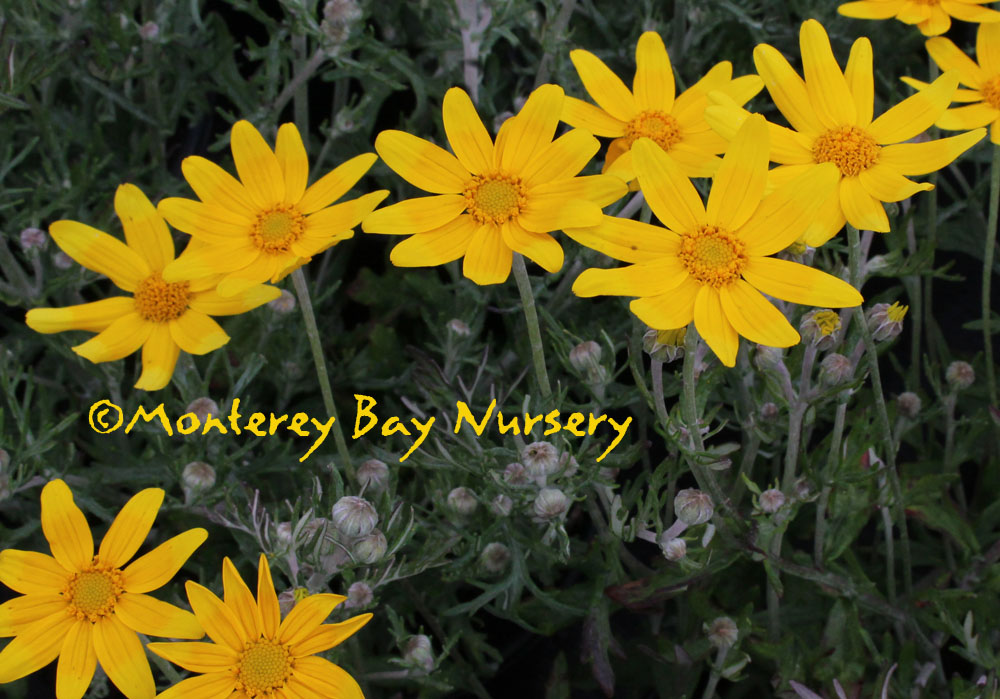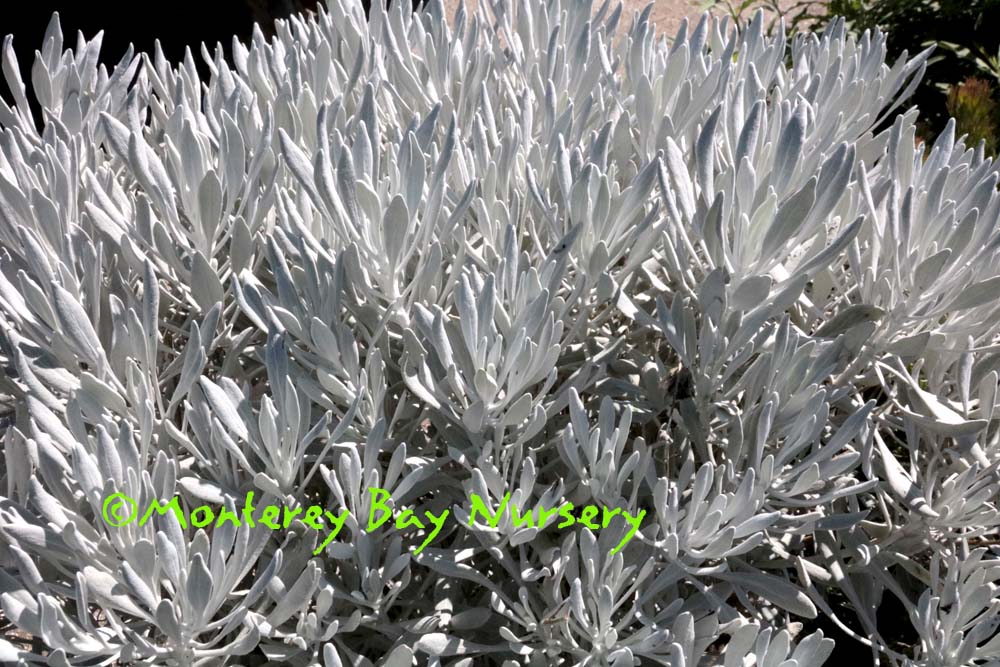 Senecio palmeri WHITE SAGE it's white, but it's definitely not a sage. Think of this as a California (Floristic Province) version of a Dusty Miller. It is endemic to Guadalupe Island, off the coast of Baja California, where over large areas it forms dense, spreading mounds to 3' tall by 4-8' across, with long, densely white-tomentose vertical leaves and small, open clusters of 2-3" yellow daisies heavily sprinkled across the top in late winter and early spring. "A very free and showy bloomer" was the note taken by a collector in the late 1800's. Sun, good drainage, very drought tolerant but will accept summer watering as like other Baja plants they are well-adapted to very heavy rains during hurricane season. Probably frost hardy to around 25-20F. rev 9/2017

*New for 2017!*

in 01G


AUGUST

8/21/2017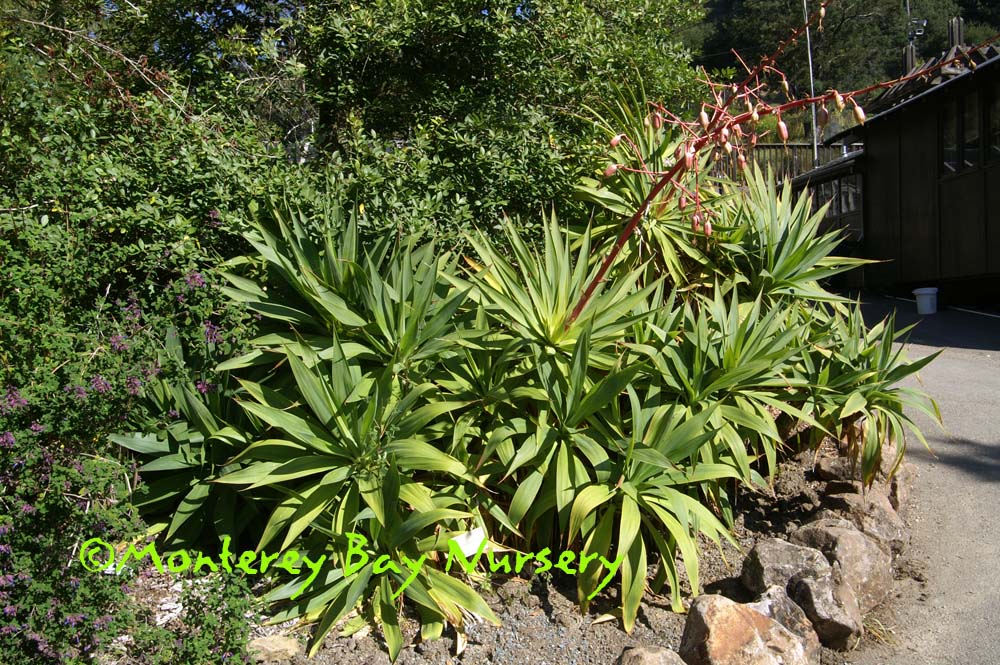 UC Berkeley Botanic Garden entrance

Beschorneria albiflora this species looks very much like a lush Agave, with its soft, green, flat, basal leaves spread wide to 2-3' across and 1-2' tall, becoming much wider and taller in warm, humid climates. Its showy, dark raspberry-coral flower spike emerges after the rosette is several years old. This tall, robust, often heavily branched structure bears long, pendant, tubular greenish-white flowers that might be the showiest of the genus. They slowly open over many months, providing a very long season of color. Central America. When the parent rosette has finished flowering cut off the declining spike but otherwise leave it alone until the replacement pups appear, after which the top can be removed entirely. Central America. rev 8/2017 *New for 2017!* in 01G

Blueberry 'Blueberry Glaze' PP25467 part of the Bushel and Berry® program, this is a very compact, dense, small-leaved hybrid that should top out at around 2-3'. It is highly self-fertile, and bears dark blue fruit with a nice "wild-berry" character. Growth is upright, dense, and it makes a great container plant. Fall color is excellent. USDA zone 5. rev 8/2017 *New for 2017!*

Blueberry 'Pink Popcorn' PPAF a new Northern Highbush type, released by the University of Minnesota that bears fruits that are light lavender pink to salmon pink at maturity. The very crisp texture inspired the popcorn allusion, while the flavor is as good as the best Northern types, which are considered the standard of excellence for all blueberry classes. This variety also is valuable for its typical Northern-style intense pink, orange and red fall color. For being the only one hardy to USDA zone 4 this has grown very well for us, and has broken dormancy reliably in spite of warm winters. rev 8/2017 *New for 2017!*


8/11/2017

Agonis flexuosa 'Burgundy' newest growth is tinted rich burgundy red, leaves mature quickly to medium green or slightly grey green. In Australia this form has a reputation as a better mature landscape tree (vs. clipped hedge) than its all-burgundy sister 'After Dark. The grey-green leaf color visually transitions better to the mature branch color of pale tan or even greyish white. Grows to typical Willowleaf Peppermint specs, perhaps 15-25' tall by a little wider. Its best application is against a light colored structure, wall or background, or even better, as a sheared hedge or focal point accent plant cut back often to encourage the new foliage. Sun to part shade, little summer watering needed in many areas when established, average to good drainage. Damaged by frost below about 25F but mature trees have survived close to 20F, but losing some crown structure in the process. Western Australia. rev 8/2017 *New for 2017!*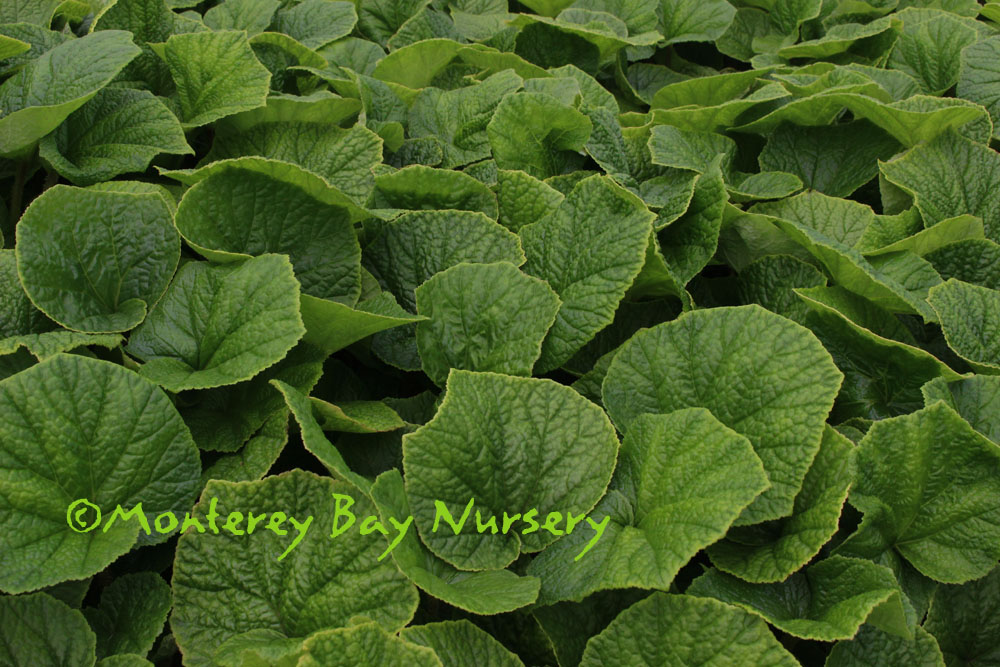 Begonia paleata deep, rich green, quilted leaves show reddish veins at maturity. White flowers are held in a small, open cluster atop a tall, slender spike, well above the leaves in winter. This is a low, cold-sensitive, subtropical "shrubby" species, to maybe a foot or two tall and wide, that just glows with rich green color. Good sited in dapples sun or bright shade on your porch, patio or inside. Shade, rich, moist, humusy but well-drained and aerated potting mix, water as needed but let dry between, and never let it stand in water. Brazil rev 8/2017

*New for 2017!*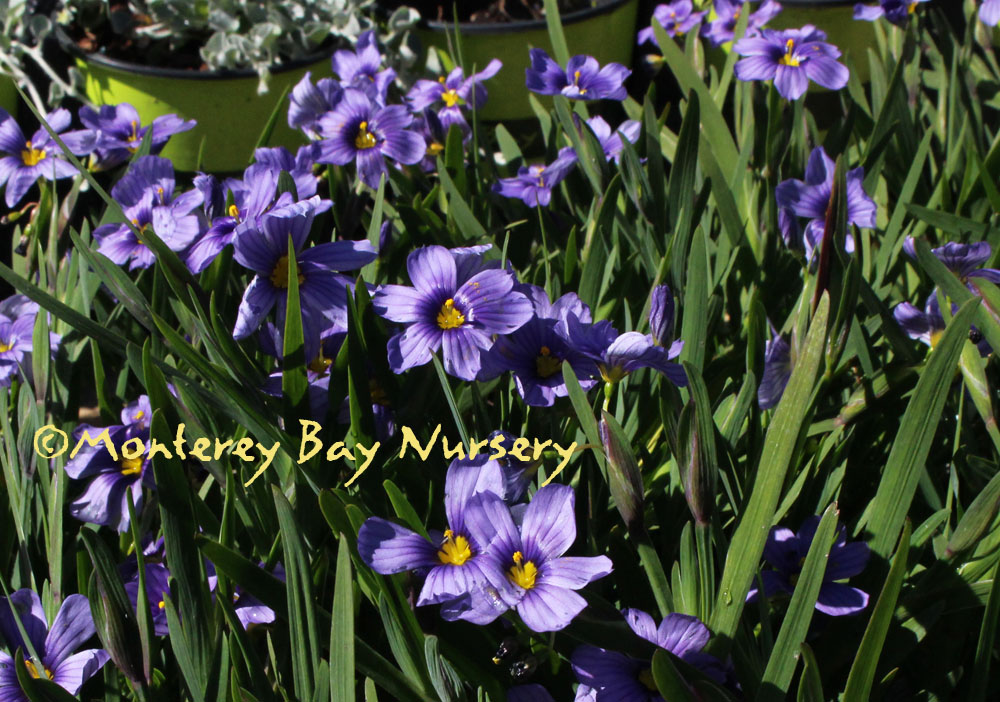 Sisyrinchium bellum 'Arroyo de la Cruz' CALIFORNIA BLUE EYED GRASS a wonderful and superior form, in its typical captivating blue purple color but separated from the every other selection its unusually large flowers and wide, rounded petals. Just as important, this has demonstrated outstanding plant vigor and dependable overwintering performance, which are often weak points. This came from Brett Hall of the UCSC Arboretum, but actually "came in from the cold" back in the 1980's, when it was spotted growing in a coastal prairie community just north of San Simeon by Vern Yadon, a long-time Monterey County native plant and wildflower expert and former director of the Pacific Grove Natural History Museum. Forms a vigorous and dense clump of stems to about 12" tall and wide, best grown in full or almost full sun. Tolerates clay soil, summer irrigation, wet conditions, dry conditions and probably more. USDA zone 8 or 7/Sunset zones 5-9, 14-17, 21-24. rev 8/2017 *New for 2017!*

JULY

7/28/2017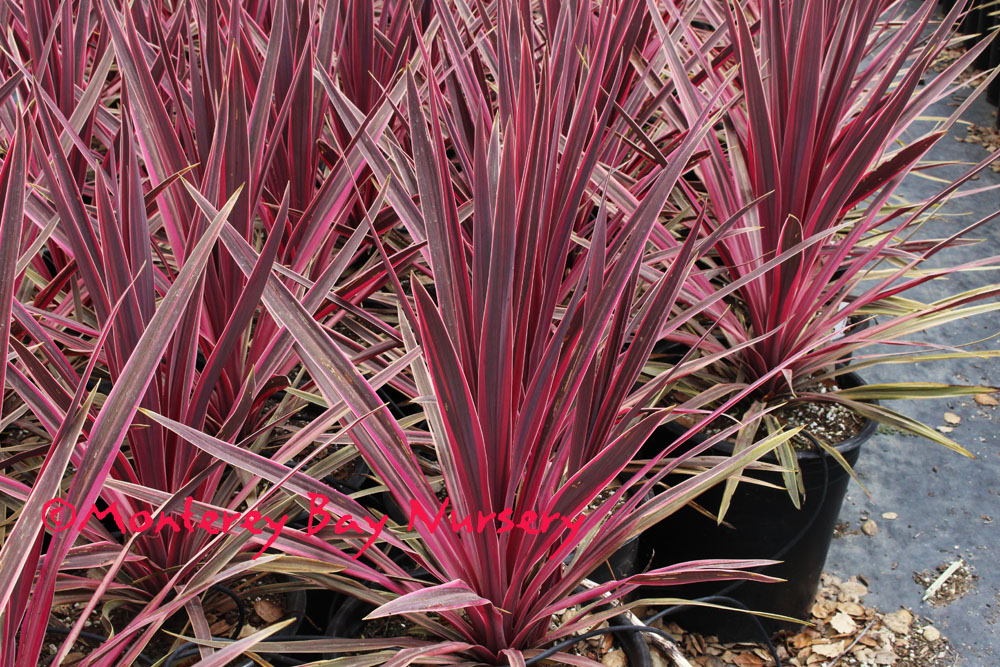 Cordyline australis 'Paso Doble' yet another blindingly, brilliantly electrified pink, with dazzling leaf edges and broad, striped, bronzy centers. This is wider, bolder, and definitely more vertical variety, resembling 'Cherry Stripe' in color but less glossy, and leaves not arching over as they extend. Except for its stiffer habit I would have taken it for a variegated form of 'Sensation.' Mature foliage is considerably greener but retains narrower, light-variegated edges and a few inner stripes. USDA zone 9. rev 7/2017 *New for 2017!*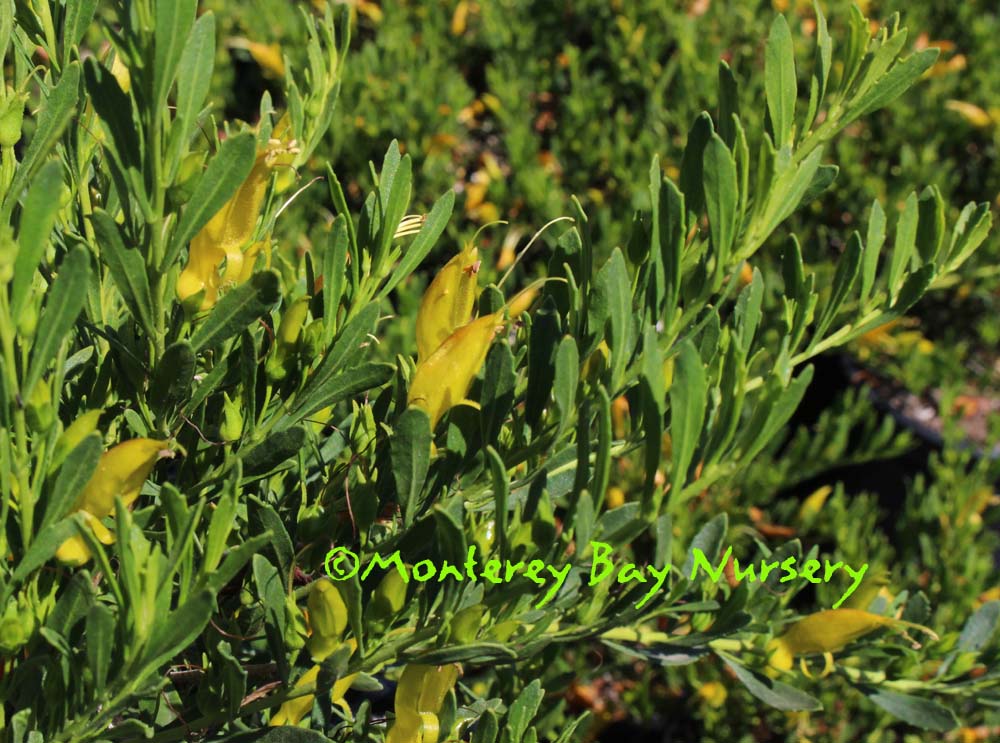 Eremophila prostrata PROSTRATE YELLOW EMU BUSH, RAINBOW VALLEY EMU BUSH a very prostrate, eventually very wide-spreading, yellow-flowering form of an extremely tough Australian native plant. Highly variable, it is broadly distributed, ranging is from coastal Western Australia all the way across the vast central deserts and drylands, rangin gclose to edge of the eastern and southeastern mountain rangess. This form is very dense and can eventually spread to 15' across while remaining under 2' tall, and mostly under 12". It has attractive, smooth, bright green leaves and bears yellow, tubular flowers in spring and summer sprinkled around the foliage. Of course they attract hummingbirds here on our continent. Other forms of this species can be grey and fuzzy, or upright/prostrate, or orange, red or something else. It is famously drought and heat tolerant, will take frost to around 25-20F and asks only for a site in mostly sun for most of the year, good drainage and less winter rainfall than it's probably going to get, wherever it goes. After a long delay (25-30 years?), it looks like we're back into the enormously endearing Emu Bushes! rev 7/2017 *New for 2017!*


7/21/2017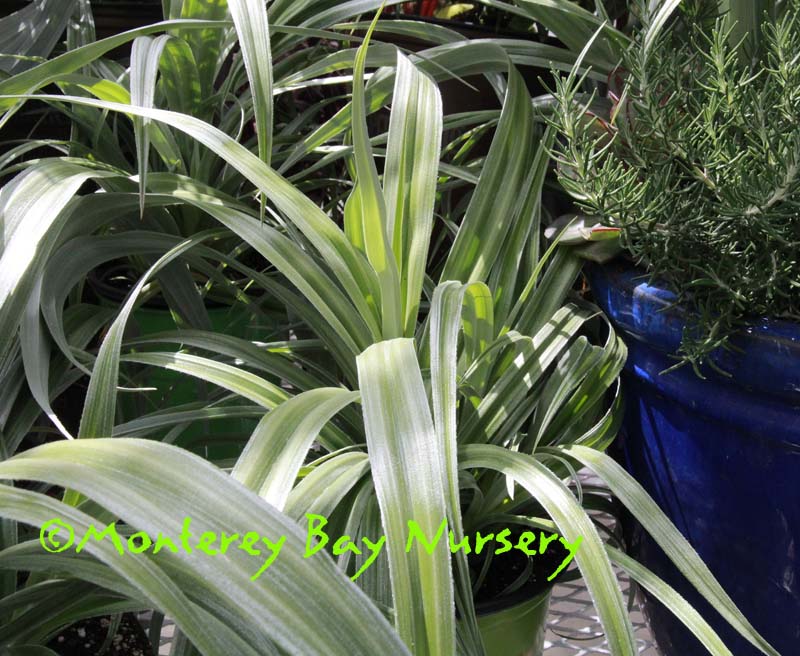 Astelia nervosa 'Silver Shadow' PP22195 SILVER SPEAR a lower, more compact Silver Spear, with shorter, more arching foliage. To only about 30" tall, spreading its leaves to about 4-6' across at maturity. Best in at least part sun else leaves tend to scorch brown on the hottest days. Good drainage, frost hardy to around 25F but usually resprouts from the ground down to the very occasional 20F. Part of the Sunset Collection. rev 7/2017



Kiwi Fruit 'Saanichton' (Actinidia deliciosa) a female variety selected in British Columbia about 30 years ago, named for a town just north of Victoria, Vancouver Island. Though most valuable for those in more severe-winter climates due to its improved cold hardiness, this also could be a good one for our coastal California locations. It supposedly ripens faster than 'Hayward,' and does very well grown close to the waters of Puget Sound, which means of course a very a cool summer. Performance with low chill winters, especially w.r.t. 'Hayward,' is still unknown. Reportedly it's a very heavy bearer. Green flesh, reddish brown fuss. rev 7/2017 *New for 2017!*

7/14/2017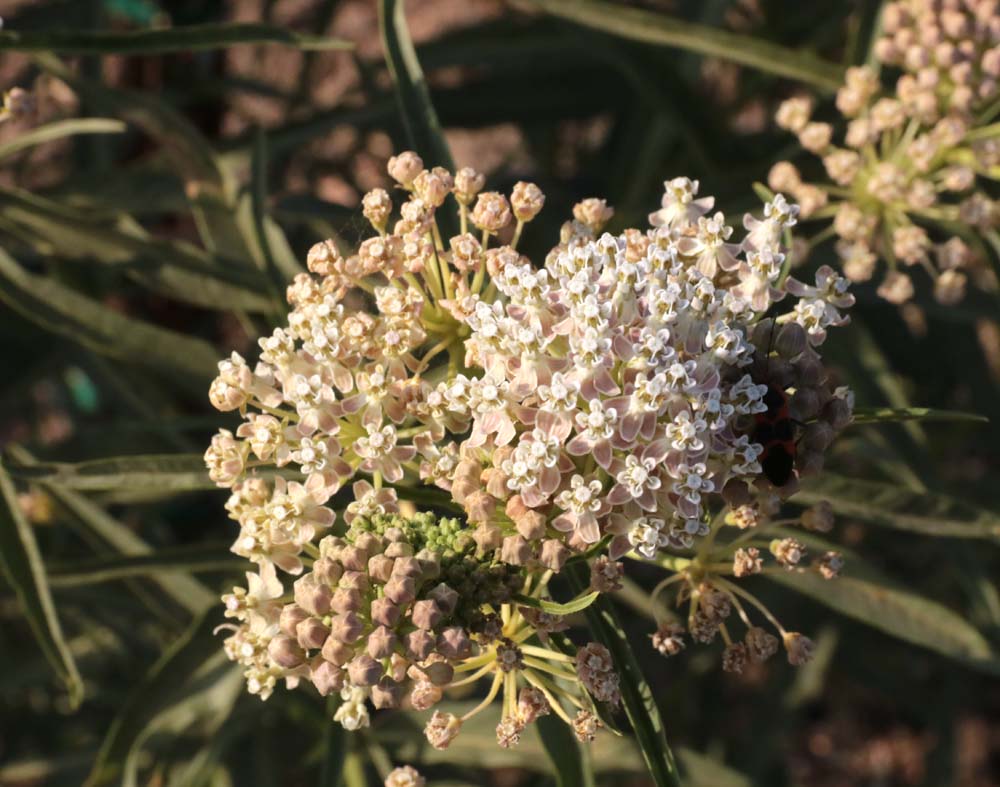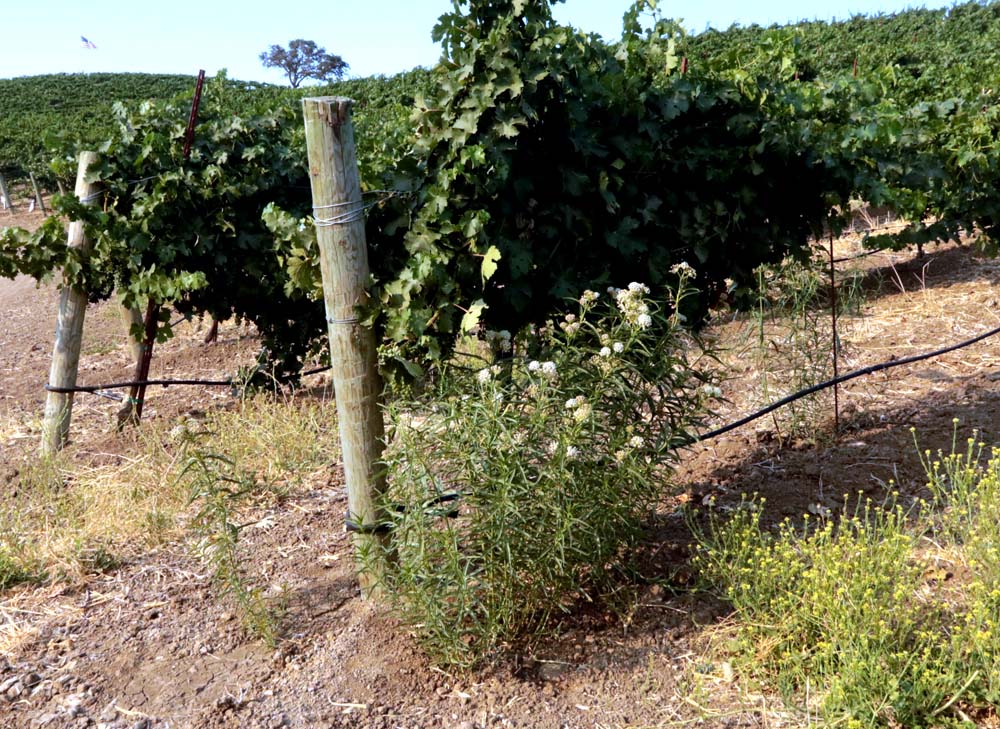 Asclepias fascicularis NARROW LEAF MILKWEED a tall, erect perennial to about 3' tall and wide, with long, narrow leaves and congested terminal heads of creamy white flowers that become tinted pink or lilac with age. Flowers from June through August or mid-September. This is a good host for Monarch Butterfly larvae. Widely distributed and native here in California, mostly in drier inland areas, and ranging north to Washington and Idaho down into Baja California. Sun, very little or no watering when established but summer dormant under extreme conditions. USDA zone 6? rev 7/2017 *New for 2017!*

7/7/2017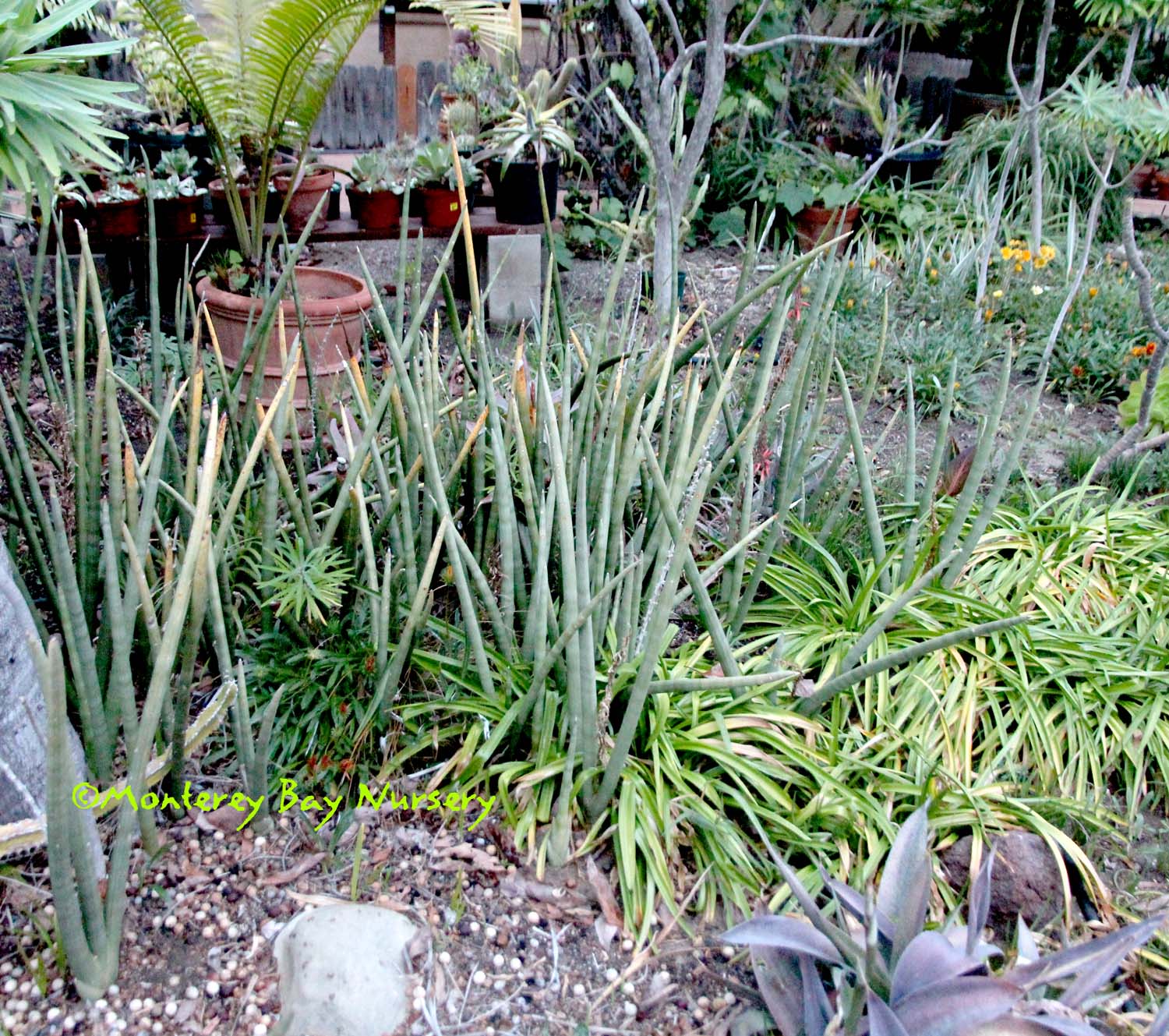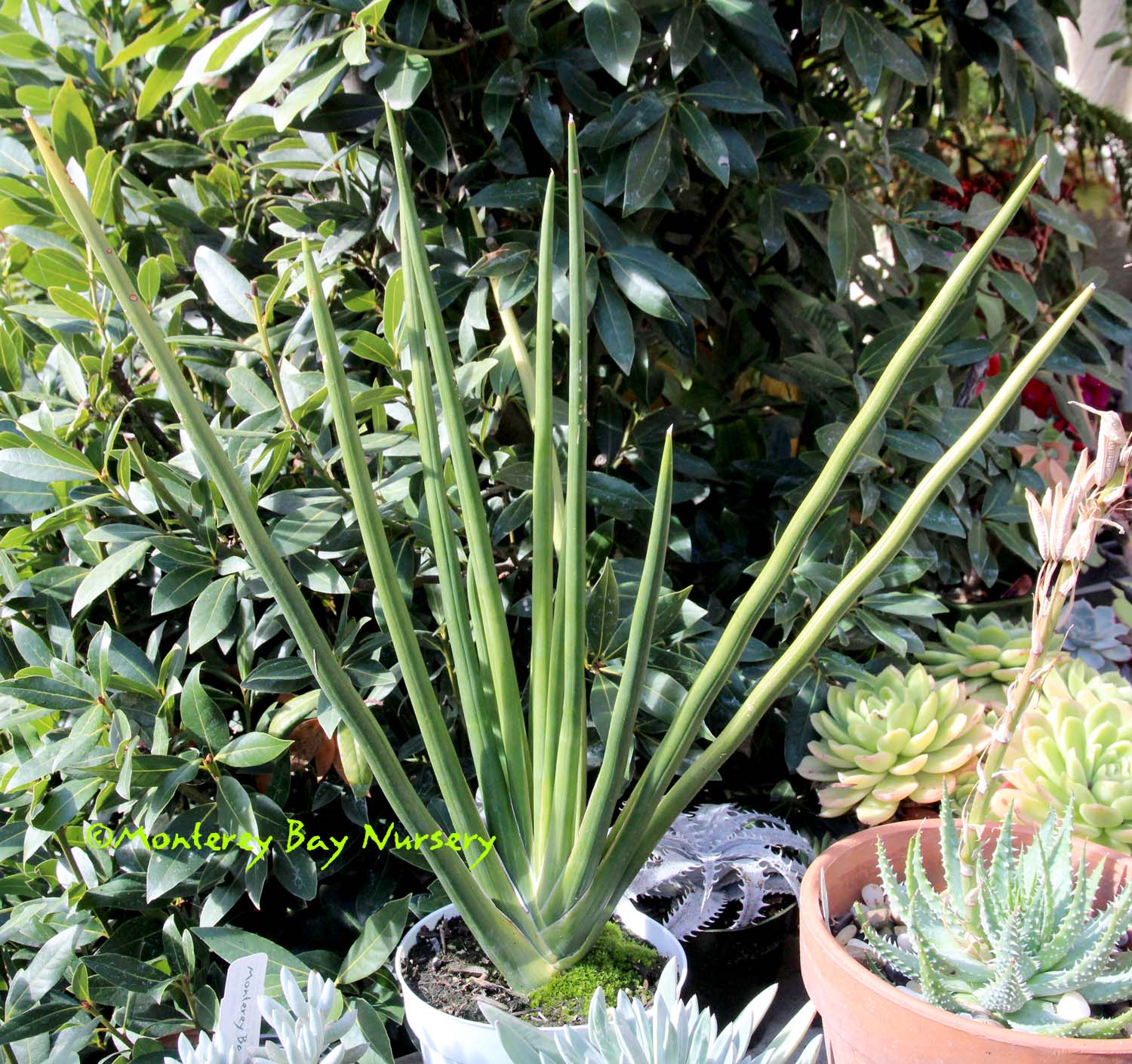 Sansevieria cylindrica CYLINDRICAL SNAKE PLANT, AFRICAN SPEAR probably the best form to try as a garden plant, tolerating more cold-wet than any others. Our plants were sourced from Karl Dobler's epic botanic garden-like yard in Camarillo, overlooking Ventura, where it has lived contentedly for many years with essentially no care. The round, cane-like stems can get an inch thick and reach 6' tall in nature, but here 2-3' would be worth being quite proud of. Best in part sun, keep it as winter-dry as possible, water twice a month or so from spring through early fall, good drainage, no frost. Flowers are cylindrical, greenish and pinkish. rev 7/2017 *New for 2017!*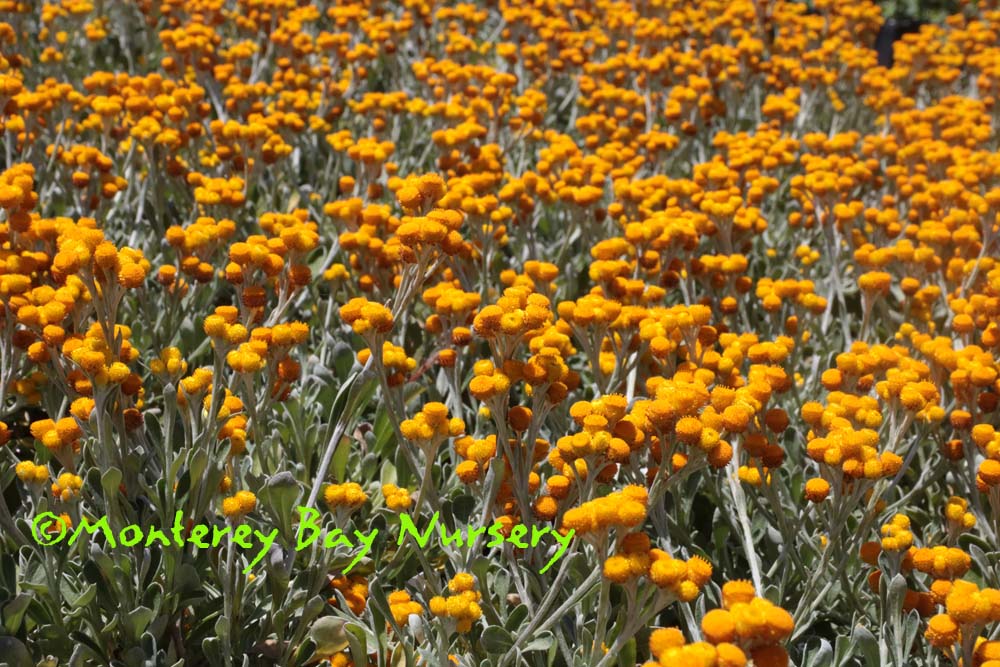 Chrysocephalum 'Desert Flame' another superb, very tough groundcover, with very deep golden yellow, almost orange yellow button flowers appearing against very silver leaves in spring, summer and fall. Spectacular once established, very tough and drought tolerant, even relatively soon after planting. To some degree (some!) I found in my own trial landscape that it can (luckily!) just shrivel up and rehydrate later, whenever it is I remember to water it. Then again other times it just dies. To 6" tall, 18" across. Sun to part shade, average to good drainage, infrequent to almost no summer watering required in most areas when established. Cut it back hard at any time of year if it starts to look stretched, ragged or tired. rev 7/2017 *New for 2017!*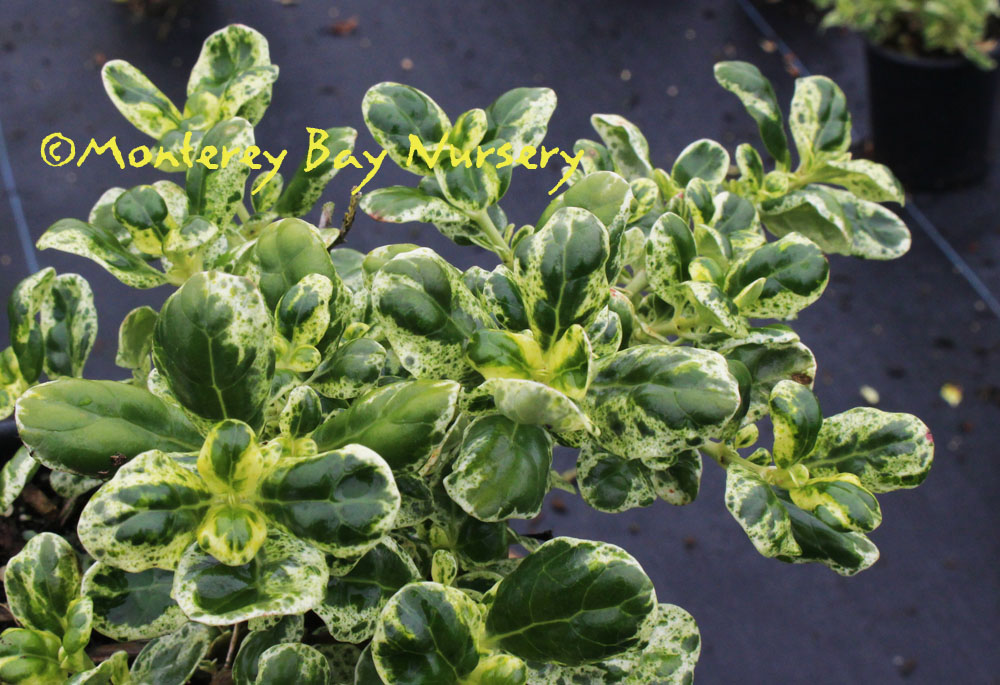 Coprosma repens 'Marble Queen' COMPACT VARIEGATED MIRROR PLANT wonderful, clean, white to creamy white irregularly splashes the edges of the very glossy, deep green leaves. Eventually forms a tall, broad shrub to about 6-8' tall and wide, but easily controlled for smaller spaces. The variegation is wonderfully unstable, it will head off into pure green, pure white, or irregular combinations. Sun (cool areas) to almost full shade, average drainage, tough enough to survive in old gardens without irrigation in many areas when fully established, and makes a very good container plant too. Flowers are small, insignificant. Damaged by any direct frost, branches start to damage around 25F. USDA zone 9/Sunset zones 15-17, 21-24. New Zealand.rev 7/2017 *New for 2017!*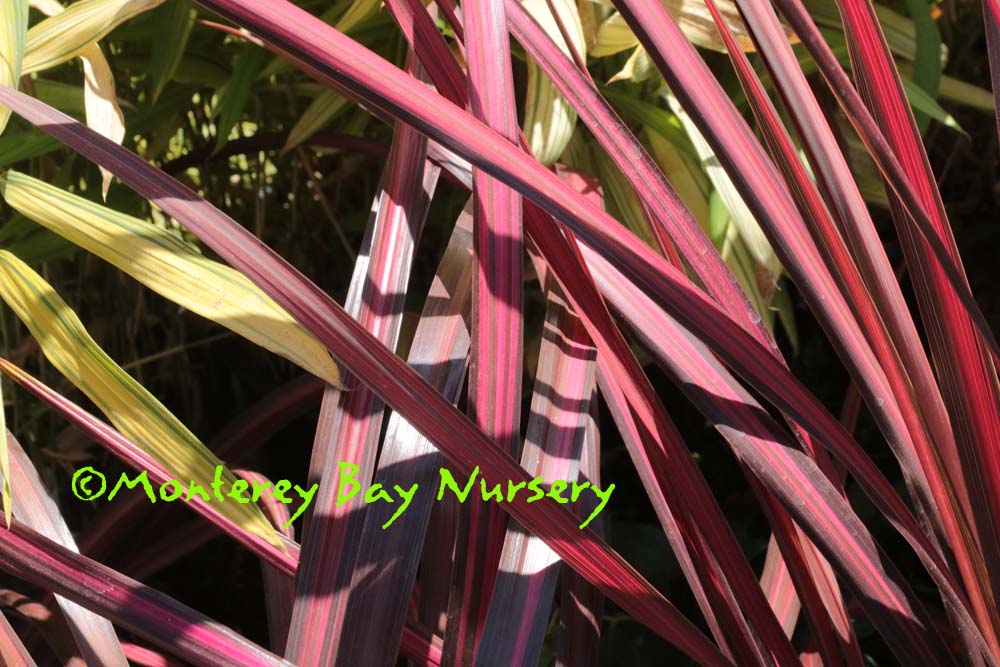 Cordyline 'Zumba' really nice color and luster, one of the very best in this hybrid Dance series, and another that really draws attention to itself. It is a natural, anchoring focal-point if properly sited, or can supply a fountain-like effect since its leaves often move in any slight breeze. This is a slowly trunking variety, taking a while to form a 5' tall specimen and slowly clumping from the base to about equal width. You can just cut it right back to the ground to keep those wonderful, more colorful juvenile-phase leaves down low where they are seen better. Sun to part shade, average soils and drainage, average to very infrequent watering when established. Hardy to around 20F or so, can resprout from its large, fibrous, woody root system. rev 7/2017 *New for 2017!*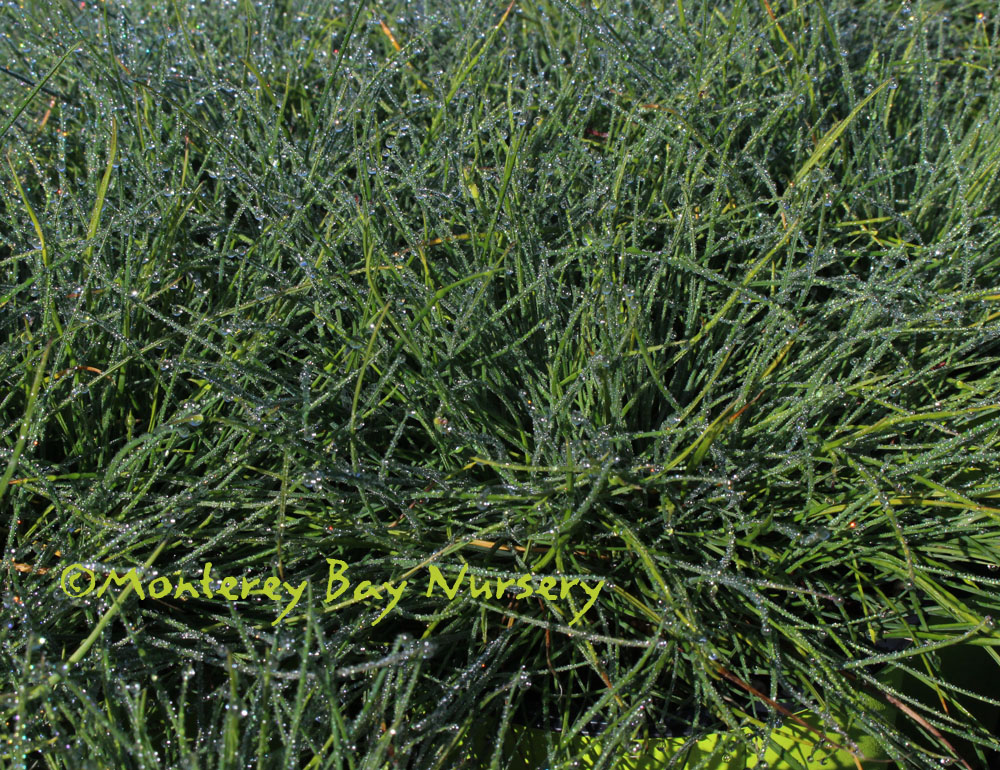 Festuca idahoensis 'Stanislaus River' a compact native selection, to about 12-14" tall and wide, distinguished by its very fine textured blue green leaves. Sun or part shade, infrequent to very little summer watering. rev 7/2017 *New for 2017!*

Raspberry 'Williamette' an old, dependable variety, summer ripening on mature, second-year canes. Fruit is deep red, sweet-tart, rich in sprightly berry flavors. To 6-8' tall and wide. Needs full sun, average watering, training. rev 7/2017 *New for 2017!*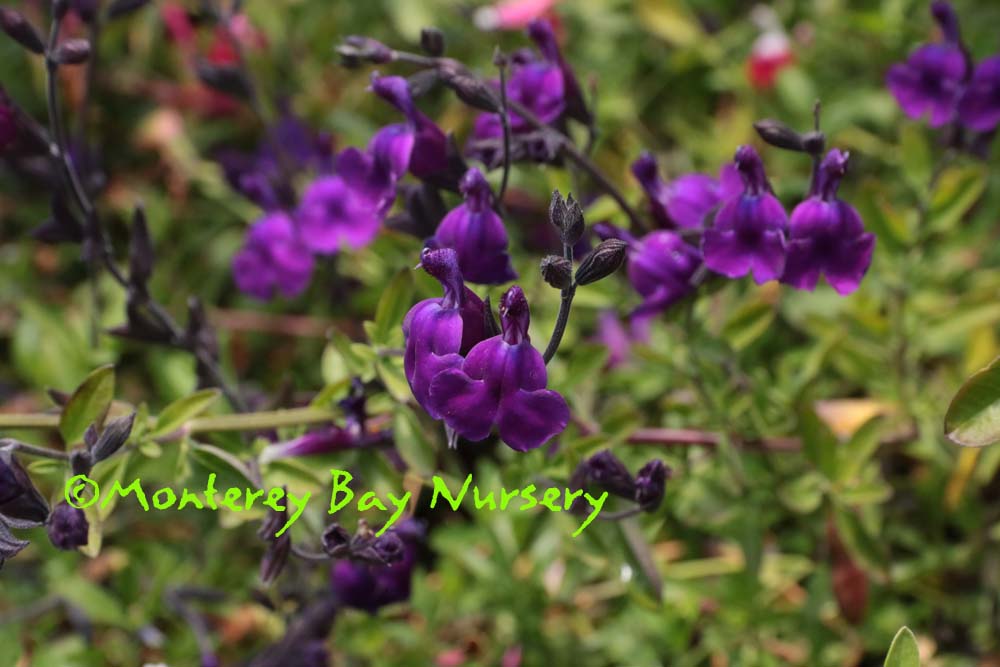 Salvia microphylla 'Plush' a new and improved dark purple we released this year, with a lower, denser habit than available in any of the similar purple species in the trade (S. coahuilensis, S. muelleri, etc.). To about 24" tall, 2-3' wide, flowering from spring through fall. Sun, average to infrequent watering when established, average to good drainage. Frost hardy to about 20F, possibly much lower if our German trial garden results hold true. rev 7/2017 *New for 2017!*


JUNE 6/30/2017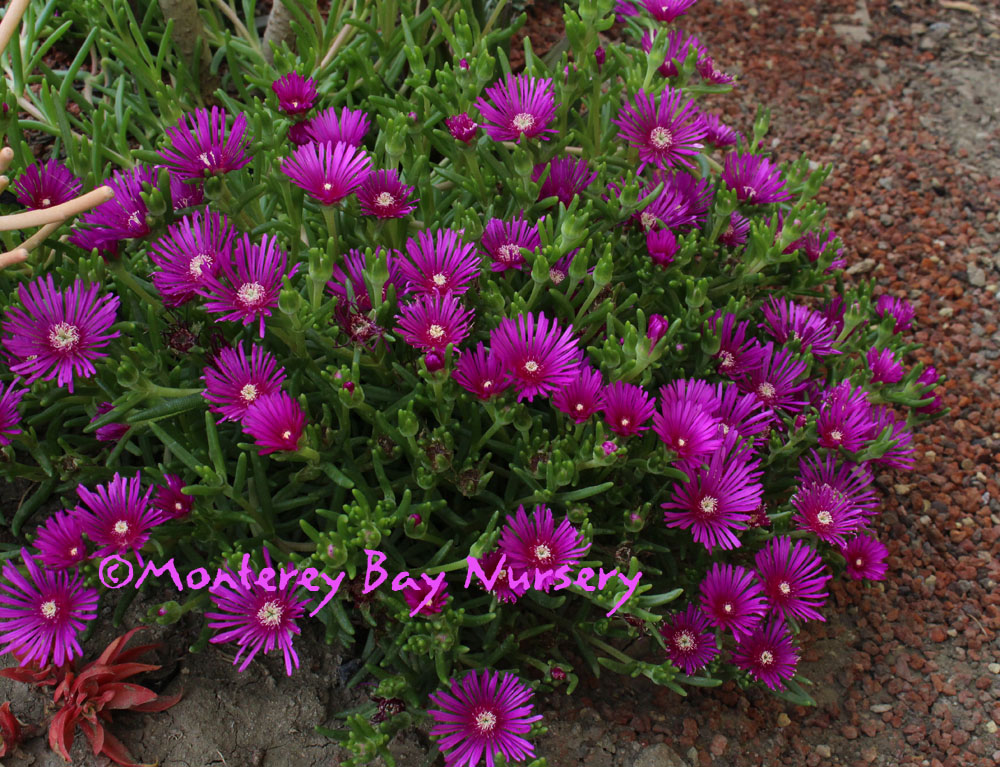 Delosperma cooperi (Mesembranthemum c.) HARDY PURPLE ICEPLANT, PINK CARPET shield your eyes long-lasting, eye-straining, violet purple flowers, with small, contrasting white centers, provide months of titillating, scintillating, iridescent color, blooming from mid-spring through early to mid-fall. Grows as a compact, eventually shortly mounding, spreading evergreen groundcover, dense enough to exclude weeds. Sun to some shade, average to good drainage, modest to very little summer watering when established. Foliage becomes reddish or burgundy-tinted with cold, foliage is evergreen to about 20F. However this was originally collected from high elevation in the Drakensburg Mountains of the Cape Region and there are reports of it coming back from the roots after -20F (USDA zone 4). South Africa. To about 6" tall, sometime mounding higher with age. rev 6/2017

*New for 2017!*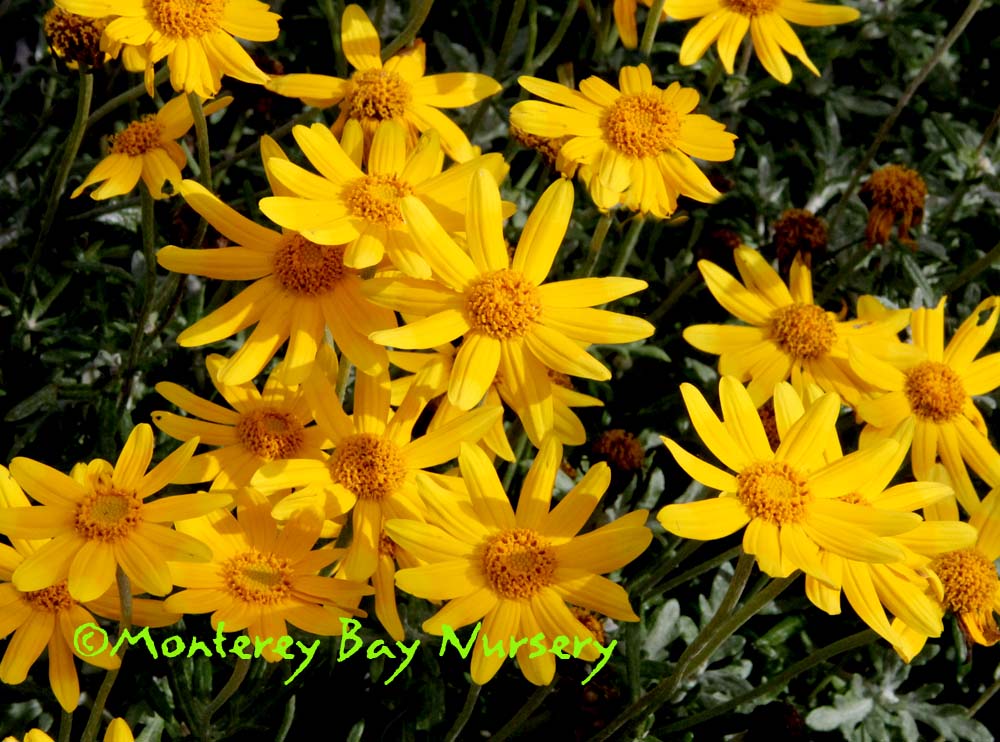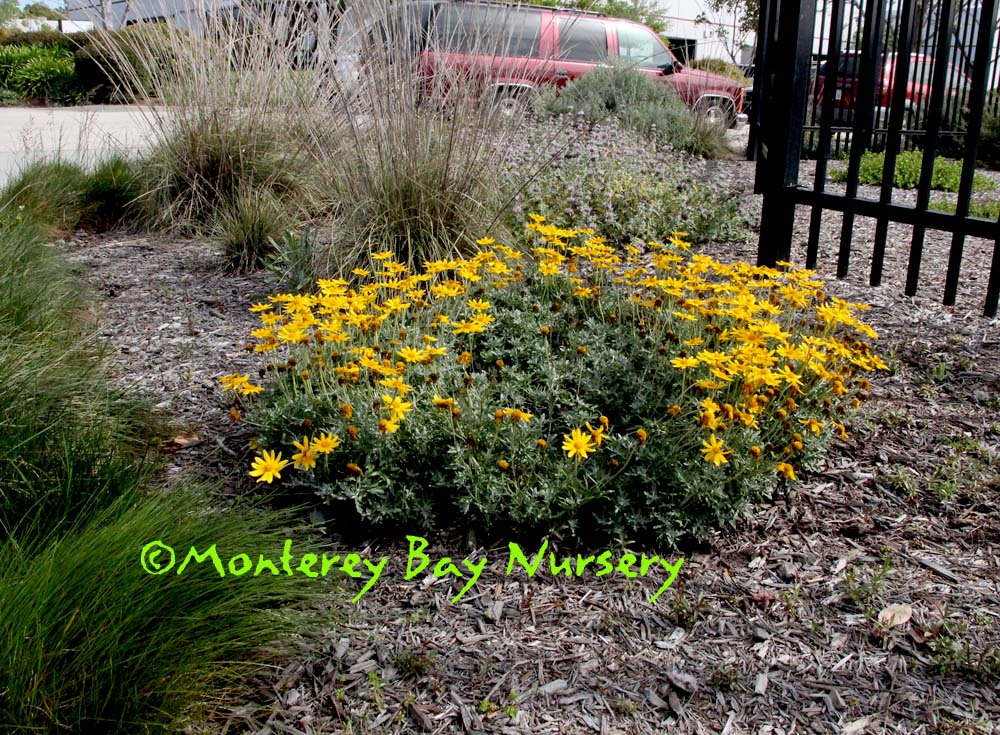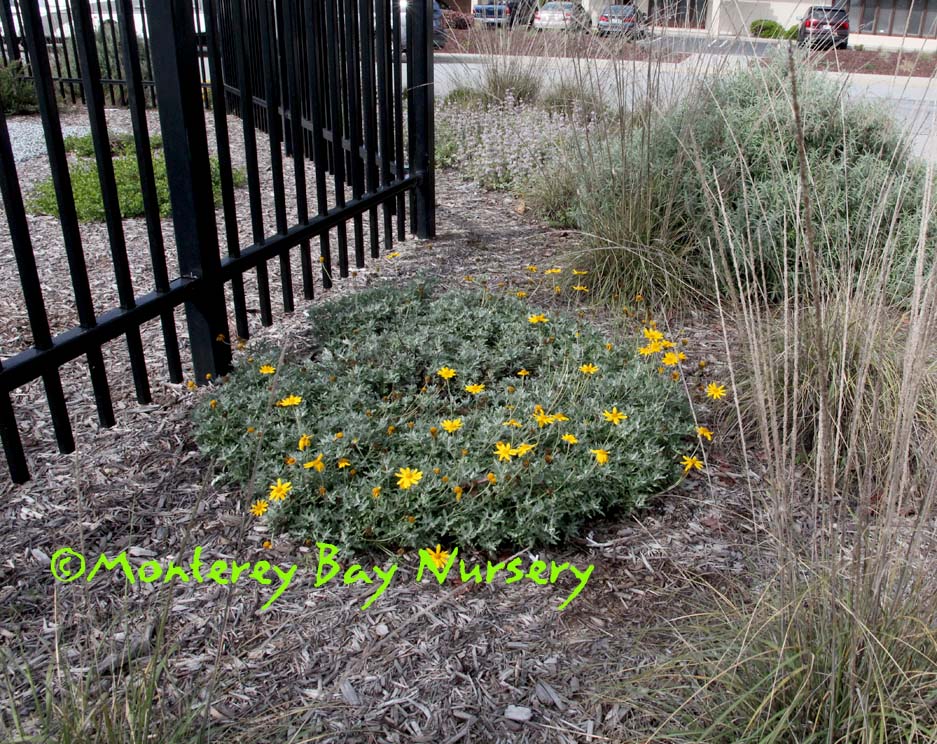 Eriophyllum lanatum 'Siskiyou' CALIFORNIA WOOLLY SUNFLOWER a tough, attractive selection with great silvery foliage backing really good, strong, Euryops-type yellow flowers. Provides excellent color from spring through summer or even fall. Drought tolerant, low, weed-smothering, relatively fast and reliable enough for commercial landscapes as well. Even better, the plants pictured were growing in what turned out to be essentially boggy, saturated soil, in the landscape of a certain unnamed local water agency, that had been watering them twice a week since installation, meaning all year, all weather, yes in fact right through three winters of RECORD drought! And not even one died. Thanks and a tip o' the hat to our lovable agency for that useful test, they whom endlessly flog water conservation and favor restrictions while strong arming away from their rightful current owners as many surface and groundwater assets as they can. Grow in as much sun as possible, in almost soil except (maybe) the heaviest clays, and apparently yes it takes wet soils. Pretty darned good in containers too. Hardy to 15F at least, probably much less. USDA zone 7/Sunset zone 4-9, 14-24. rev 6/2017

*New for 2017!*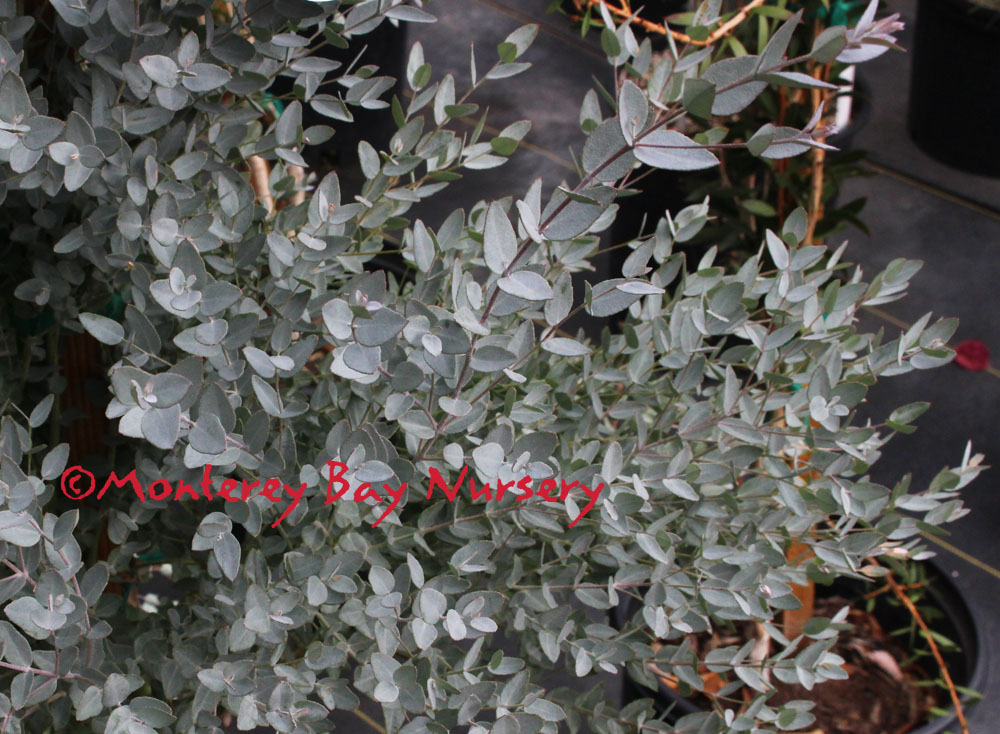 Eucalyptus Moon Lagoon a Western Australian mallee (very tall shrub or short, multistemmed tree) of arguable species affiliation. It has become suddenly popular here for its very attractive compact juvenile foliage, which is light silver grey to almost blue-white. The compact sprays form a very soft-textured, evenly shaped, rounded shrublet to about 4-6' tall by 3-5' across. If not cut back it grows into a multistemmed tree 12' tall by 8' wide, with long, narrow, slightly sickle-shaped green leaves. Flowers are small, held in crowded clusters along the mature branches and open in late summer and early fall. This plant is nice grown up but still much better juvenile, we think you also will like it best when kept cut back. Sun, most soils, tolerates winter inundation if not stagnant than and its grown dry in summer. Used commercially as cut foliage. Frozen to the ground at around 20-25F but will usually resprout from lower temps. USDA zone 9/Sunset zones 8-9, 14-24. rev 6/2017

*New for 2017!*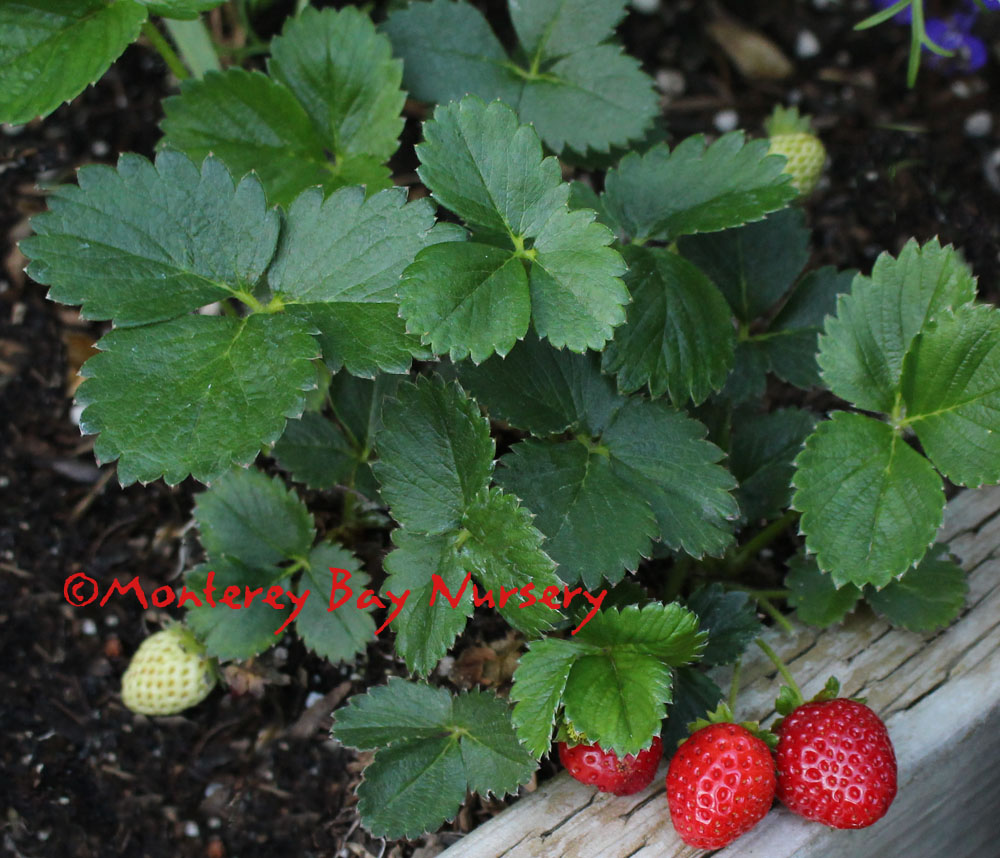 Strawberry Delizz a new All American Selections winner, winning in part for its compact growth habit, lack of vegetative runners, long production period and high quality, delicious berries. Most especially excellent in hanging baskets, raised beds and containers. Sun (of course), regular watering. USDA zone 5. rev 6/2017

*New for 2017!*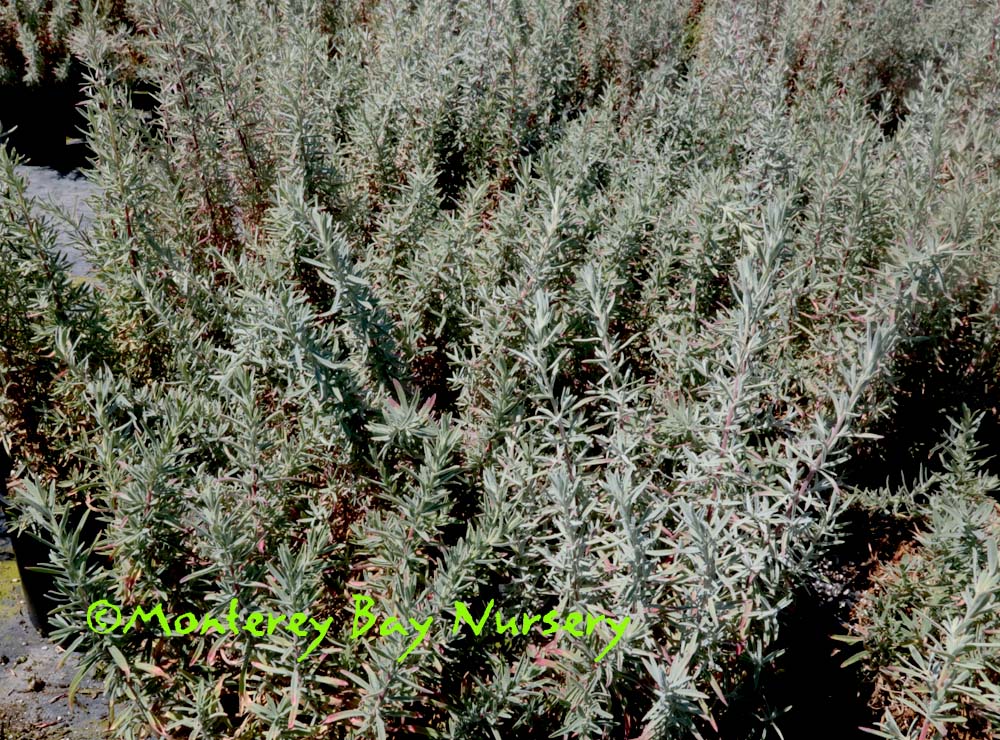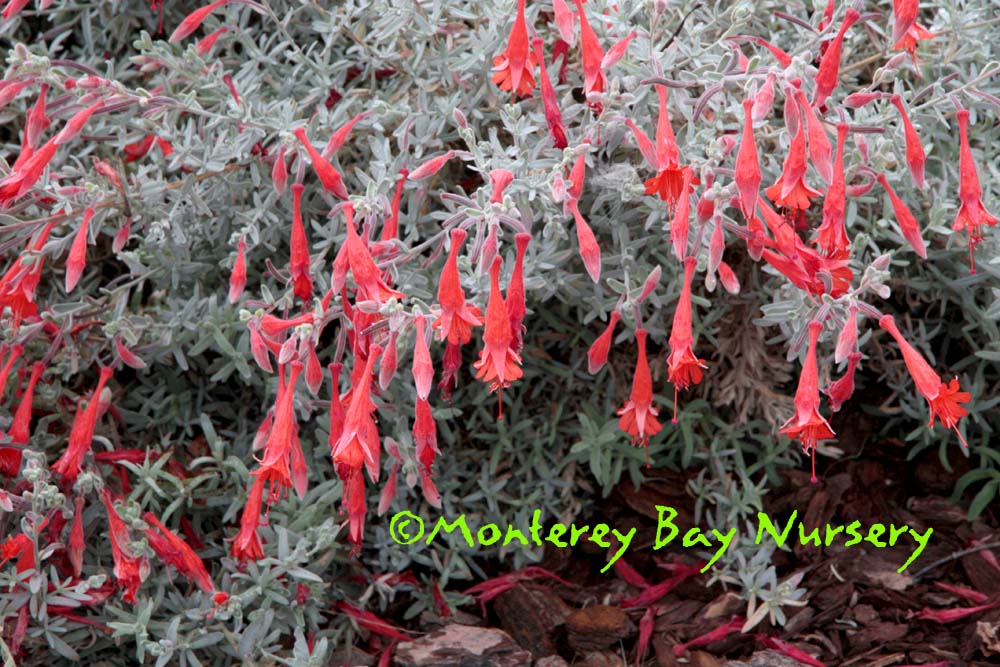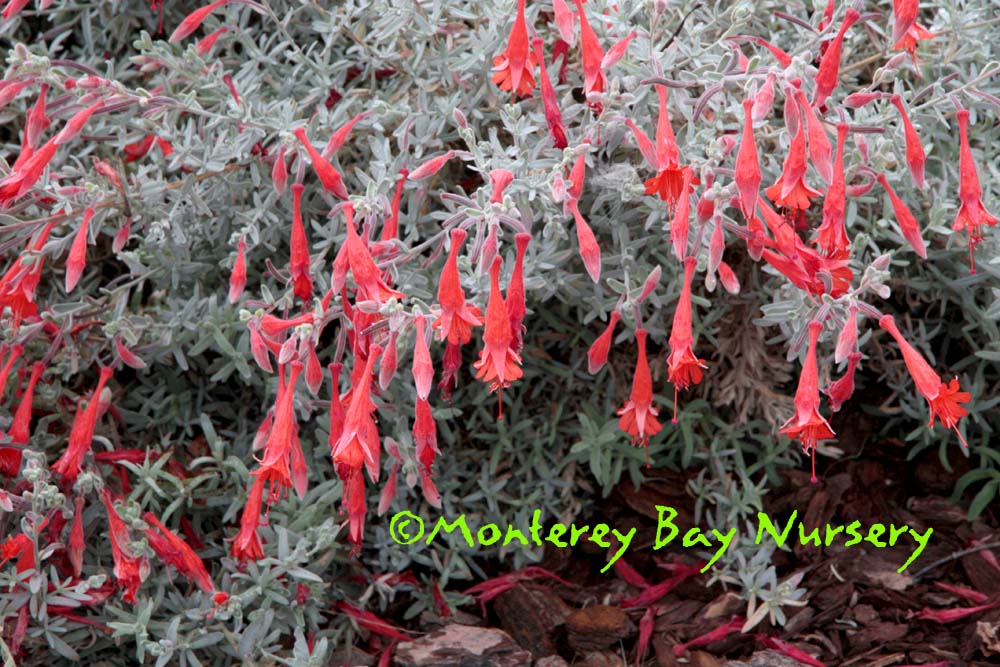 seedling variation parent of seedlings, blooming parent of seedlings, garden
Zauschneria seedlings ('Silver Select' parent) so why grow seedlings? Because we like Jeff Rosendale's original selection so much we decided there might be something else good hiding in those chromosomes. These seedling plants all have the same spectacular summer and fall show of intensely red tubular flowers that draw annoying numbers of hummingbirds. All differ modestly, in size, habit, leaf size and color on both juvenile and mature foliage, and stem color. All are looking shorter than the often-tall parent so far, and a few are even looking like horizontal growers. Pick the one you like, name it after someone (me?) and bingo! you have your own, personal plant variety! As you stroll visitors around your garden you can oh-so-casually mention "oh and that Zauschneria there is another one of my numerous introductions." You might even end up famous. Full to half sun, moderate to zero summer watering when established, depending, average to good drainage. A good container plant for medium size pots, or in larger pots combined with other varieties. USDA zone 6-7.

*New for 2017!*

est


6/16/2017: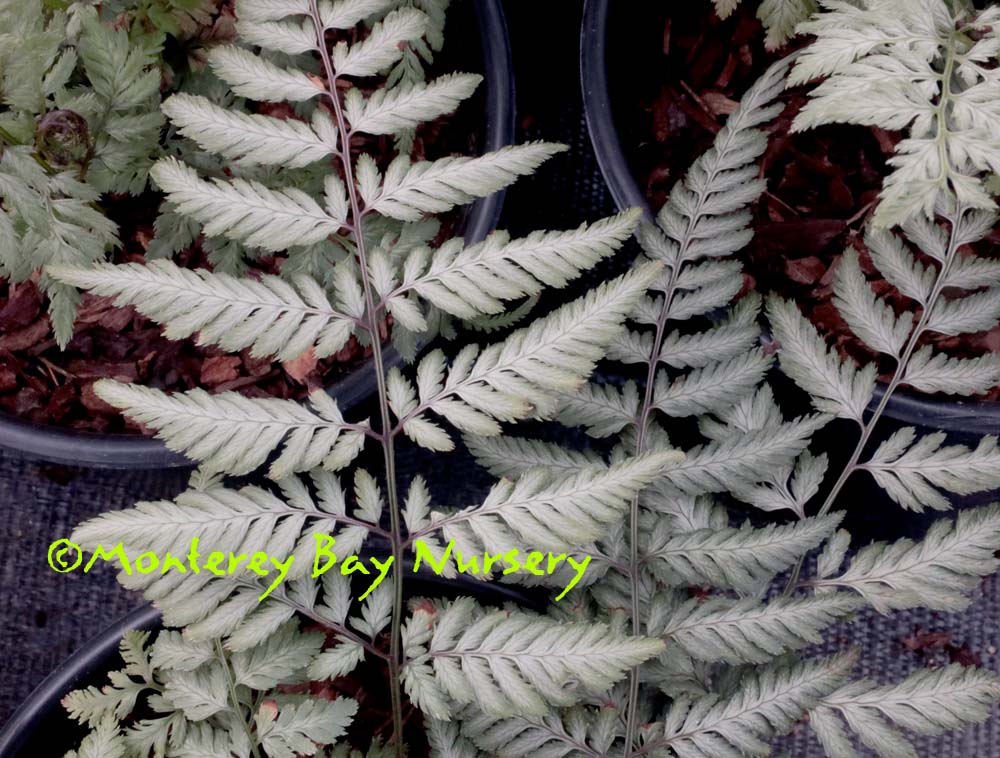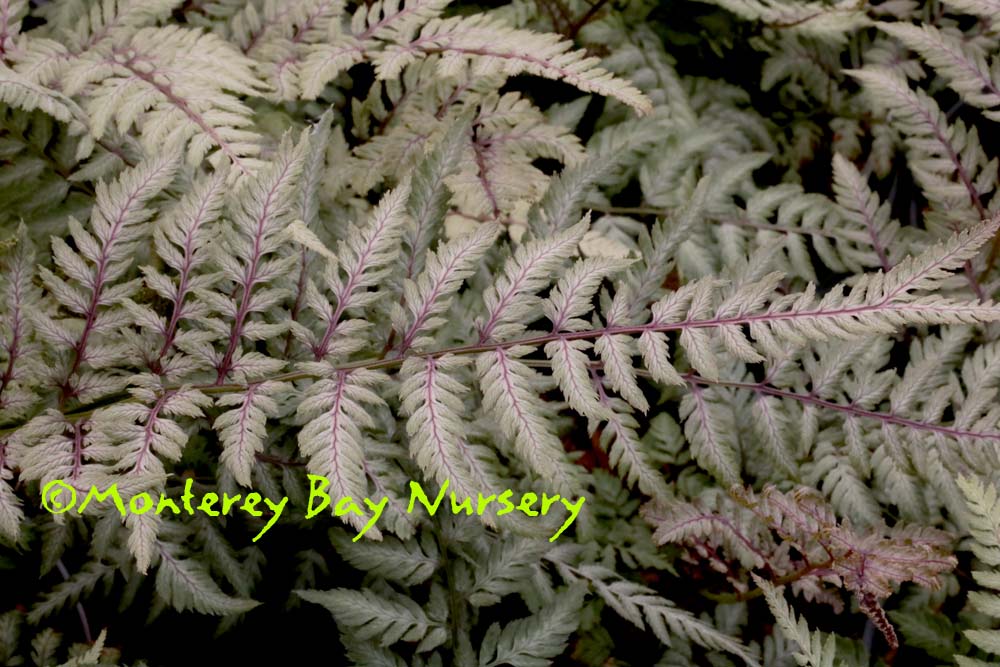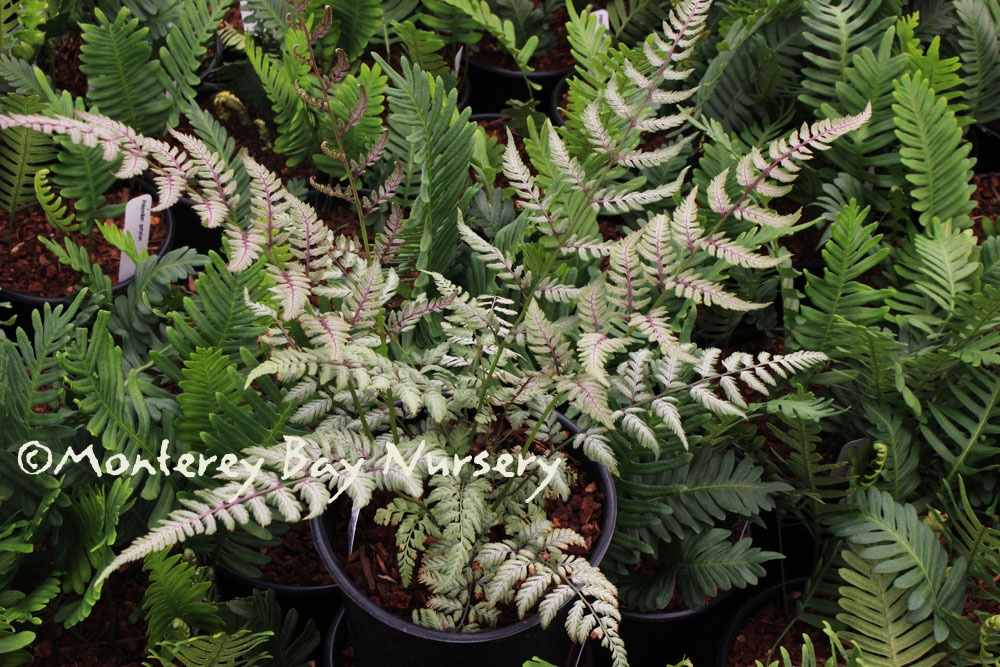 juvenile (sterile) fronds and mature (sterile) fronds live together in per-fect har-mo-ny
Athyrium niponicum 'Pearly White' juvenile (sterile) fronds mature (fertile) fronds both living together in per-fect har-mo-ny a very pale member of the always-colorful 'Pictum' family gathering, bearing sterile juvenile fronds that are grey green with white veins, then later mature, fertile fronds that are more vertical, thinner, and have red midribs and veins close to the center. Typical lush fern conditions and care, except this one will grow in very wet spots if you have such an area, just like our native Lady Fern (A. felix-femifera). This was originally named 'Pearly White,' but the plural form sounds much better, don't you agree? rev 6/2017

*New for 2017!*




6/9/2017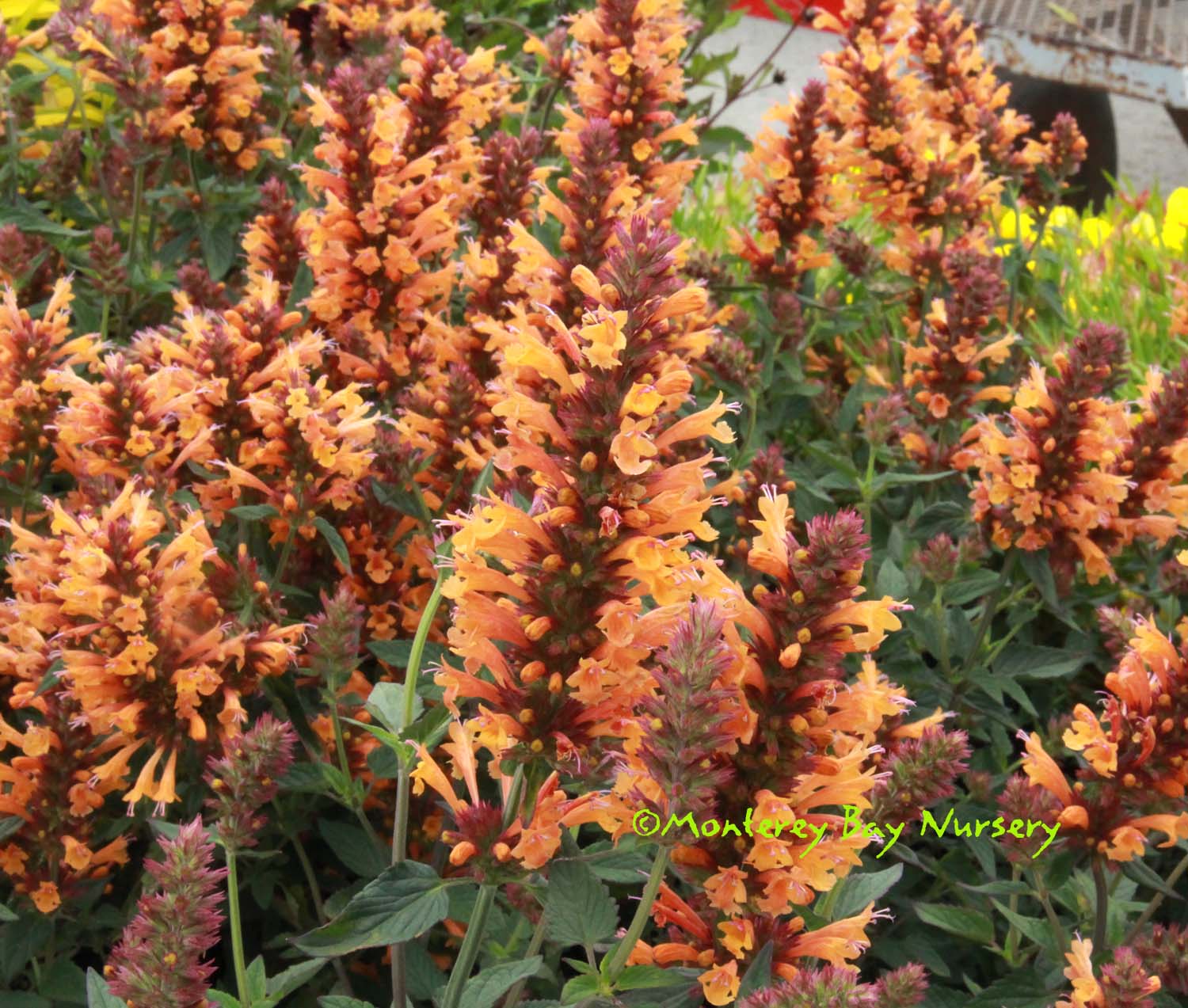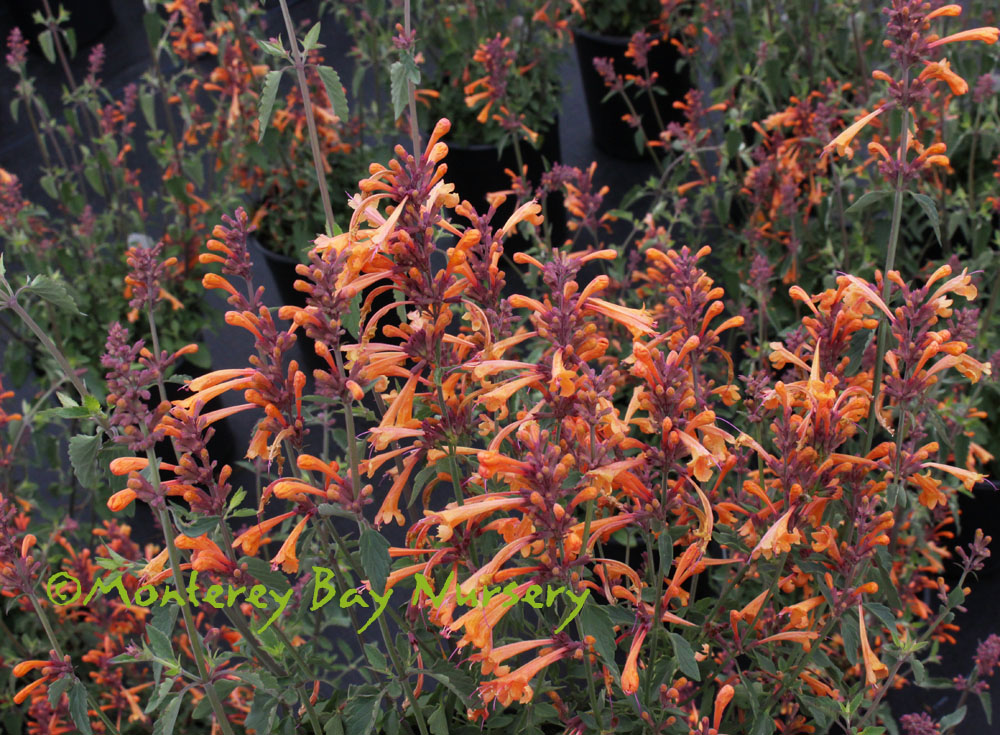 Agastache 'Kudos Gold' PP26,410 and 'Kudos Mandarin' PP25,381 here are two new colors from this interesting Terra Nova series, selected for compact and bushy growth habits and dense, heavy, long flower displays and mildew resistance. Plants reportedly stay around 16" tall, to 20" when in bloom and stay about 2' wide at maturity. Terra Nova reports long-day initiation response, flowering heavily in spring then continuing until frost in the PNW. Typical minty foliage, typical hummingbird frenzy, typical tough, drought tolerant, dry-garden culture. Likes at least average drainage, that's about their only pickiness. Hardy to USDA zone 5! rev 6/2017

*New for 2017!*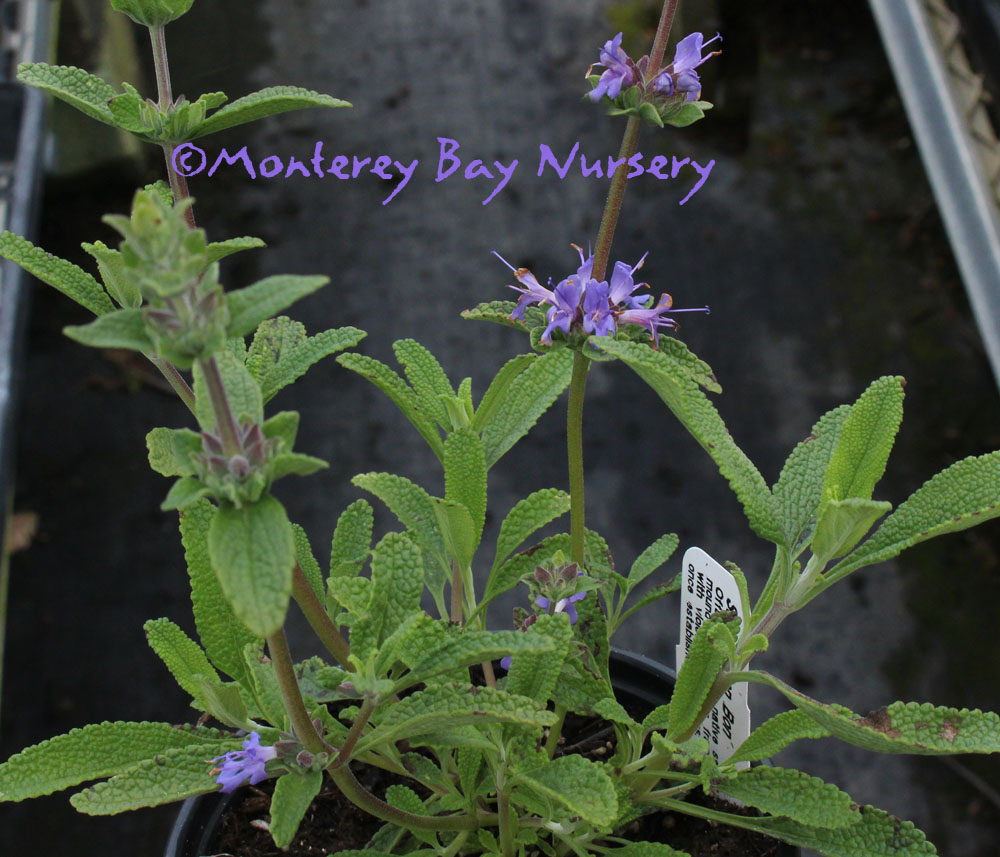 Salvia 'Bon Bon' a cute little native hybrid of S. clevelandii 'Aromas' and S. leucophylla 'Pt. Sal,' this is another very tough, low, diminutive, very compact, dry garden groundcover or small shrub. Like most of our other native sages it probably initiates flowers on new but well-ripened mature-phase branches that see some amount of chill. Expect it to be very tough as long as it has good drainage, and it would certainly need no summer water at all once fully established in all but the very hottest and driest inland locations. To about 30" tall (in flower) by 3' or so wide. Full sun or a little shade (dry), average to good drainage, hardy to probably 15F. rev 6/2017 *New for 2017!*


6/2/2017: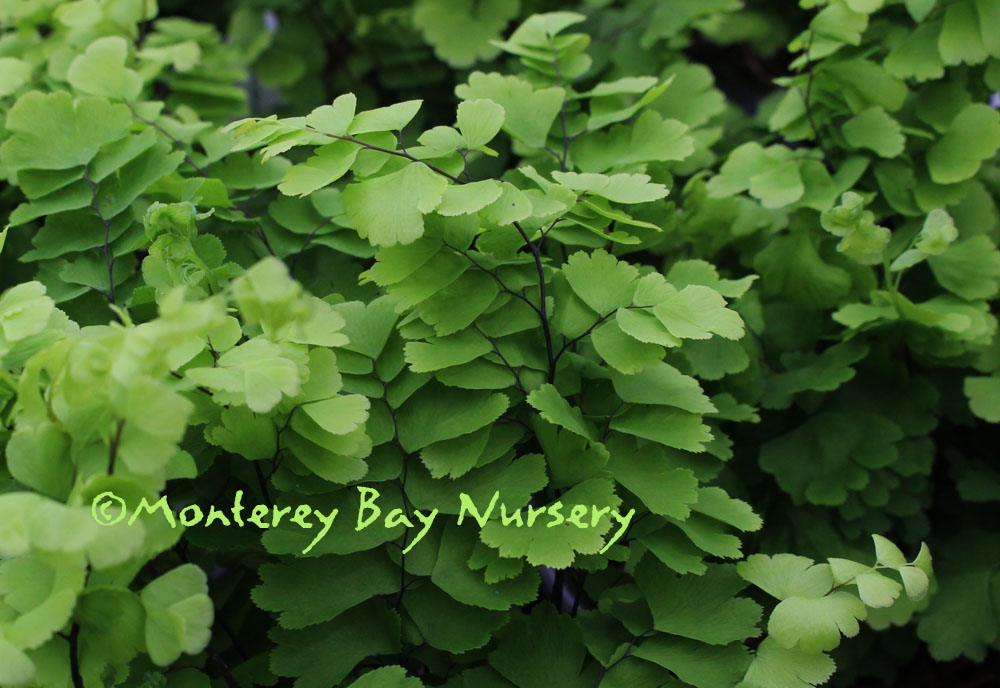 Adiantum raddianum 'Monocolor' a modestly different variant, within the rather large maidenhair universe at least, but useful for its primary reason for existence, which is being a very compact grower. If you have a small, special container though, or a small space, then it really shines, as it probably won't get more than 12-16" high and wide, at least any time soon. Mature fronds have leaflets that are stacked neat and tight, closely shingled against the next one down. Also it has the usual cheery, bright lime green new growth seen on most A. raddianum cultivars. rev 5/2017

*New for 2017!*




MAY 5/19/2017:



Salvia microphylla 'Glenenden' PPAF closeup growth habit, stock plants yet another literally earth-shaking new MBN Salvia release (no brag, just fact - we had a minor earthquake recently) this time our very best blue. And very close to true light blue it is, with just a little pink hiding in there. This semiprostrate variety stays under 16-18" tall even when old and unpruned, spreading to 3-4' with stems close to the ground. It quickly spills down over a container's edge to display cascades of broad-lipped, pleated, light blue-lavender flowers. This was near the very top for our blue-range candidates as far as overwintering performance and cut-back response, both absolutely critical production features that happen to be just as valuable for garden or landscape performance. We just continue to amaze ourselves! USDA zone 8.

rev 5/2017

MBN INTRODUCTION 2017 *New for 2017!*



5/12/2017:


New Monterey Bay Original Salvias Released for 2017!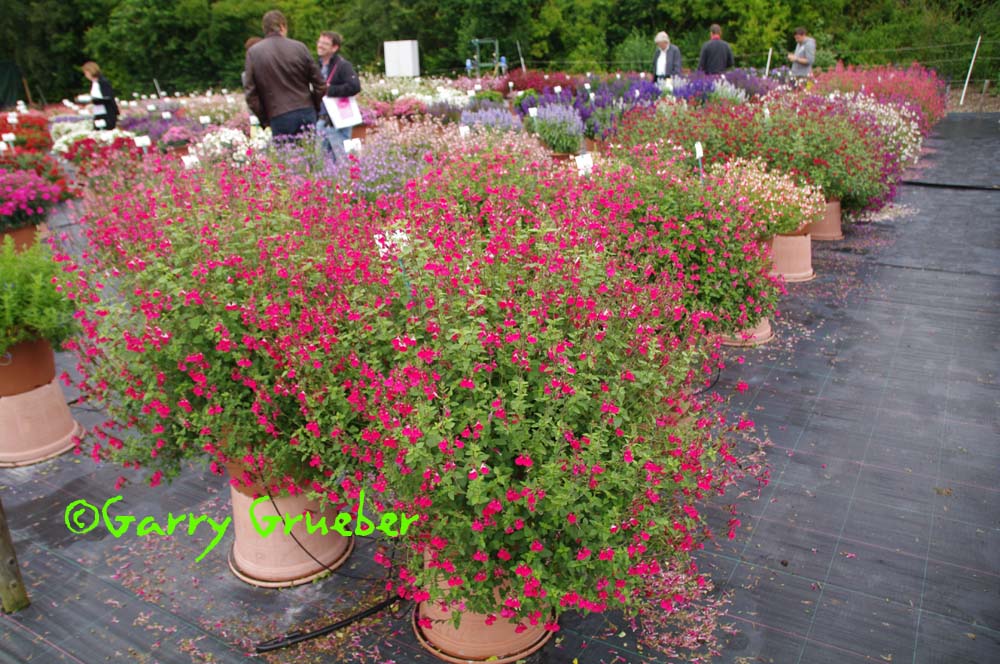 current and future MBN varieties, trial plants on display in Germany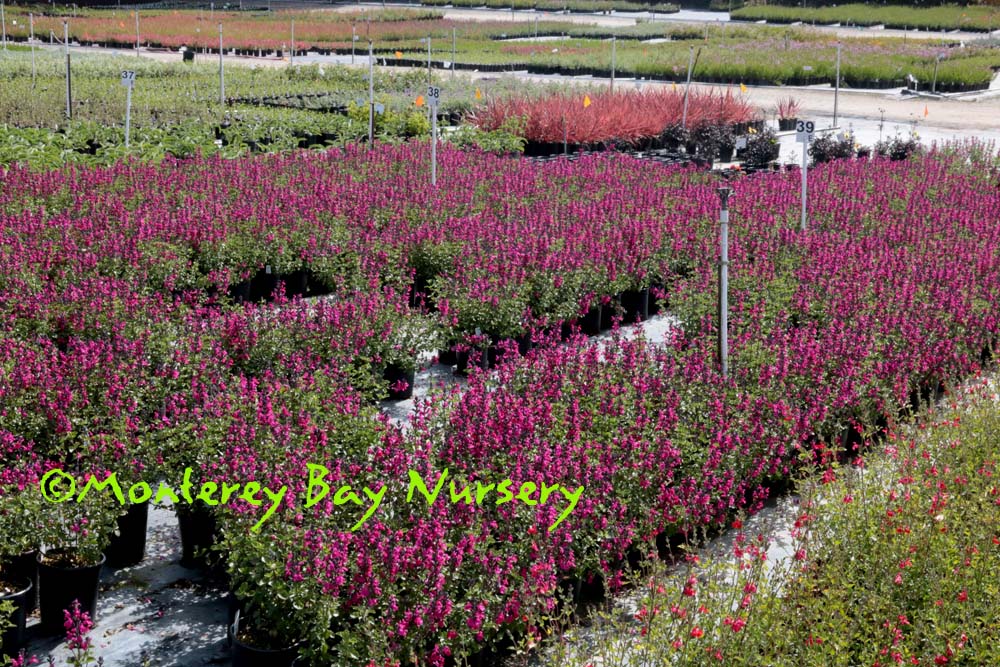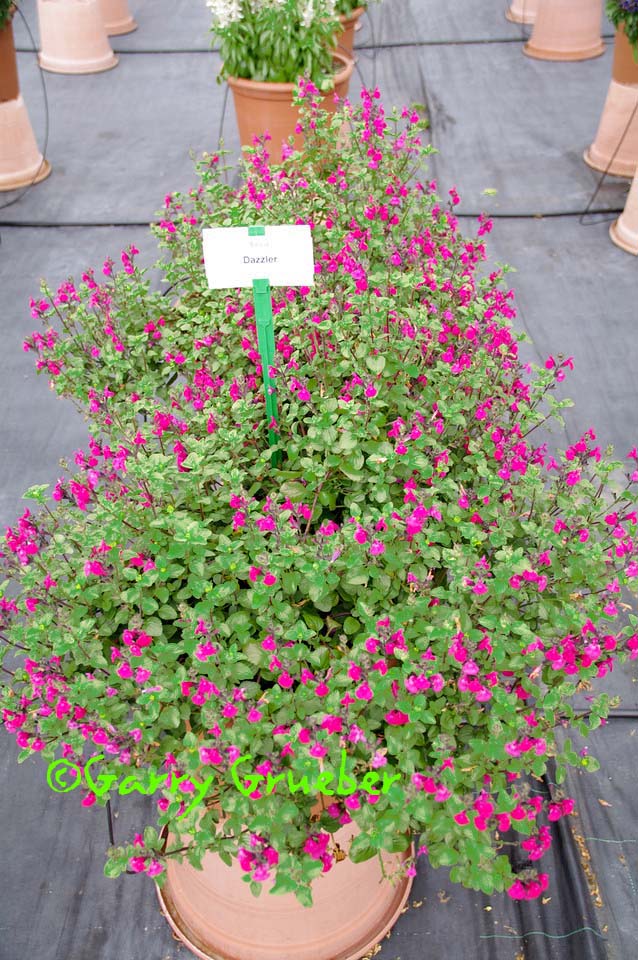 'Dazzler,' current sales block closeup on display, Germany


Salvia microphylla 'Dazzler' PPAF
trying hard to be our best variety ever, this is a heavy, continuous bloomer, with wide-lipped, dark cranberry to intense magenta violet flowers, rounded, glossy, dark green to bluish green leaves against dark burgundy stems, buds and flower spikes, that take on a bluish, almost metallic cast in full sunlight. It usually blooms from March or April through late fall or early winter, in warm winters it bloom into January.
Fast, ultra dense and compact, new growth continually breaks from the base and along the stems and plants need little maintenance. As always one of our first requirements for any Salvia we grow is a tough, resilient, abuse-tolerant branches, excellent cut-back performance and little or no winter die-out.

Of course it makes a superb container plant. Oh, and it produces lots of concentrated nectar, to keep those hummingbirds in your ard, not your neighbor's. USDA zone 8.
MBN INTRODUCTION 2017
rev 5/2017
*New for 2017!*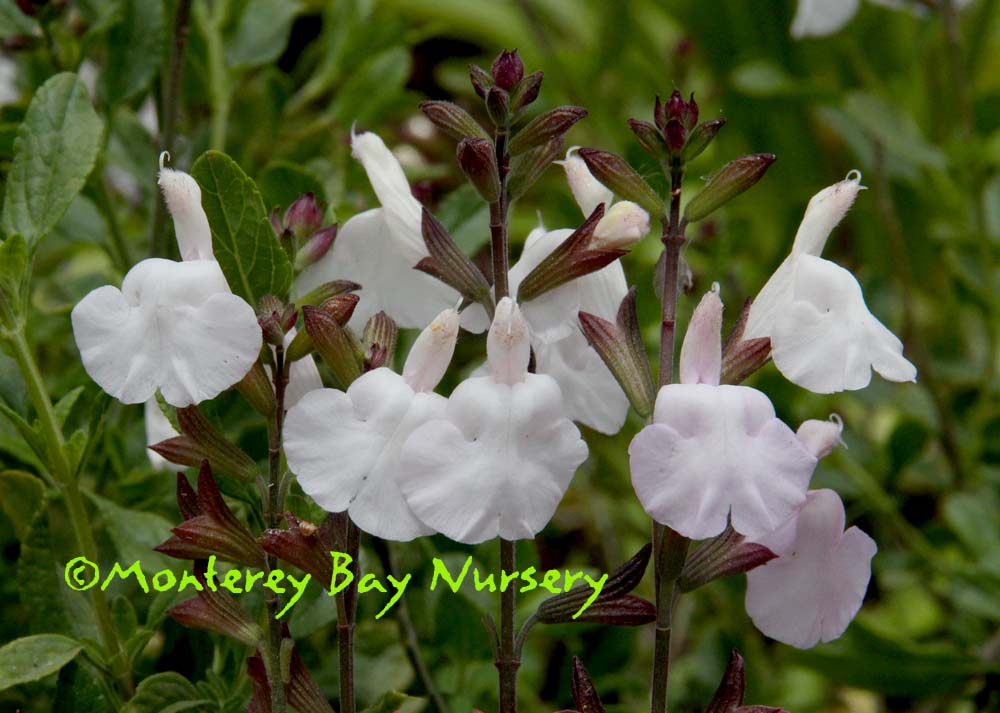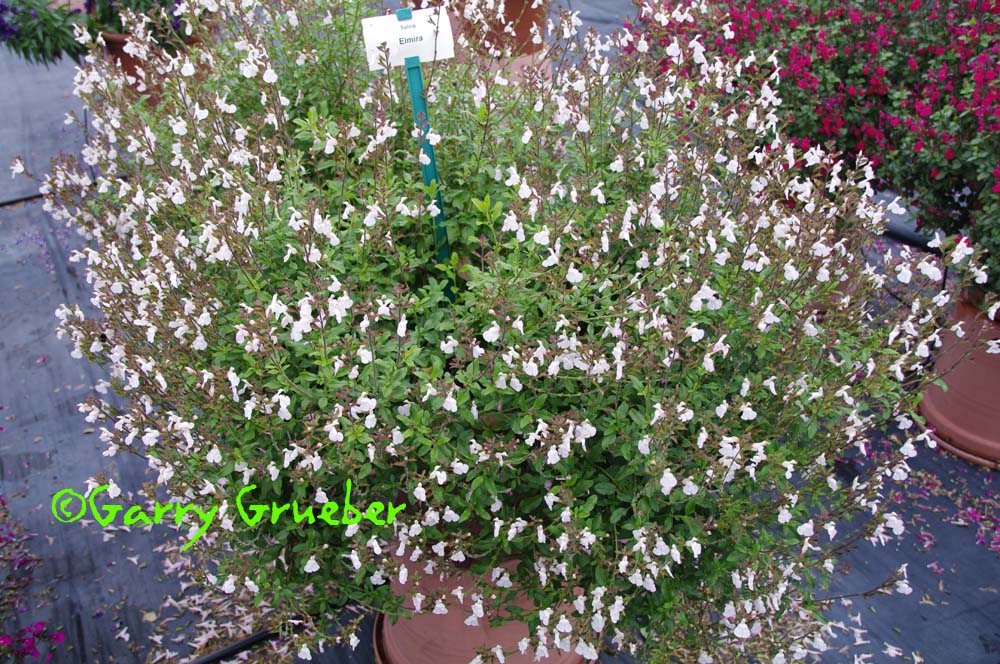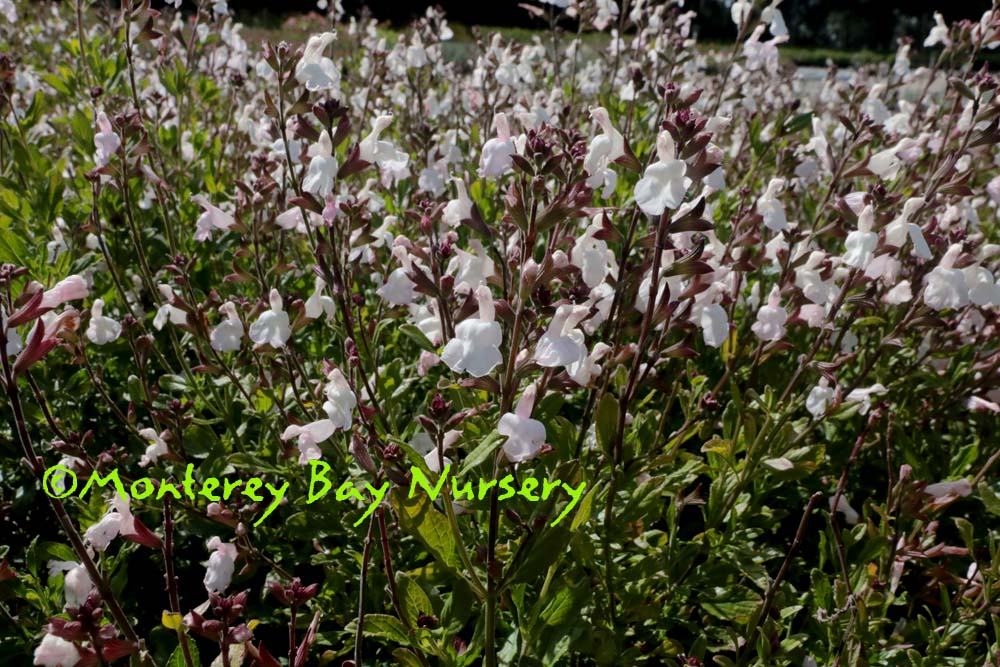 trial plant, on display in Germany


Salvia microphylla 'Elmira' PPAF
our best white - so far. Buds open the faintest of blush pinks, especially under very cool conditions, flowers become white as they mature. This is we believe the best white due to its heavy bloom, dense, compact, low habit, excellent foliage and tough, durable nature. Dark burgundy stems contrast wonderfully with the flowers and glossy, quilted leaves. This is an extremely forgiving variety as far as cutting back or pruning, always sprouting vigorously from the crown or old branches.
Ultimate size is under about knee high by 3' or more across. Nectar is concentrated and heavily produced, for

high hummingbird happiness. USDA zone 8.
MBN INTRODUCTION 2017
rev 5/2017
*New for 2017!*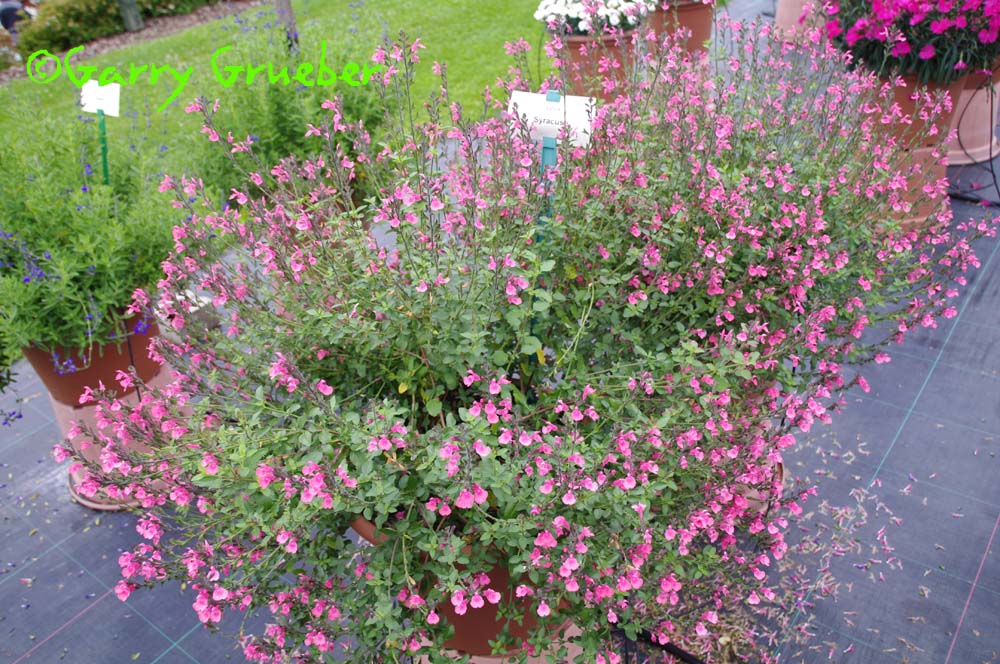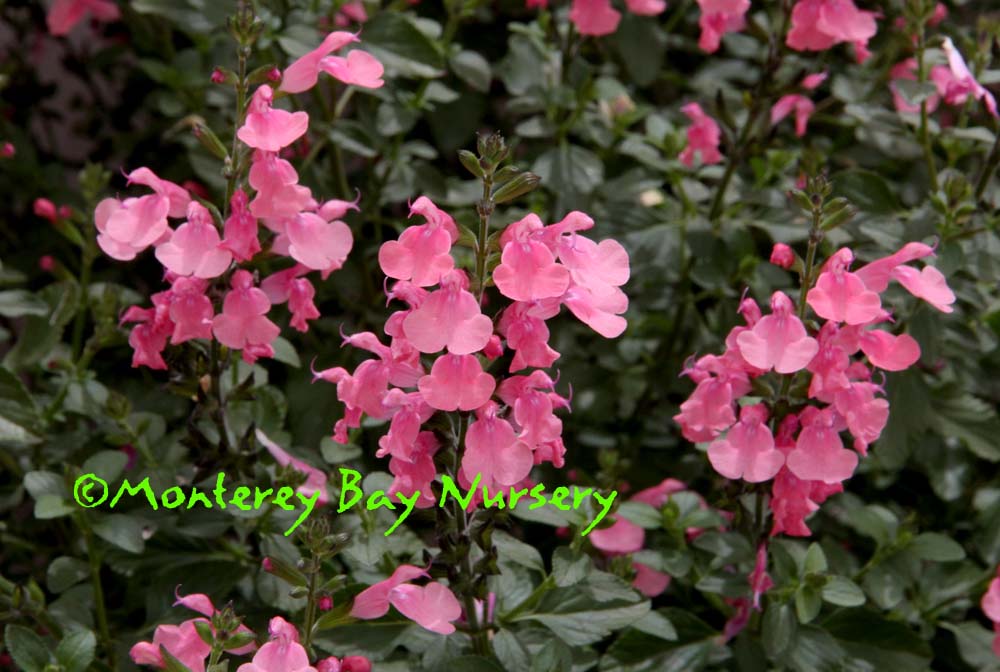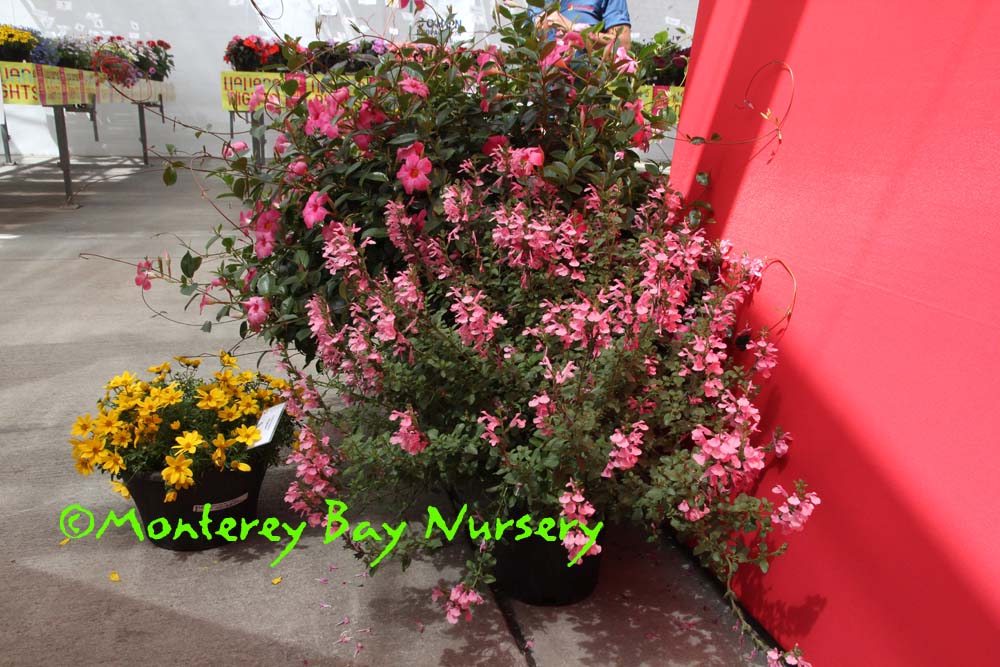 trial plant, on display in Germany 2017 Spring Trials display, PP&L

Salvia microphylla 'Syracuse' PPAF a furious flowerhouse of powerful flowering power, this may be our best yet for its continuous production of clouds of small, warm coral pink flowers. Vigorous and upright, it is a compact grower to about 30" high, spreading to 3-5' across with age. Plants continually break new buds from the base and any old branches exposed to light so it never looks woody or straggly. Our stock plant never exceeded 3' in the ground after several years and no pruning at all, it was full and dense right to the ground. Then we cut it back to a stump and it showed the virtue of a nicely stoloniferous habit, with new sprouts arising 12-18" away from the mother plant. Best of all they came from deep enough that this take similar maintenance treatment, or a substantially colder climate with freezing soils. The Huntington just mows their signtaure 'Berzerkeley' patch each year to freshen it up, this selection would certainly respond even better. USDA zone 7? rev 5/2017 *New for 2017!


5/12/2017: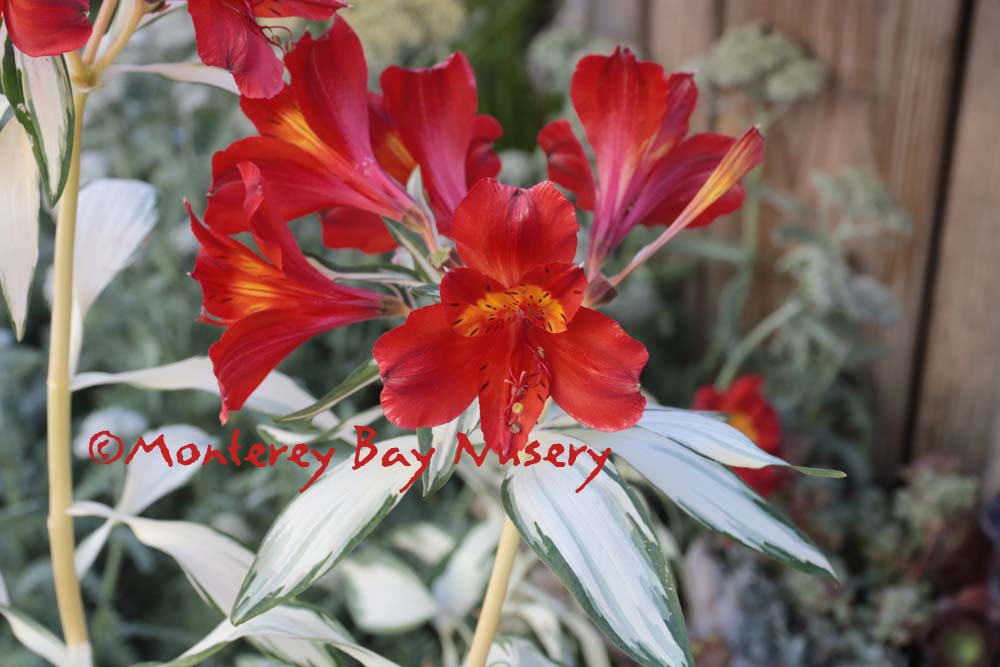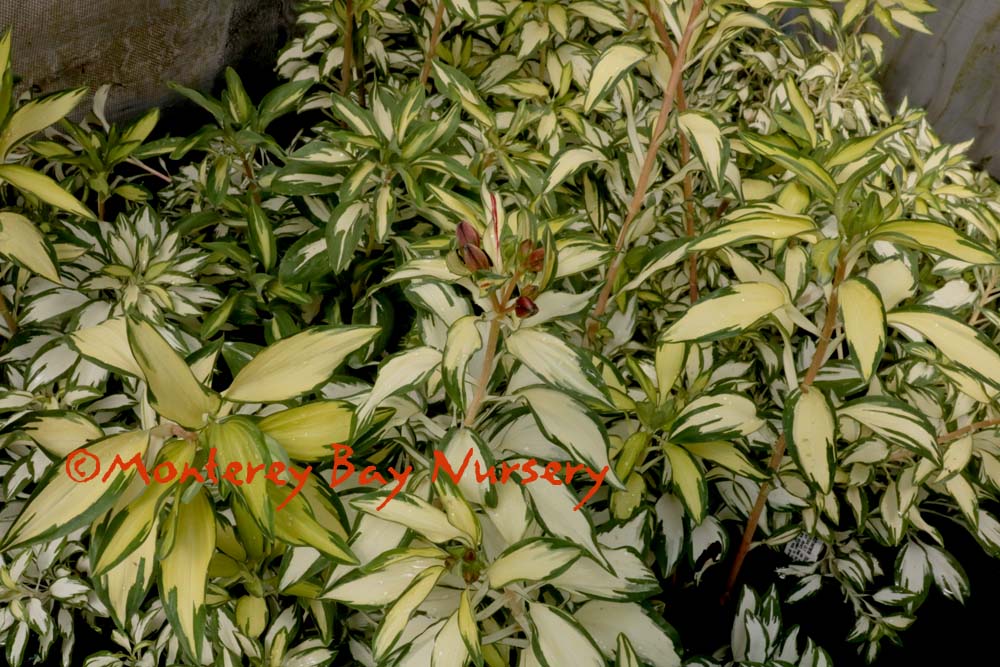 Alstroemeria 'Inca Rock 'n Roll' continuing the new Peruvian Lily releases from Konst in the Netherlands, these are compact to ultra-compact hybrids, varying widely in size and color, for landscape and container use. They will continue to bud with all but the highest summer soil temperatures. This is easily their most distinctive variety, with its strongly variegated leaves. Makes you wonder how it grows at all, with so little green. But it seems to size up and spread itself quite nicely! The brilliant red flowers mesmerize you then blind you at the same time. To about 18-24" tall. rev 5/2017 *New for 2017!*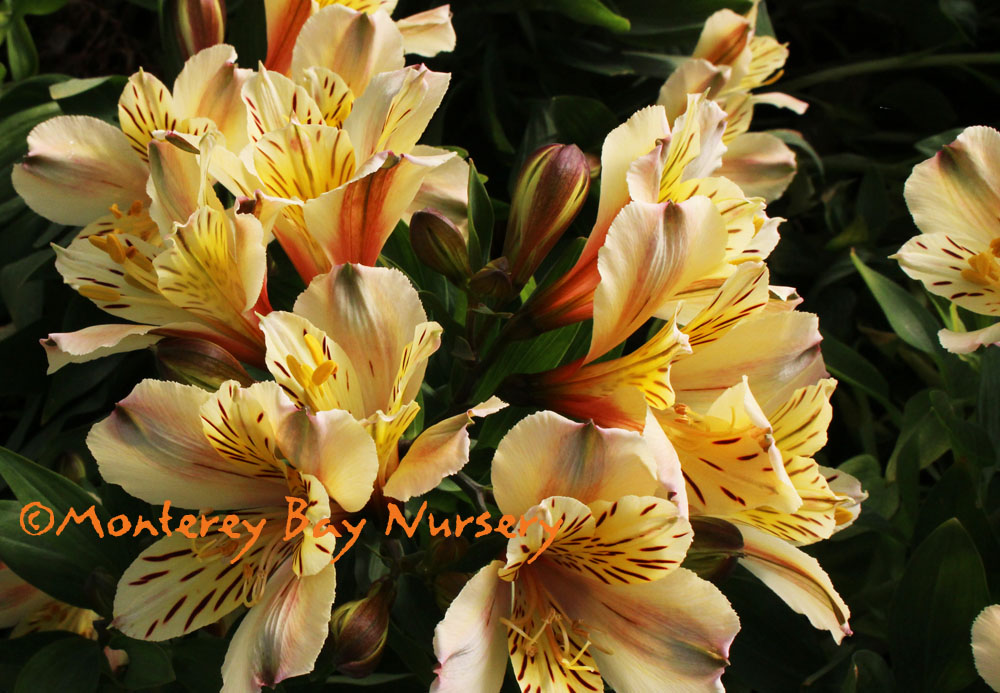 Alstroemeria 'Inca Sundance' dense and compact, about 12-16", in warm, butterscotch yellow and pale salmon. Many flowers per stalk. rev 5/2017 *New for 2017!*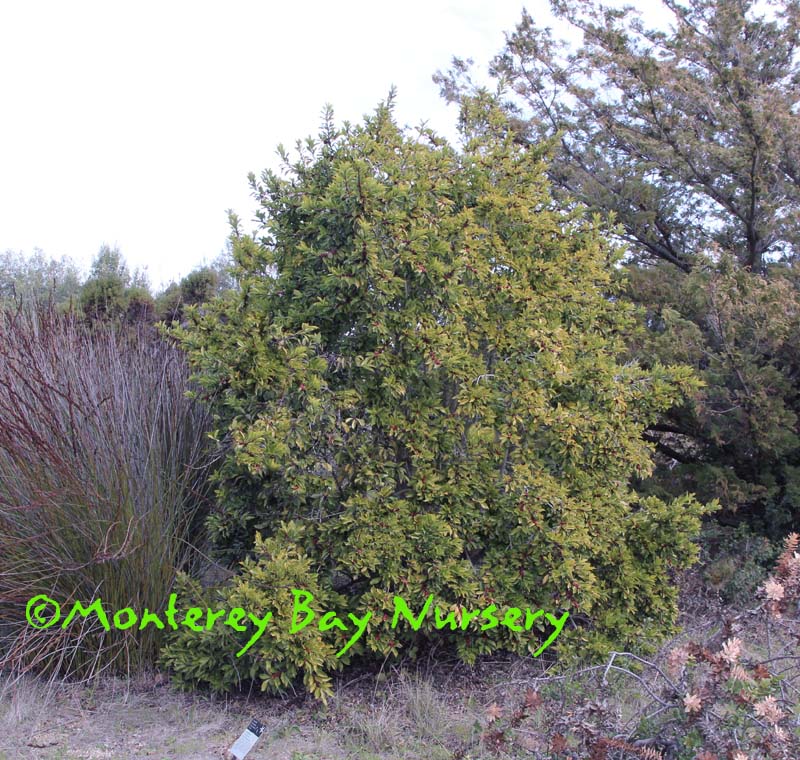 Yerba Mate (Ilex paraguayense) a formal-looking, evergreen woody shrub grown for its tender young new leaves and stems, which are harvested and processed to make the famous South American tea beverage and uncountable modern energy drinks. These are male plants being offered, which are considered superior for their stronger caffeine (and related compounds) levels and better flavor. To about 8' tall at maturity here with similar spread. Dark green, glossy leaves are tidy and neat, should make a good, tough Mediterranean landscape shrub. Full sun, average to good drainage. Has demonstrated respectable drought tolerance at the UCSC Arboretum, at least for a supposedly tropical-subtropical plant, where a large female specimen receives minimal summer watering. For best yield at least some summer watering must be beneficial. That plant has also survived every major freeze since being planted, including I believe 1990 and 1998. Commercial processing of the leaves involves harvesting, blanching, drying, drying at relatively high temperature, aging (up to 24 months for some grades) and finally grinding/milling. Homeowner processing can be an abbreviated version of that! Southern Brazil, Paraguay. Aquifoliaceae. rev 5/2017 *New for 2017!*


New plants for January-April 2017